Hanging some very expensive artwork for a client and the professional fixers used this anti theft fixing called a Springlock. It clamps onto a screw head poking out of the wall but has some adjustment to level it up which is cool. They were using x4 of these things per painting to spread the load. Once hung you push the clip in to grip the screw and you can only remove it with a special tool that reaches in and pushes it back out. Really cool fixing. I also found a retailer that sells them for £2 the pair ish (less)
Video here:
https://www.springlock.co.uk/
https://www.picturedisplaysystems.co.uk/anti-theft-for-wooden-picture-frames-springlock-fixings-1-x-pair-393-p.asp
https://www.springlock.co.uk/buy-online/
There is also this triangle plate hanger that is also an amazing design. So much better than those nasty wire hangers
They are also on AMAZON

https://www.amazon.co.uk/Spring-Lock-Hang-Plate-Method/dp/B0056UT3SE/ref=pd_sbs_4/261-0460541-2653747?pd_rd_w=rlUiF&pf_rd_p=b3232d54-1e37-435b-b370-81046eef630a&pf_rd_r=FZRCTPFWQ2HH0W0WH7X2&pd_rd_r=0e0c7016-99da-423a-a162-ea6d35bbda15&pd_rd_wg=ITVzi&pd_rd_i=B0056UT3SE&psc=1


https://www.amazon.co.uk/PH2957-SpringLOCK-Release-Tool/dp/B0056UWV4C/ref=pd_bxgy_img_1/261-0460541-2653747?pd_rd_w=HkI1N&pf_rd_p=c7ea61ca-7168-47e3-9c8b-d84748f5b23c&pf_rd_r=1451QMT9GRFXTVY7HEV1&pd_rd_r=d7348757-28d8-4007-b28b-32cab854beb0&pd_rd_wg=tNzW8&pd_rd_i=B0056UWV4C&psc=1
Beware of the triangle plate hangers - if the little area of solder/weld fails where the horizontal piece is attached at each end then your beloved plate will fall and smash. For large dishes/chargers I have a shallow shelf - get someone who knows what they are doing to fix it to the wall - and havea groove routed in it so dishes sit in the groove and rest against the wall. They can then be changed for others easily.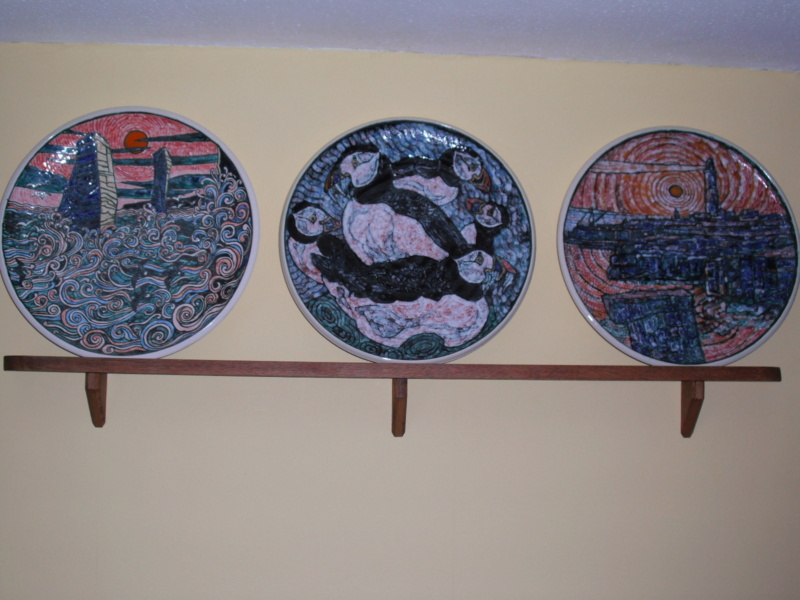 ppcollectables




Number of posts

: 378


Location

: surrey/hants border


Registration date :

2009-05-31



Groove is excellent and probably safer but that would mean buying solid woodden shelving
expensive
With that Spring Lock device, I'd simply brute force the screws out of the wall with a crowbar.

_________________
Carrot cake is just fake cake
We have used Futon Oak picture rails which are ideal for chargers.
https://www.futoncompany.co.uk/storage/hang/hooks-and-rails/oak-deep-picture-rail-80cm.html
Those springlock devices look interesting. But as Naomi says, you can still just remove the whole screw fitting in the wall with enough force. I would deter the opportunist thief, but not one with any time and the right tools!

philpot




Number of posts

: 5287


Location

: cambridge


Registration date :

2010-11-06



I have x2 paintings over the mantle piece/fire and wanted x4 plates up both sides of the chimney breast so the shelving thing only woks for a linear display not a vertical one. Ill send a photo or two as I ordered some.

Does anything deter a determined thief, not matter how you lock up your house they can always get in. For what they are they are a very clever design.
always make it a less appealing house than your neighbours and the burglars will pick them

_________________
Christ is for life and not just for dogmas

dantheman

Consultant





Number of posts

: 15376


Location

: Lincolnshire ( the veg patch of England)


Registration date :

2008-02-03



These hanging triangles are fine but I would not put anything on them larger than 300mm (that plate is bigger). The issue I have is that with the spring type they can at least just be brushed slightly and stand a chance of springing back although they do 'grip' the edge of the plate so possible damage can happen. Overall yes sturdy shelving is the best bet, but does not help with my plates either side of the painting over the mantle piece problem. I wonder how museums do it? Or do t hey just stand them on a shelf.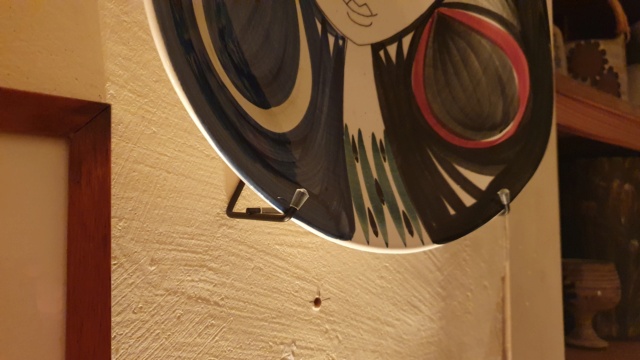 ---
Permissions in this forum:
You
cannot
reply to topics in this forum