+36
Potteryman
books1
PotteryLover123
benwilliams
NaomiM
emmbrook
olipayton
MCWebs
bluenote
lindylou08
thegreatbooboo
DAVID24/5
racoons4life
r-and-f
climberg64
stardust*
Celtic_Fan
Jeffingtons
Potwurm
denbydump
BrandX
skipposal
sunnyices2
keramark
gareth-h
studio-pots
TrippyPip
nick1512
philpot
bistoboy
Davee
big ed
22 Crawford St.
hercules brabazon
dantheman
Pip
40 posters
Page 13 of 13 •
1, 2, 3 ... 11, 12, 13
90% Briglin, 10% doubt as not seen that particular pattern before marked bit nothing stands out as wrong.
My thoughts exactly,still can't find pattern,wonder if it's a test piece?

trefor_d




Number of posts

: 205


Location

: Manchester


Registration date :

2022-05-17



I honestly don't think they did test pieces. Not in the formal design process way of other contemporary ceramic factories. They simply got up one morning and tried making a few of these in a new shape with a new texture pattern. If they sold well then they made more. They were constantly making new designs of shapes and patterns especially in the 60s when it seems to have been more of a studio and less of a factory that was the 70s. Make a batch, sell them, move on.
Briglin Pottery [1948 - 1990]



Briglin Pottery was founded in post war London in 1948 at 66 Baker street by 22yo Brigitte Appleby, Eileen Lewenstein and Donald Mills was a thrower from 1948 to 1952. After a fire in 1952 the pottery re-located to nearby 22 Crawford Street. There was a need for domestic wares in post-war London and their pottery sold well. Eileen left in 1959 and it was Brigitte who ran Briglin Pottery for more than forty years until it finally closed in 1990.

Briglin is mostly known for it's brown earthenware wax resist domestic wares of the 1970s. At this time it was the largest maker of pottery in the West End and produced over three thousand pieces a week. Brigitte was know to Lucie Rie, who's workshop was only a kilometre to the south of Crawford St. You will see the influence of Lucie's reflected in early Briglin Pieces.


Obituary - Brigitte Appleby [1926 - 2000]
TBC

Obituary - Eileen Lewenstein [1925 - 2005]
https://www.theguardian.com/news/2005/mar/30/guardianobituaries.artsobituaries1

Obituary - Donald Mills
TBC

Other Potters of note:

Alan Pett, Pat Birks, Tony Barson, Fred Millett, Mike-Crosby Jones, Alin Frewin, Lyn Lovitt, with Alan Wallowrk, Rosemany Wren connected.

Location:
22 Crawford St, London
https://www.google.co.uk/maps/place/Master+Dry+Cleaner+%E2%80%93+Shoe+Repair,+Invisible+Mending,+Laundry+Service+22+Crawford+St+London/@51.519721,-0.1598059,112m/data=!3m1!1e3!4m5!3m4!1s0x48761acbdd80d399:0x8a19c90fcdf687c0!8m2!3d51.5198162!4d-0.1599061


Books:


Briglin Pottery 1948-1990: The Story of a Studio Pottery in the West End of London Hardcover – 26 April 2002
by Anthea Arnold (Author)

Publisher :Briglin Books; First Edition (26 April 2002)
Hardcover :76 pages
ISBN-10 : 0954192303
ISBN-13 : 978-0954192303

==================================================

_________________
Carrot cake is just fake cake
Nice textured stuff from the 60s when it was all a little rough and had some interest.
Naomi's is 50s white with the white clay. When anyone calls them
pin dishes
I scream
Bought two of the 1958 Parkinson figures recently from a nice woman called Emma. Unfortunately the Cleopatra was smashed  
, that was the UV photos I posted. Massive  
 impact damage on the back - probably been dropped.
The UV proved extremely useful as you can actually show someone via photos or a video the extend of the damage. I'll post images some time but one good and one smashed :( In the end she kindly let me keep it and refunded. Hard to sell it anyway, decorative purposes only.
Their value is not what is once was.
Hello all, I wondered if anyone had any information on the piece of Briglin pottery I bought in an antique shop this weekend. I've been told it's an unusual piece- it's a mole figurine but it's much bigger than the ones I've seen online. The seller suggested it may have been an exhibition piece or something. Tried searching for giant Briglin mole but (surprisingly! Haha) didn't find anything.
I absolutely love him- hopefully the pictures work!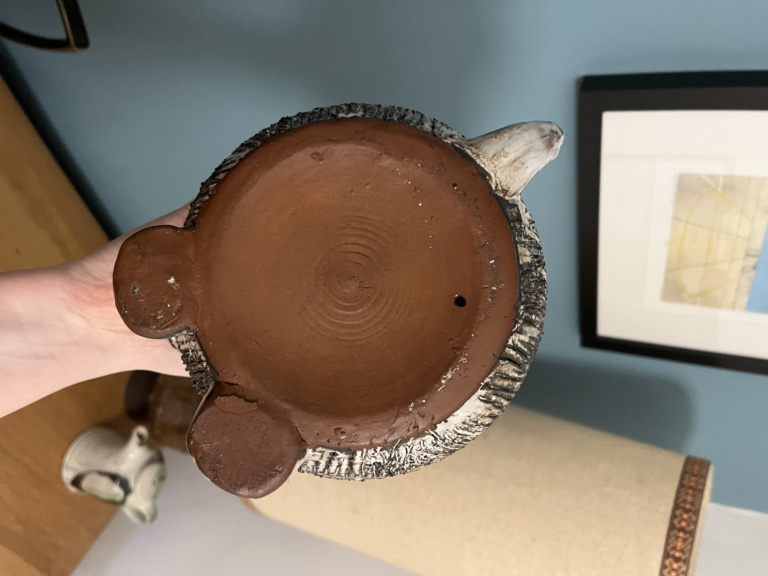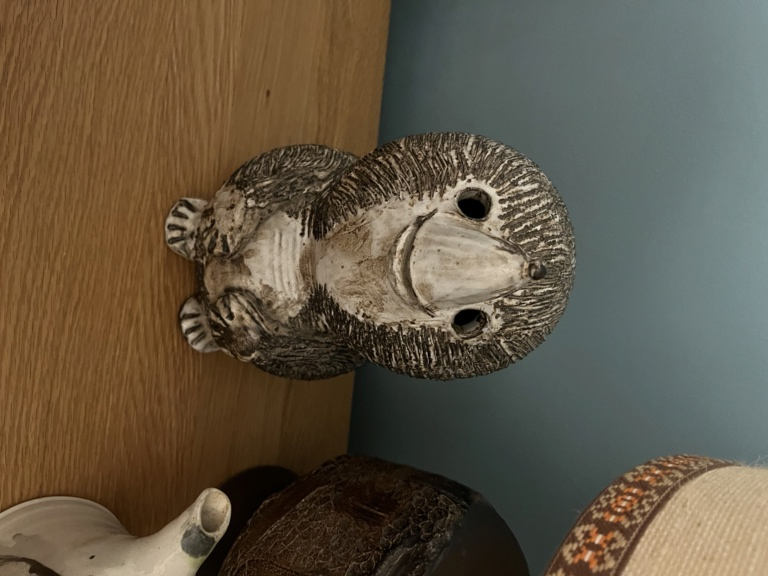 Charlottebee




Number of posts

: 1


Location

: Leeds


Registration date :

2023-08-08



So Briglin is a funny pottery as they made a pattern book of pieces, so they could be reordered by the high st resellers. These formed the 'standard ranges' they sold to high street resellers. However there was a significant amount of experimentation. It's not uncommon.


_________________
Carrot cake is just fake cake
Page 13 of 13 •
1, 2, 3 ... 11, 12, 13
---
Permissions in this forum:
You
cannot
reply to topics in this forum