canuhelp




Number of posts

: 25


Location

: Sussex


Registration date :

2019-11-15



Hi there.  It's Chinese!  Note: you've got it displayed upside down.  This is how to read it (I've adjusted the image via Photoshop to made it easier to see.)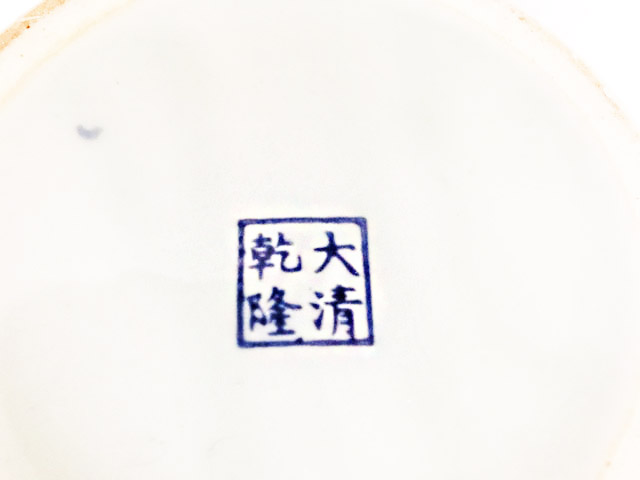 I did some checking and...
The mark refers to the Qianlong period (1736-1795) during the Qing dynasty but it's missing a specific date mark.  And it's a
variation
of a "Qianlong mark" as it's in script or written form.  It
might
be from the Republic period (1912-1949) as a lot of pieces dating from that time reportedly feature four-character marks in blue enamel, which is what you've got.  That said, I've actually seen examples of your mark, which reads: Da Qing Qianlong or "Great Qing Dynasty Qianlong Period" - as it looks identical to marks used in Hong Kong in the 1960-1970s.
Note: The Cultural Revolution in China was from 1966 -1976 and they didn't go around sticking Imperial stamps on stuff.  So if it's from the 60's -70's, it was painted in Hong Kong (the British were still in charge.)
That's my
best
guess at any rate, as I'm not Chinese (I'm white, Metro-Vancouver) but I live in a very multi-cultural neighborhood, and I see marks like that all the time on ceramics (second hand shops.)  Ie: I'm guessing your jug is mid to late 20th century.  Still a vintage piece, but you should double-check over at gotheborg.com as that's where I went. Hope that helps to at least narrow it down.

Artsy




Number of posts

: 16


Location

: Metro-Vancouver, Canada


Registration date :

2020-02-16



Thank you SO much - WOW you are very clever and informed and I truly appreciate your insights, time and trouble. Best wishes

canuhelp




Number of posts

: 25


Location

: Sussex


Registration date :

2019-11-15



You're welcome! And it didn't take long; it was easy owing to where I live (Metro-Vancouver has a huge Asian demographic!) Whereas I struggled to identify a clay tile I had featuring a Templar Knight (the mark was really hard to see clearly) and why I ended-up searching for answers in here. Ironically, on the very day I posted my query, I stumbled upon the answer! I thought it was British, but it turned out to be German/Prussian and from a royal pottery founded by Kaiser Wilhelm II. Now I'm in the process of trying to learn who or what the tile was made for..? As it may have come off a Teutonic church which as since been torn down (Eastern Poland.) And I don't speak German or Polish, so I can readily appreciate what it must be like if you don't speak Chinese, and you're trying to learn about a mark on a jug, chuckle!

Such endeavors make sleuths of us all.

Artsy




Number of posts

: 16


Location

: Metro-Vancouver, Canada


Registration date :

2020-02-16



---
Permissions in this forum:
You
cannot
reply to topics in this forum