I purchased this recently for the ridiculously low price of £10. I was prepared to pay way above that, but was extremely fortunate to get it for the price I did. As much as a plus that was for myself, it saddens me a little that people can walk right past something like this without giving it so much as a second look. Anyway, to cut to the chase, I am not sure I could love something any more than I do this pot. The more I sit & look at it the more it delights me. The sculpted creatures are fabulous and the intricacy of what they are sat upon is something else. I have no idea how many hours it must have taken to create this.  That takes me back to the price I paid & the general lack of interest in the piece. Maybe if it had some downloadable device fitted so you could play your phone through it...………..  Such are the times we live in.
What strikes me most about it is the fact that it went through a firing and retained its structure. I cannot see any evidence of any stilt marks / supports to the inside to support the protruding rim which supports the creatures, so just how did this thing stand up and not collapse? I would very much like to know more about the process involved, so any help here with my "Frogsville" pot will be greatly appreciated, thank you.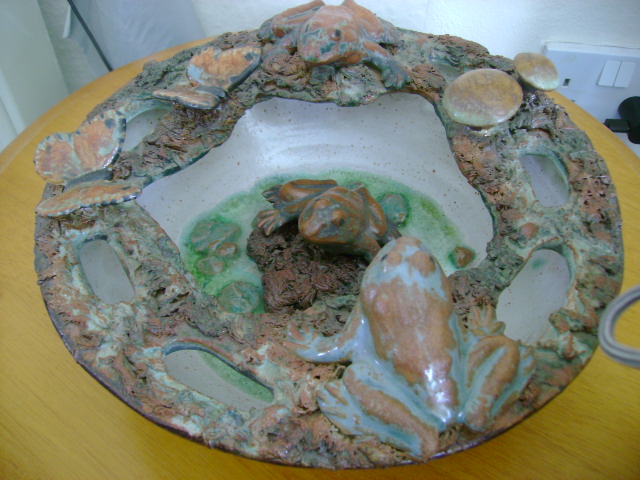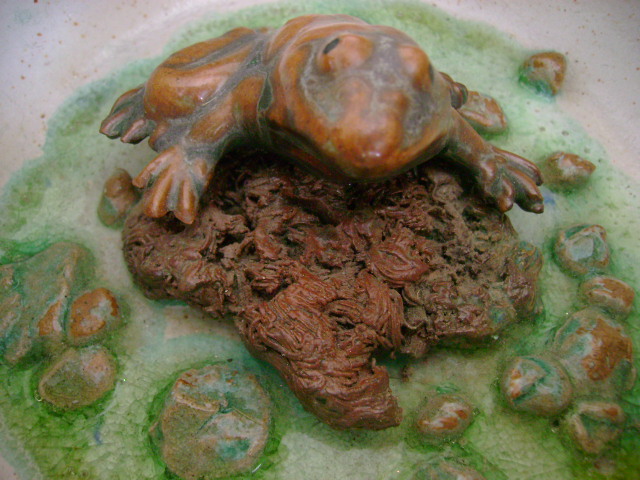 abstract toad




Number of posts

: 533


Location

: uk


Registration date :

2018-06-01



A lot of skill involved there. I can see why you like it.
But unfortunately, it is deeply unfashionable. Of another time, a world away. Pieces like this were all the rage in Victorian Times and slightly after. A lot done in majolica. There were often amazing creations. Complicated, with many animals. Very expensive as well.
But Times change. No one has cases of stuffed animals, mounted trophy heads on the wall, majolica pottery!

philpot




Number of posts

: 5300


Location

: cambridge


Registration date :

2010-11-06



Yes, I know what you mean Phil, ref' the majolica. I have seen a fair few Portuguese pieces (going back some years, not so many of late) that had all sorts of creatures upon them, though they did not hold that much appeal for me at the time, I admired the work that went into them. This, I believe, is fairly modern. I will add pictures of the base later in ID, as I will look to find out more about the great talent that made it.
But, how on earth did this not collapse in the kiln? It just seems, to me at least, that it goes against gravity.





abstract toad




Number of posts

: 533


Location

: uk


Registration date :

2018-06-01



I'm assuming the top was made separately. Flat and the holes cut out. Leave to dry. The the bowl made and dried. Then the top is semi rigid and can be joined to the top with slip, let to dry and bisque fired. It would not have gone into the kiln wet.
Thank you Crawford, that's much appreciated. It still surprises me that it held up, the top rim has quite a thickness & the sculpted pieces must have had a little weight to them. Definitely no stilt / support marks.
Well done to whoever made it and on that note I'll stick it in Id my pot to see if anyone knows the maker.



abstract toad




Number of posts

: 533


Location

: uk


Registration date :

2018-06-01



---
Permissions in this forum:
You
cannot
reply to topics in this forum