Hello, I recently purchased this unusual bronze figure at a car boot sale. I think it is early 20th century, or maybe late 19th. It's a rather grotesque figure of a man in a top hat, tail coat and waistcoat. He has a very characterful face with a large beaked nose and jutting chin. He is smiling and has one eye closed in a wink, and is standing with his hands in his pockets. He looks very much as though he is a caricature of a notable person of the time - possibly an MP, industrialist or another public figure, or maybe even a character from a popular novel - one of Dickens characters perhaps? At first, his nose reminded me of Punch, but he does not have a hump on his back, so don't think this can be right. Has anyone got any idea who it might be?
It stands just over 5" tall and bears no identifying marks.
Any thoughts welcome!
Thanks, Clare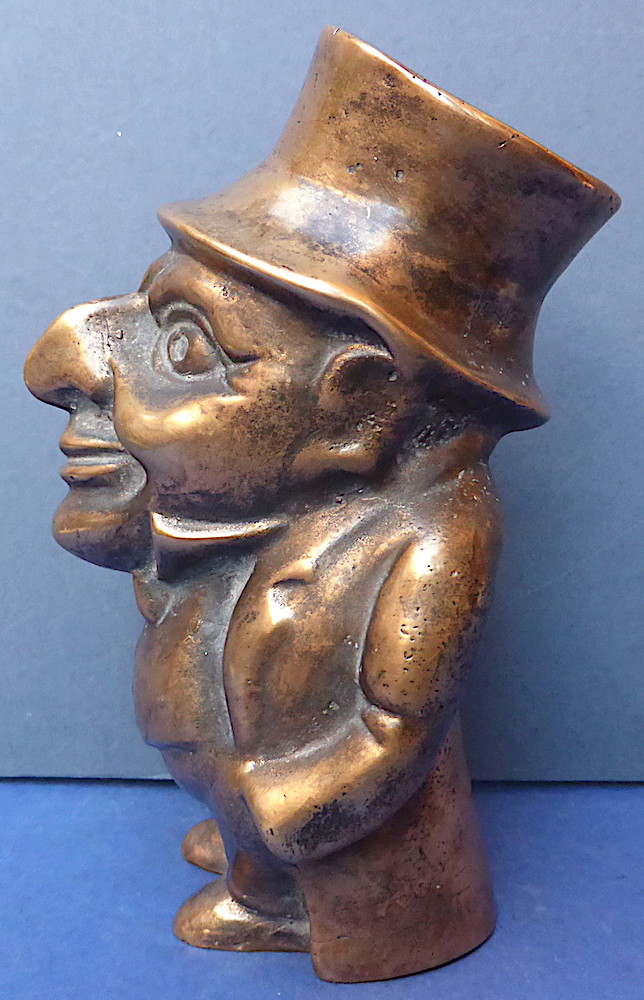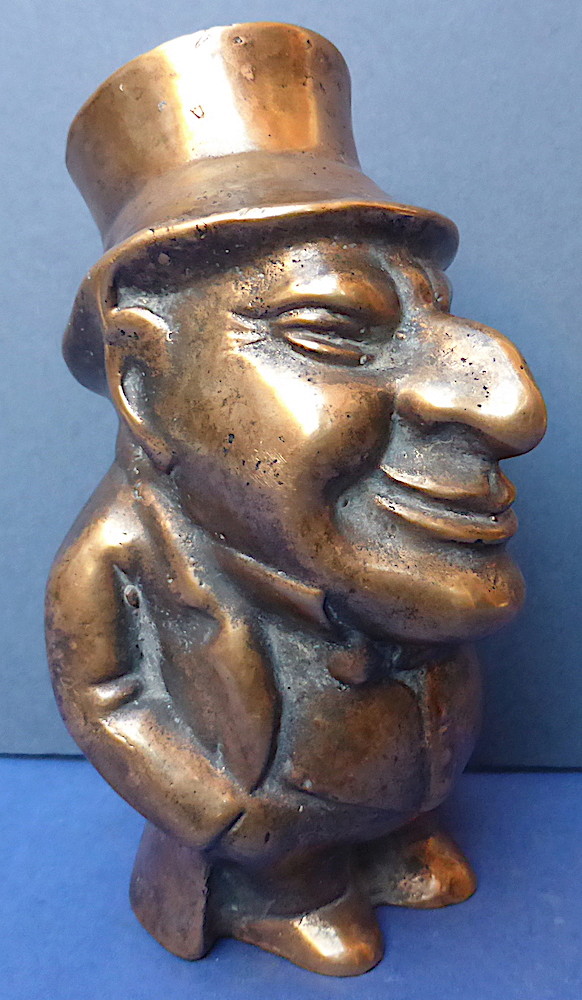 Clarehelen




Number of posts

: 140


Location

: Derbyshire


Registration date :

2016-06-09



He's great, I can see why you bought him Clare.
Sorry, I have no ideas as to who, what, when or why!! But he does look great and I would have happily purchased him myself. Good luck with your search for info', John.

Guest

Guest





Almost "Ally Sloper" but the nose doesn't seem right.
A couple of suggestions to try and ID him

Have you looked through the Vanity Fair caricatures to see ifhe resembles anyone? They covered most of the prominent names of the time from politics and business to sports and entertainment

You could try sending the photos to somewhere like the Cartoon Museum to see if anyone recognises him. If he's considered important enough a character to cast in bronze the chances are he'll have cartoons dedicated to him too.

He might just be a character thought up by Punch for example who signified certain social traits associated with a business or ethnic group, which although not P C today, were common in Victorian times and easily understood by a reader/ audience

There more I look at him he's saying Mr Punch to me. Mr Punch did appear in various guises via different modes of dress

bluenote




Number of posts

: 105


Location

: Midlands


Registration date :

2017-10-10



Great suggestions thank you! I've looked at Ally Sloper, and agree the nose isn't right. I'll try the Vanity Fair route and see what I come up with. Someone has suggested social/ethnic traits as a possibilitypreviously, so I have been trying to find something similar through this angle, but nothing so far. I had considered Mr Punch, but because of the lack of a hump, thought this was unlikely? I'll report anything else I find. Thanks again!

Clarehelen




Number of posts

: 140


Location

: Derbyshire


Registration date :

2016-06-09



At last I have managed to find out what this is. I've found someting that is very similar on the US Holocaust Memorial Museum:

https://collections.ushmm.org/search/catalog/irn537377

So it appears that this is a generic caricature of a Jewish banker or industrialist.
Interesting but a little distasteful today.

Clarehelen




Number of posts

: 140


Location

: Derbyshire


Registration date :

2016-06-09



true but I would still love to own one

_________________
Christ is for life and not just for dogmas

dantheman

Consultant





Number of posts

: 15391


Location

: Lincolnshire ( the veg patch of England)


Registration date :

2008-02-03



---
Permissions in this forum:
You
cannot
reply to topics in this forum