Small salt glazed stoneware pot with coloured lines around and a series of dots. The mark on the base could possibly be Michael Henry.
Trouble is I can't find any more images of his pots. I've done a bit of research, he was one of four Canadian apprentices chosen by Bernard Leach in 1963 to join the Leach pottery in the hope of forming a link with the studio pottery movement which was happening in British Columbia at the time.
Here's the info: http://www.leachpottery.com/alex-lambley/
Can anyone help?
Oh to have this book: http://www.belkin.ubc.ca/publications/thrown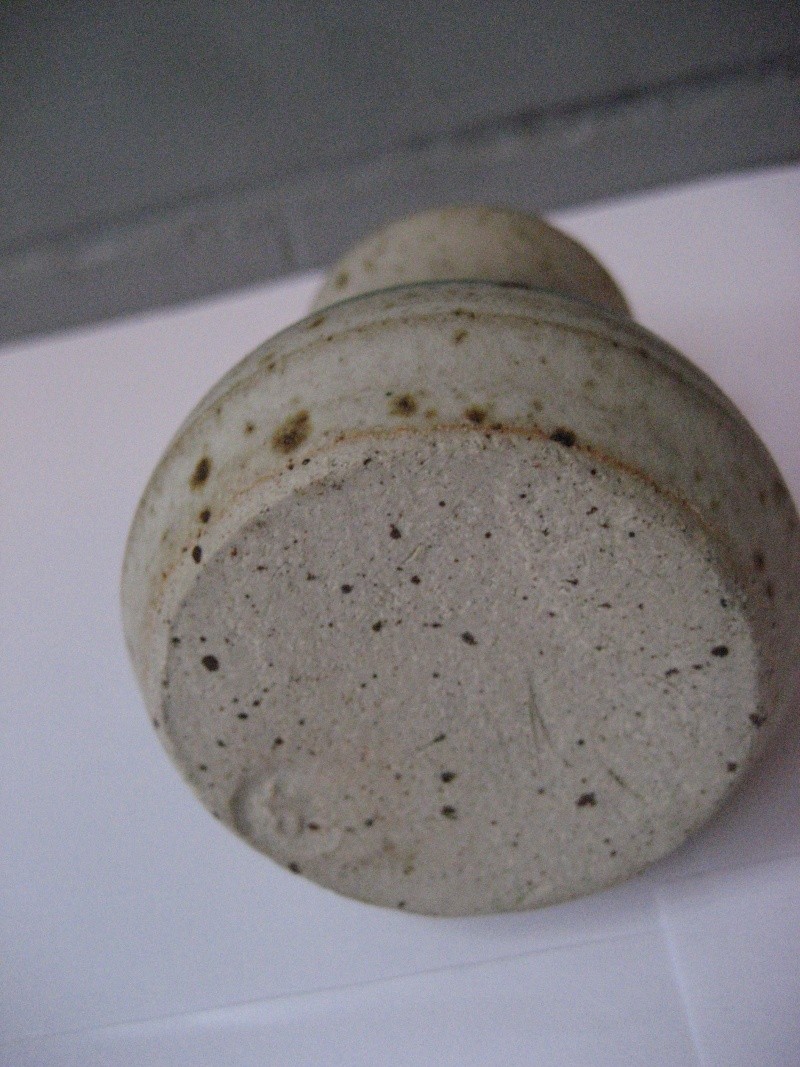 I've had to include the mark as it's the only example I can find

stardust*




Number of posts

: 428


Age

: 51


Location

: Derbyshire UK


Registration date :

2015-06-29



I don't think it's saltglaze
_________________
RVsaid wrote: looks bigger than 5 inches

dantheman

Consultant





Number of posts

: 13160


Location

: Lincolnshire ( the veg patch of England)


Registration date :

2008-02-03



Firstly, for accuracy your pot isn't salt-glazed.

Looking at the image of the mark it is very difficult to make out clearly but it does look similar to the mark in the BSPM book. However, the problem I have with it being by him is that there is no indication of him working in the UK other than at the Leach Pottery and your pot doesn't look like images of Henry's work that I have been able to find (there are some in Leach Pottery St. Ives by Marion Whybrow).

Henry was at the Leach Pottery for 2 years (1963-5) and pots he made there would have had the Leach Pottery stamp and, if he was allowed to make any work of his own, the Leach Pottery seal with his own.

After finishing his apprenticeship he went back to Vancouver and potted for 2 years in the city where he made glazed stoneware. Your pot is glazed stoneware and would fit but the decoration seems out of place for someone, who trained in St. Ives and went on to make salt-glazed pots in the Anglo-Oriental style. In 1968 he moved into the country north west of Vancouver and made salt-glazed stoneware for 7 years before back problems forced him to give up pottery.

So if your small pot was made by Henry it would have to date to 1966-8 and you would need to ask how it came to end up in the Midlands.

So not impossible that it's by him but little to convince me that it is with the information that I have been able to find.

_________________
Now you should know by now that Potty and I need to see your bottom - we're funny that way!
SB mark for Sue Bartholomew maybe?

_________________
Just my personal opinion, take it or leave it.

NaomiM

Administrator





Number of posts

: 17666


Location

: Hampshire


Registration date :

2012-05-15



You're right, the mark is a little smudged and could possibly be his, but looking at the circumstances with clearer knowledge, taking into account the standard of work produced at the Leach Pottery, especially under Bernard Leach... the dates it would have been made, comparing it to the work he produced back in Canada etc it makes so much sense now that it's not very likely to be Mick Henry.
Thanks SP for your help, I really appreciate such a comprehensive and fascinating reply.
Open to suggestions.....I'll look into Sue Bartholomew, thanks Naomi.
I'm still no good at glazes, as you can tell.

stardust*




Number of posts

: 428


Age

: 51


Location

: Derbyshire UK


Registration date :

2015-06-29




---
Permissions in this forum:
You
cannot
reply to topics in this forum