Hello, Can anyone translate the written inscription on the bottom of this Limoges ashtray for me? Too, The foil sticker on the front reads: "e"/ PE INTALA MAIN/ LIMOGES"; anybody familiar with this export label? Any assistance with this query would be greatly appreciated! Thank you! David.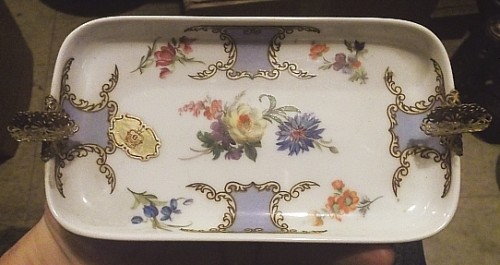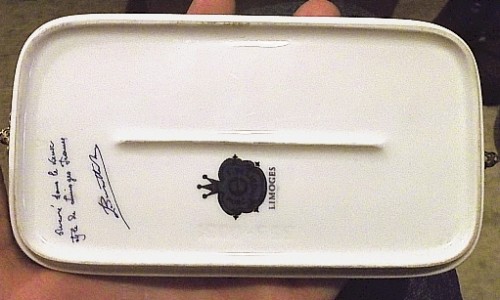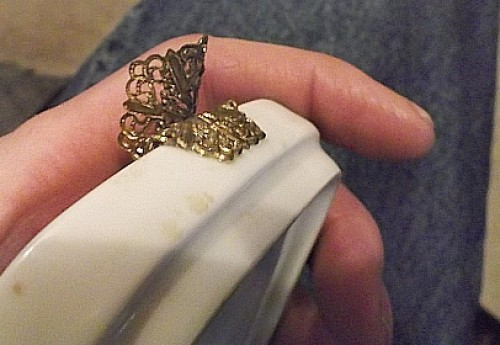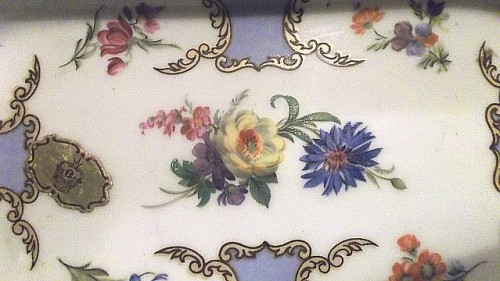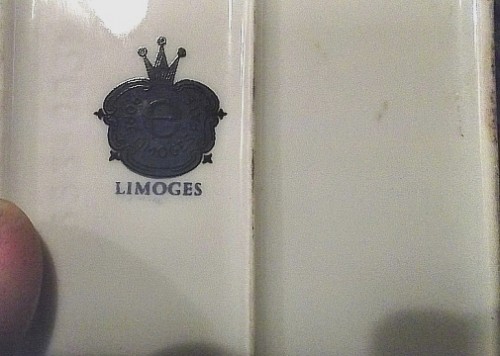 2canton4




Number of posts

: 130


Location

: canada


Registration date :

2015-09-30



"PEINT A LA MAIN" means "hand painted".

"Decore dans le vieux style de Limoges France"

"decorated in the old style of Limoges France"

The mark could be for the Elite factory.
I can't find the mark or anything similar in the Directory of European Porcelain marks that was originally put together in 1954 and revised on several occasions after that date.

It certainly would have been made after 1954 but from the information I can find it doesn't appear to have been made in any of the 89 Limoges porcelain factories that I have information on that existed pre-1954.

Although the writing is in French, is there anything that says that it was made in Limoges? I don't know if it was or not but the way that it is marked raises doubts in my mind.

_________________
Now you should know by now that Potty and I need to see your bottom - we're funny that way!
Well it says Limoges on the paper label SP, but more interestingly, nowhere does
it say France.

There seems to be some more lettering on the mark underneath.
Any chance of a close-up, maybe lit from the side?
Despite playing with the image I can't make it out.
Thanx denby.......and studio......! The numbers 353-0031 and the capital letter "A" are impressed in the bottom and the dark green painted stamp reads:"e" PORC. LIMOGES PATE.........that's it! David.

2canton4




Number of posts

: 130


Location

: canada


Registration date :

2015-09-30



Hmm, similar to the Fornasetti marks in this thread, which neatly covered over
the original makers marks of the blanks they used.
https://www.20thcenturyforum.com/t3408-fornasetti-italy
I wonder if this heavy painted mark is doing the same, and maybe it wasn't
made in Limoges at all.
---
Permissions in this forum:
You
cannot
reply to topics in this forum