This is an odd piece measuring 7.5" tall im unsure of its origins or date and woud ove help with sugestions with either or just views of its quality, The vase has two handles on the rim maybe of animals and the glaze graduates from the base being brown to greens as it works its way to the rim. The base foot rim is heavy made it appears to have a decorative picture in the background which can be seen in the right of a dragon or bird of some sort there is also aremnents of a greek key pattern around the rim area. Very difficult to describe. The base has two small character marks which ive tried my best to capture one is quite indistinct sadly hope someone can see what it is. Thanks for looking.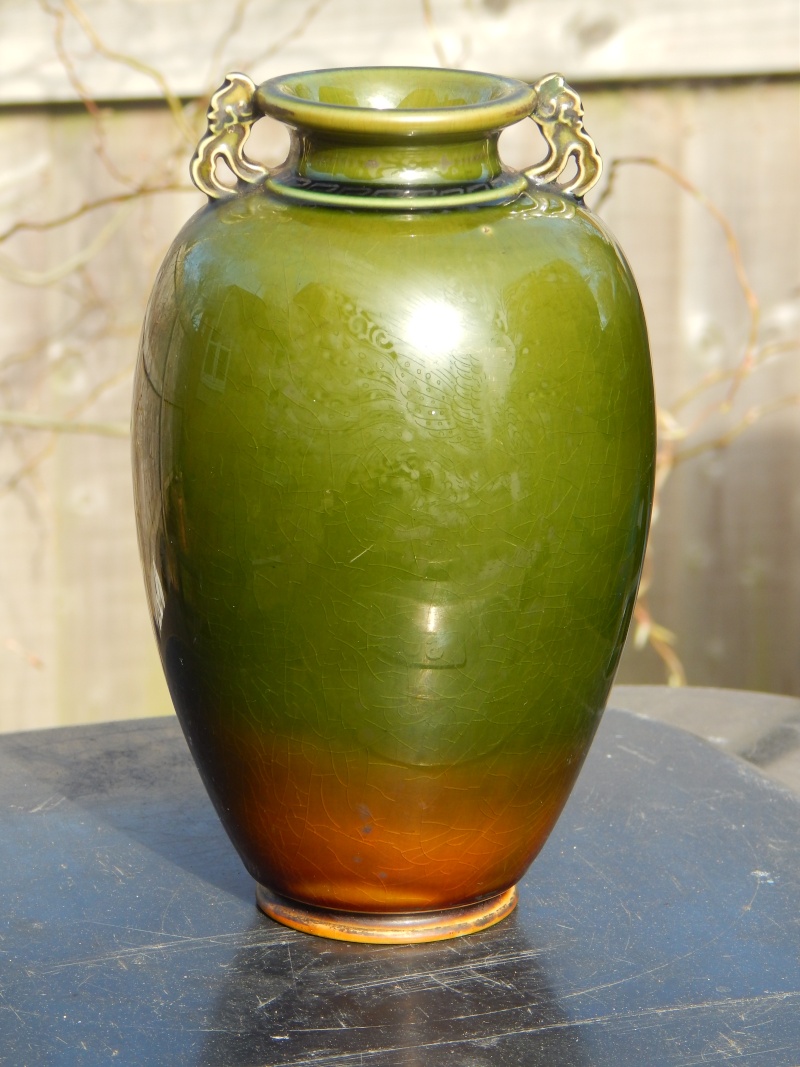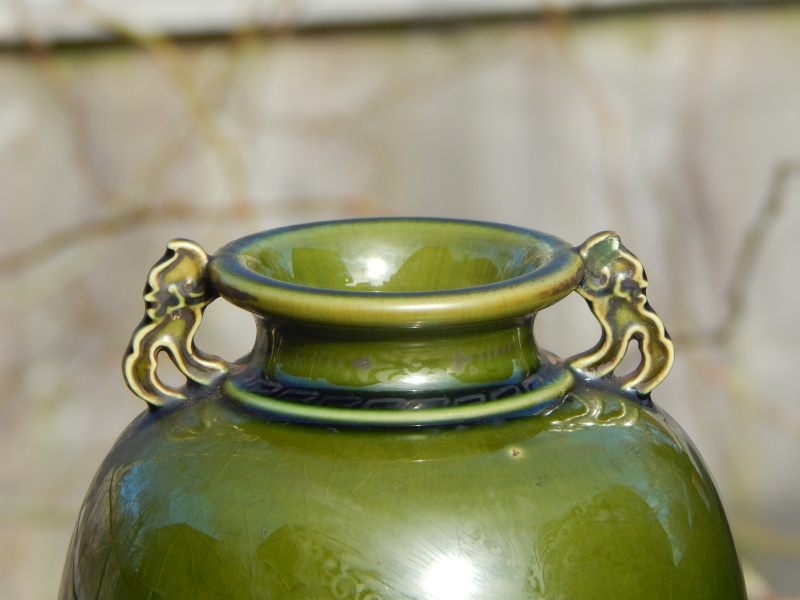 bradbury7308




Number of posts

: 71


Location

: north wales


Registration date :

2011-10-31



I'm sure this is British (or European) art pottery.
The base looks to be finely turned stoneware.
Can't make out the mark, but ERA art pottery
is the nearest (Staffs 1930s).
the colours remind me of Linthorpe
Thank you both for your replies to this difficult to identify piece i appreciate them, Although it doesnt look very chinese to my way of thinking the tiny marks to the base close to one another appear to my eyes to look chinese, One of them looks like a capital "k" which is a fairly common chinese character mark, Well ive always thought that mark looked like a capital "k" Please dont take my word for any of this im just summerizing hope i havent completey confused you lol. Thanks dan

bradbury7308




Number of posts

: 71


Location

: north wales


Registration date :

2011-10-31



I think it's Japanese. Looking at the marks 'sideways' the longer mark is a series of Kanji characters, and the K mark is actually the kanji character for Japan.
Nice vase. Worth investigating further.

_________________
Carrot cake is just fake cake
The thing you're calling a K, which I've always thought of as a man, is the character for "da" in Chinese, and "dai" in Japanese, both meaning "great". It does need to rotate a quarter turn clockwise. I'm voting for Chinese, because the top character, which looks like a box with a line through it, is Zhong. I think. I can't see the rest.

janetpjohn




Number of posts

: 267


Location

: Louisiana


Registration date :

2015-03-16



I stand corrected
I always assumed the 'K' represented Mt Fuji with a line through it

_________________
Carrot cake is just fake cake
I think that is the mark of :

出雲 (IZUMO)
若山 (WAKAYAMA)

http://placedelours.superforum.fr/t22929-petite-boite-ceramique-japonaise-izumo

Haltia




Number of posts

: 19


Location

: France


Registration date :

2013-06-09



Great to finally solve the mystery. Thank you

_________________
Carrot cake is just fake cake
---
Permissions in this forum:
You
cannot
reply to topics in this forum