Bought a lovely little brown glazed teapot today. Would appreciate any assistance in tracing its origins and possible maker!
It reminded me for some reason of an Art Deco design. The shape also reminds me of an apple shape (which is why I chose it). It is flat sided and approximately 2 inches wide, 6 inches tall without the lid on and 7 inches long (I will measure properly if needed). The lid is quite simple except for the 'feet' of the handle which look like they have been feathered out. There is a small hole in the centre of the lid for steam letting. Where the lid fits into the teapot the hole looks 'hand cut' as it is slightly wonky here and there as you would expect if made by hand not machine. Where there is a chip on the base you can see what appears to be a pale clay (maybe....) but under the base where the glaze hasn't been applied or has rubbed off in moving it has an orange/pink tone...but it could be residual glaze (see picture)
I think it is really sweet! I've taken quite a few photo's of it so will up load the clearest ones.
There is no makers mark at all...unfortunately. I've searched various sites to try and find something 'similar' including the V&A museum site and other pottery and ceramic reference sites. So I am hoping one of you will have a clue and point me in the right direction!
Do you think it could be Japanese? Wheildon pottery at all? Victorian or Art Deco...or does it, in your opinion, appear to have no real age at all?
In My Hand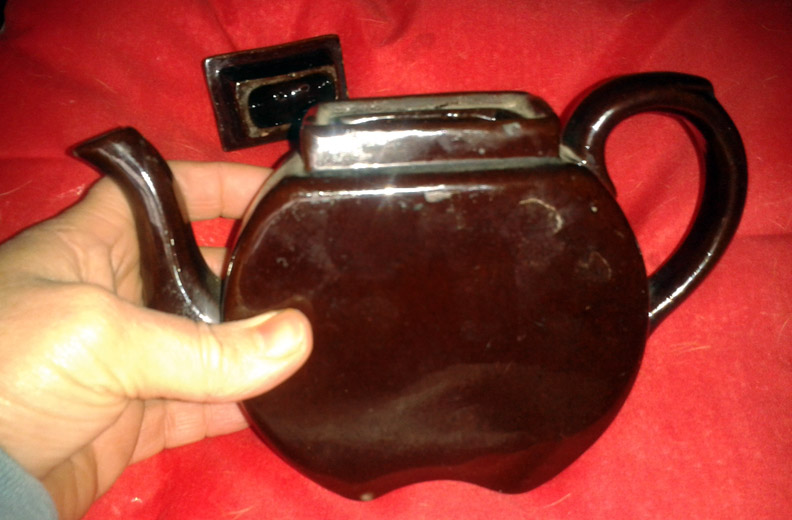 Top Cover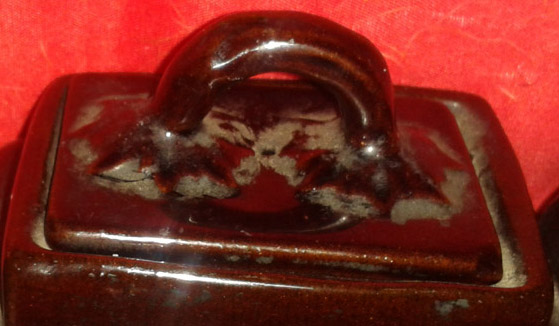 Top Vertical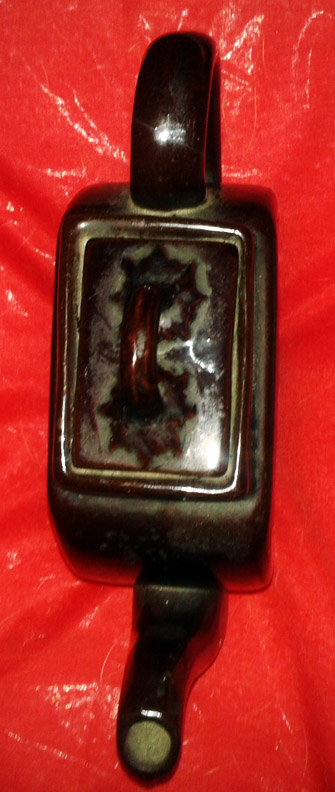 Base 1
Base & Chip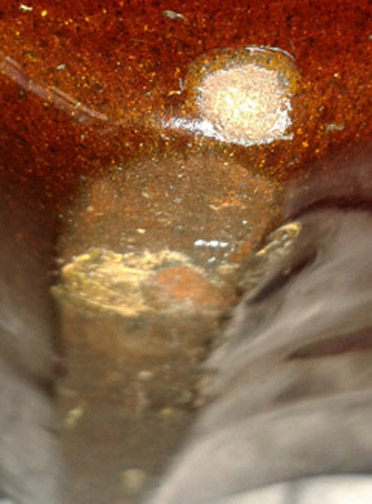 Brittania




Number of posts

: 15


Age

: 60


Location

: West Midlands, UK


Registration date :

2012-04-21



i think your teapot is a really charming design, and one which i think possibly fits into the category of Hotel ware or perhaps Liner ware (for cruise liners). The flat sided shape would be perfect for fitting lots in a row on shelves in a hotel kitchen pr in a tearooms such as Lyons. The cube teapot was the epitome of this kind of practical thinking design, but yours too may have this function in mind. The curved base may also have some practical use for holding it steady on some kind of runner or platform. All that said, it's shape is not that unusual, and it may be purely decorative. I found one on ebay also, this copeland teapot on a teapot lovers blog.
http://3.bp.blogspot.com/_myelwFdVb1Q/RZESz2eAuNI/AAAAAAAAAIE/D9FQG1YDwh4/s1600-h/copeland.JPG

Given that both these teapots are from the late 19thC i would estimate a date of 1880s/90s for your teapot.
Last edited by skay on Sun Apr 22, 2012 10:03 am; edited 1 time in total (Reason for editing : Ebay link removed)
Thanks Bistoboy! that was really interesting! Sorry I didn't reply before now...I got all excited about your information and forgot to say thanks at the time! lol Hope you forgive this late thank you!!

Brittania




Number of posts

: 15


Age

: 60


Location

: West Midlands, UK


Registration date :

2012-04-21



I've seen others this shape which were Japanese. They were modern but I think it's a traditional shape.

_________________
Carrot cake is just fake cake
---
Permissions in this forum:
You
cannot
reply to topics in this forum