Vivika and Otto Heino were some of the most highly respected American potters of the mid 20th century. They began their association as a couple in New Hampshire around 1950. Initially Otto was a student of Vivika's. They moved to California about 1952, and after spending several years in Los Angeles, they eventually settled in Ojai, occupying Beatrice Wood's former studio/home until their deaths (Vivika 1996, Otto 2009).
Rather than sitting here typing a lot of redundant information, I am going to post pictures and refer you to the link below for a full accounting of their lives in their own words by way of the Smithsonian Institute's Artist Oral Histories series of interviews at the link below:
http://www.aaa.si.edu/collections/interviews/oral-history-interview-otto-and-vivika-heino-13053
The first 2 photos below are of a very large bowl (13 inches tall and 14 1/2 inches wide). Pieces like this don't often come on the market, and when they do, they are usually sold through high-end auction houses. You are not likely to see one like this on ebay.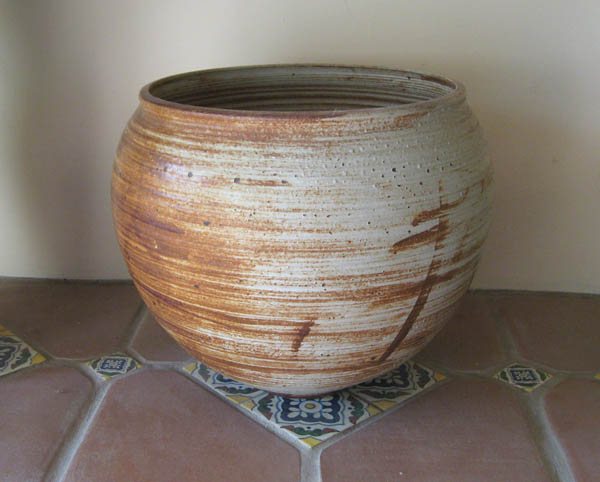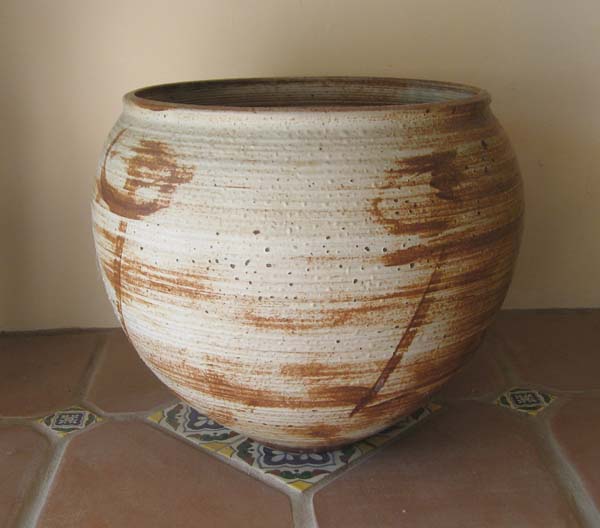 The next pot is a tall cylinder (about 14 inches high). It is from the 1980's, glazed with Vivika's "oatmeal" glaze and decorated with weed grasses dipped in slip or oxide and slapped onto the unfired glaze. The piece was thrown by Otto and glazed by Vivika, which was often the division of labor for large pieces. The signature was by Otto; he usually printed, while Vivika signed in cursive.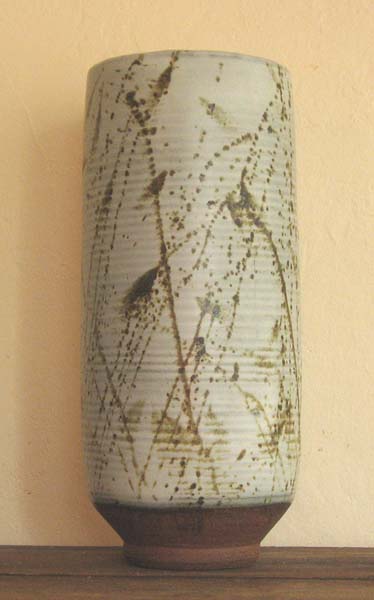 The next piece was made by Otto in 2002 and features his "Million Dollar Yellow" glaze with splashes of "Eggplant" and brown glazes.The story of the million dollar glaze goes something like this: for years the Heinos had been trying to duplicate a "lost" ancient Chinese yellow glaze; after Vivika's death, Otto was finally able to perfect it. The Chinese sent a delegation to Ojai to try and buy the formula from him. He said "No.", but for that price he would furnish them with 50 large pots a year glazed with the material. They agreed and gave him a down payment of $500,000. When he deposited the money in the local bank. The bank, as required by law regarding such large transactions, reported it to the government who sent Federal Drug Enforcement agents to Otto's studio. The Feds tore the place apart searching for evidence, ripping into bags of glaze chemicals and throwing the powders everywhere. They even thought the name of the business, "The Pottery" referred to marijauna. When they found no drugs they left. Otto then went out and bought himself a Rolls Royce and a Bentley.
The next piece is a tile wall piece featuring an abstract picture of a large bird and skeleton. It is about 6 x 6 inches and signed "Otto 02" in the lower right corner.
url=https://servimg.com/view/15559699/179]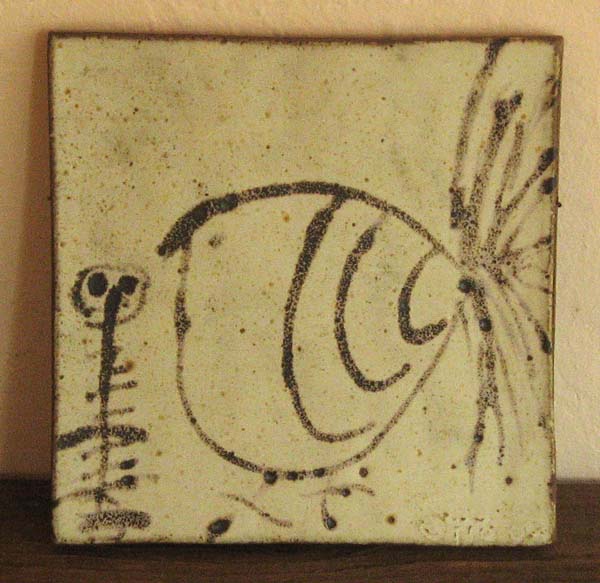 [/url]
The next pot is a small blue weed vase, about 3 1/2 inches wide.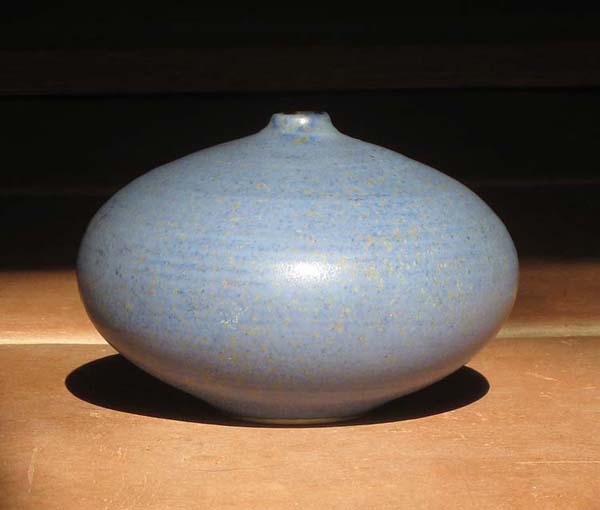 Calusa




Number of posts

: 241


Location

: California, USA


Registration date :

2010-08-22



The following pictures are of early pieces, both made by Vivika. The square plate was made in 1946, probably when she was studying in Northern California prior to her association with Otto. The small decorated cylinder tumbler was made in New Hampshire in the very early 1950's.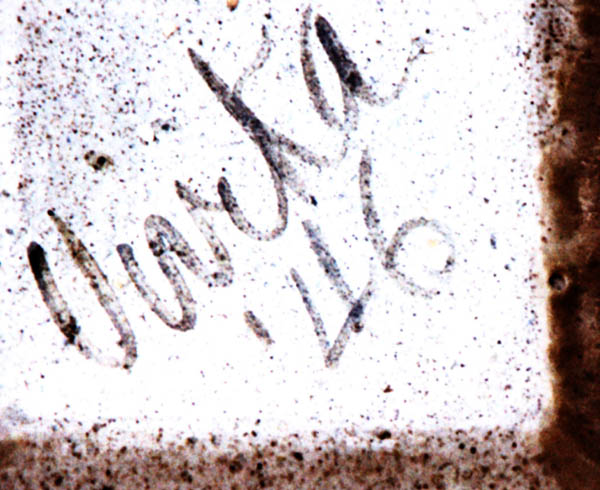 Calusa




Number of posts

: 241


Location

: California, USA


Registration date :

2010-08-22



From 1955 until 1962 the Heinos taught pottery making at the Chouinard Art Institute in Los Angeles. While there some of their students, who became well known ceramists included Ralph Bacerra, David Cressey, and Cliff Stewart. Pieces made at Chouinard were marked with a special and little known mark (which at this time I will not divulge, because to do so would in effect be shooting myself in the foot). A few months ago I came upon 8 pieces at an estate sale, and because no one else recognized the mark, I was able to buy all of them. The following photos are of those pieces along with a pair of chawan tea bowls I found years ago. Of special interest is the tea pot, which is very rare--I have seen literally dozens of Heino pots but I have never seen another tea pot--note the cleverly designed lid which doubles as a cup. I am sure the variety, design and size (all fairly small) of these items is due to the distinct probability that they were all "demonstration" teaching pieces.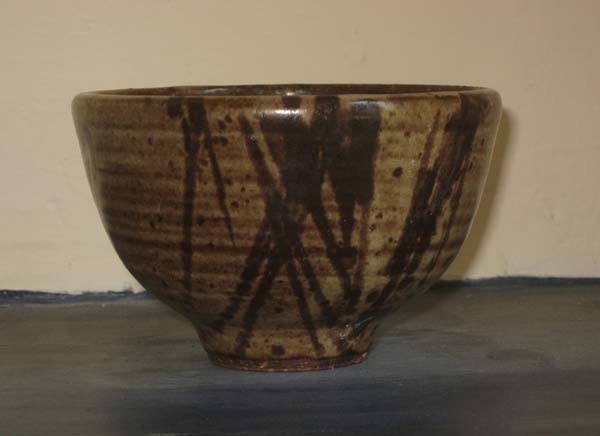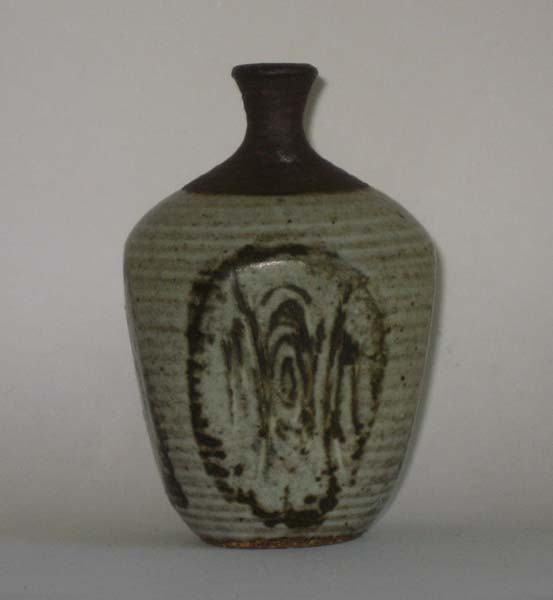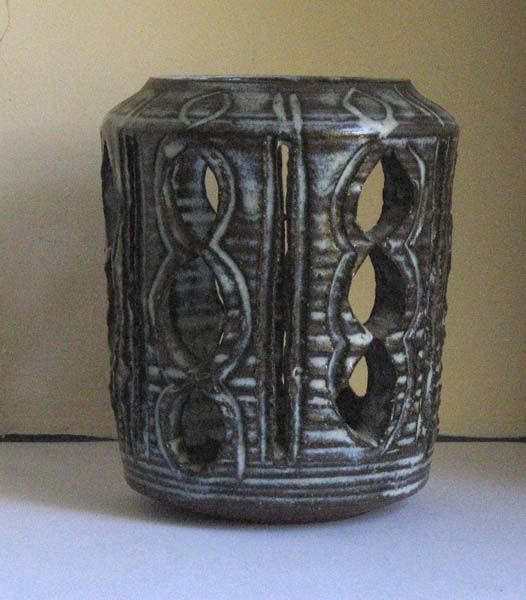 Calusa




Number of posts

: 241


Location

: California, USA


Registration date :

2010-08-22



Here's one more Heino Chouinard piece. I had this on ebay, but no one would touch it because it has several small nicks around the rim: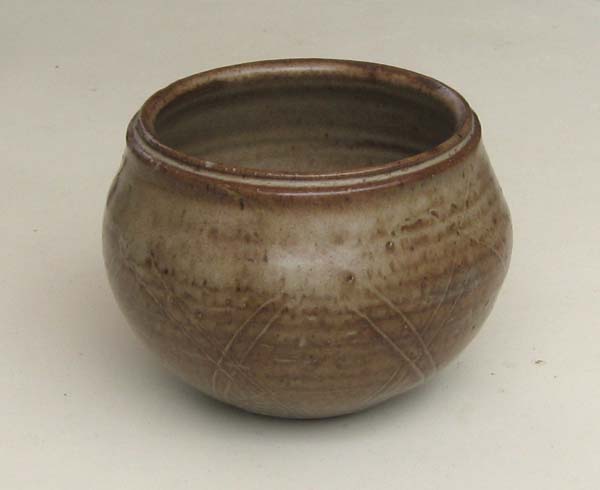 Calusa




Number of posts

: 241


Location

: California, USA


Registration date :

2010-08-22



Not trying for much these days Carolyn. A little selling periodically. I sold all the Heino/Chouinard pieces shown for a tidy profit a few months ago, and the one I couldn't sell went at my garage sale last weekend.

Calusa




Number of posts

: 241


Location

: California, USA


Registration date :

2010-08-22



Very few people are aware of that mark and fewer have seen it. I occasionally find pieces in the field that bear it. If I were to show it to the world, I would probably find far fewer of them. Selfish? Perhaps. But the information is out there and all I can say is do your homework; I've done mine. The work generally speaks for itself, and if you become familiar with the Heino's pottery, it becomes recognizable in it's own right (that's one clue). Because the pieces are from a Los Angeles art school in the 1950's-60's, it is likely the majority of the pieces would turn up locally in Southern California.

Calusa




Number of posts

: 241


Location

: California, USA


Registration date :

2010-08-22



---
Permissions in this forum:
You
cannot
reply to topics in this forum