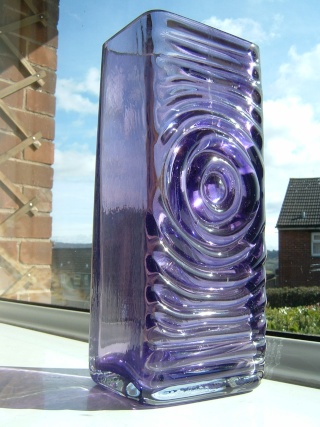 Aubergine just over 8" x 3" swirl decor on one side only , heavy , no markings

big ed




Number of posts

: 11944


Age

: 70


Location

: UK


Registration date :

2008-03-22




big ed




Number of posts

: 11944


Age

: 70


Location

: UK


Registration date :

2008-03-22




big ed




Number of posts

: 11944


Age

: 70


Location

: UK


Registration date :

2008-03-22



if anyones interested ,I have since been told it was made in cornwall , they came in 4 different colours and 6 different designs , a guy told me they were good sellers from his shop about 6 years ago but can't remember makers name .

big ed




Number of posts

: 11944


Age

: 70


Location

: UK


Registration date :

2008-03-22



Poland would have been my first guess.

I can't think of any glass studios in Cornwall off the top of my head (which isn't to say that there aren't any), but the finish and design of the vase look firmly mass-produced to me.
Oh yes definitely mass produced , he told me he sold them in his shop around 2004 for about £36 and reckoned the were cornish , but I haven't a clue if that's correct or not .

big ed




Number of posts

: 11944


Age

: 70


Location

: UK


Registration date :

2008-03-22



This was the info I got -
Hi just to let you know that these are not that old, they date from around 2000/2004, I used to sell them in my retail shops around that date. They are English made in cornwall by a small glassmaker, there were about 6 designs in the range including a daisy and vertical lines. In 4 colours deep green, sky blue, lilac, pink, clear. Sorry i cannot remember the name of the maker, its a while back now and my shops close 4 years ago, try and google glass artist in cornwall.
The retail price of them then was around £36, very nice piece and they sold well

big ed




Number of posts

: 11944


Age

: 70


Location

: UK


Registration date :

2008-03-22



I just hit up Google for Cornish glassmakers, and there are actually a few (Malcolm Sutcliffe being the most famous), but all the illustrated wares I can find are typical studio glass fare - fused glass, small-run free-blown glass, cast glass and artsy stained glass windows.

There's nothing that I can see that aims to replicate low-cost factory-made glass within a smaller studio setting - nor would I really expect to, given the sheer cost of running a furnace on the UK.


Thanks for looking , I think I am with you on this Nic , i can't see anything like this being produced there either, I have Emailed the shop guy back and asked if maybe they were imported , Liam Carey had a highish output from their mini studio with just a few workers producing the liskeard knobblies , now he mainly makes doorknobs and the like , but I can't find anything else ,also strange that none of these have turned up around the fairs etc. to my knowledge .

big ed




Number of posts

: 11944


Age

: 70


Location

: UK


Registration date :

2008-03-22



big ed wrote:

Aubergine just over 8" x 3" swirl decor on one side only , heavy , no markings
I love it
my colour, and yes I've never seen one before either
xx

skay

Administrator





Number of posts

: 3351


Location

: England


Registration date :

2008-02-03



Thanks Sue , got reply back from Andy -
Hi it wasn't a huge factory it was a studio their range wasn't huge I think about possible 5 items in total my mum still has one of the vases whichbi gave her for mothers day when I sold them in my shops. It was definitely south west of the uk. I recall meeting the couple who made them at the Birmingham spring gift fair, and talking to them about how much they reminded me of 60s glass, they said that's where the inspiration for the ranges had come from. I'm 100% sure and accurate with the information I've give you, just wish I'd kept the companies details, but when I closed my shops a few years back I disposed of all catalogues, get back to me if I can help answer any more

Andy



big ed




Number of posts

: 11944


Age

: 70


Location

: UK


Registration date :

2008-03-22



---
Permissions in this forum:
You
cannot
reply to topics in this forum