New photo hosting format -
Click photo hosting icon
Click Select Files and choose the photos you want to upload from your photo albums
Click Send all
Click Insert all
This will upload all the photos in the large format.
If you want thumbnail sized photos instead, then choose the third URL string on each photo (one at a time). This will put it in a separate box. Highlight it and choose Select All and then Copy. Then move to the comment box and click Paste. Then click the photo hosting icon again and click OK on the box to close it and select the next URL string and repeat.
Click Preview to double check it's all uploaded successfully before clicking Send.
Edited to add: They've upgraded the photo hosting facility, so if, after uploading your photos, you click any of the icons to the left of the three photo URLs it will automatically paste that URL string in the comment box. You can click them without having to Preview each time, although sometimes you have to re-position the cursor in the comment box because it doesn't always load the photo if there are a lot of them.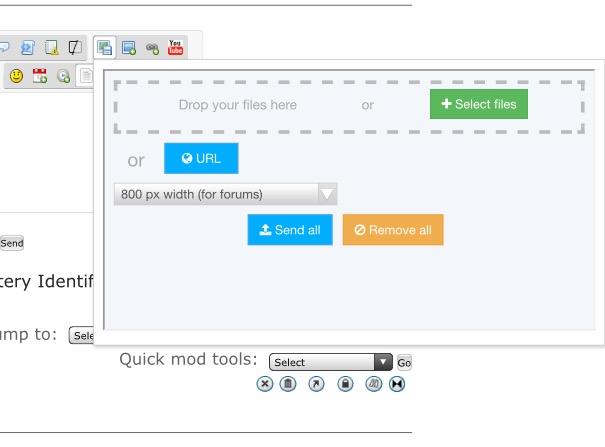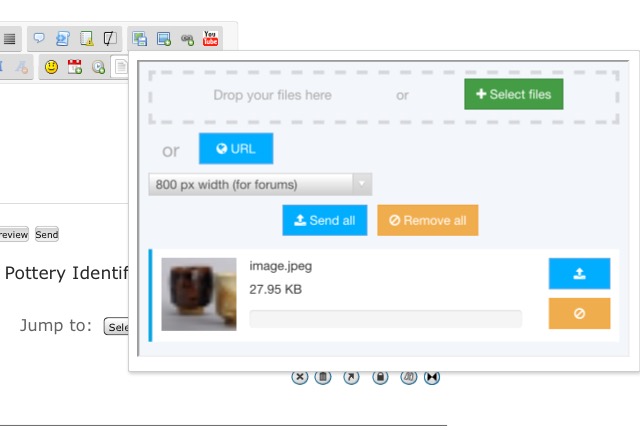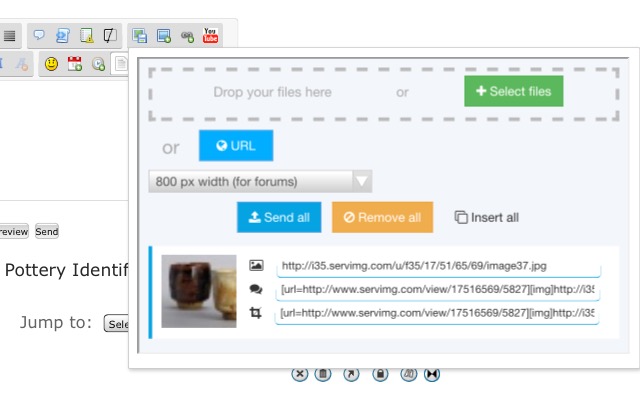 If you wish to upload an image to this site's own image hosting service, click the first icon:
and then skip back to Method One, Step Two of this guide.
If you use another online service to host your images, like Photobucket, or you host your own, click the second icon:
and then skip back to Method One, Step Three.
Please do not hesitate to contact a moderator if you're having any difficulty uploading an image.
Last edited by Nic on July 27th 2009, 11:38 pm; edited 1 time in total
Please note that while New Members can post photos from their camera roll/albums, they cannot post links to online photo albums such as Photobucket and Flickr because of an automated anti-spam 7 day block on posting Links to external websites and emails. In such cases you will see this message -
If you are having problems uploading photos please ask a Moderator for help.

_________________
Carrot cake is just fake cake
---
Permissions in this forum:
You
cannot
reply to topics in this forum