Annette Meech graduated from the Royal College of Art in 1972 and started her working life at the Old Glasshouse in Covent Garden, London. This is a very early piece of Annette's work from that period - signed 'Annette Meech 1973' made just the year after she graduated. The brown/milky effect to this goblet was created using silver chloride. Annette Meech is particularly well-known for designing the iconic 'Apollo' and other glassware for Ravenhead. In 1999 she moved her glassworks to France (Sivignon) where she continues to produce beautiful hand made art glass.
Last edited by Pip on March 26th 2009, 8:00 am; edited 1 time in total
_________________
Text & photographs
Pip Harris
Pips-Trip.co.uk
20th Century Retro/Vintage Ceramics & Glass
'Apollo' series glasses for Ravenhead in 1974: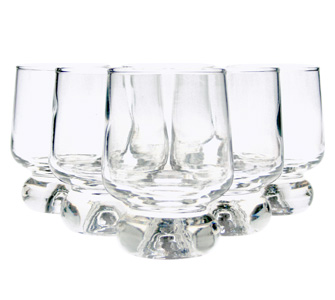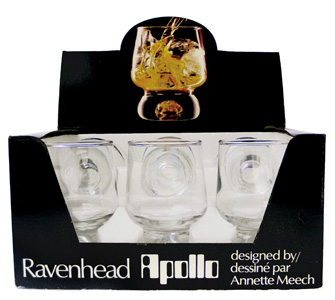 Interestingly, in the summer of 1977 Annette Meech visited the Holmegaard Glassworks and created some limited run 'studio' pieces for them, all worked by her.
---
Permissions in this forum:
You
cannot
reply to topics in this forum