+2
climberg64
22 Crawford St.
6 posters
The book has Donald Mills Potting with Bernard Leach at St Ives in 1944, thence to Fulham in 45, then to Donald Mills Pottery Ltd with Eillen Lewenstein for 46-48 and to Briglin 48-52.
The 70's stuff I personally consider tending towards the tourist but I keep looking for the more personnel items from the later period, but to no avail. Perhaps someone will post one or two DJM that will change my mind.
I am thinking my pieces date to the DM Pottery period 1946-48. However I have another white clay vase which is squat and does not in any way compare to these dated 1947 - hand signed - "Donald Mills 1947"
1) Medium vase - Marked
"D.M.-"
in blue painted under glaze. Height 200mm
2) Huge Lidded Storage Jar - Stoneware - 300mm - Mark obscured by label.
3) Cider Jar - Stoneware, saltglazed 230mm - marked
"Dm"
I've looked but these sort of items just don't come up any more. The slatgalze flagon is a great shape and I've used it a few times. I have resisted removing any more of the interesting label from the huge lidded jar and it is still as it came to me.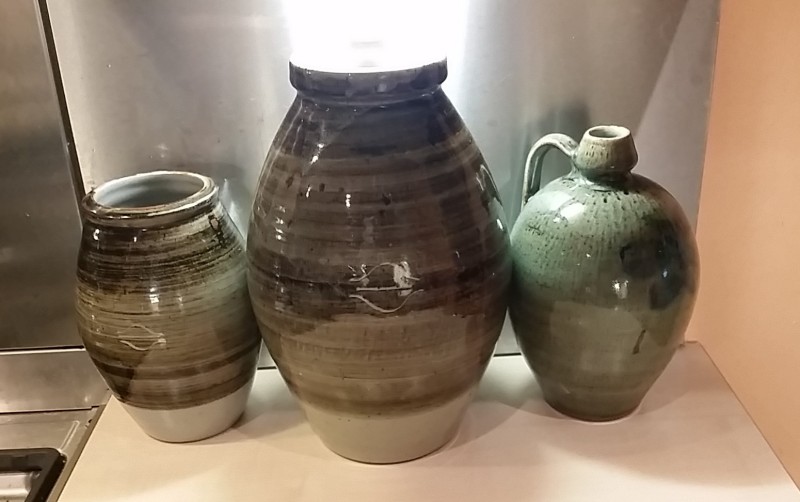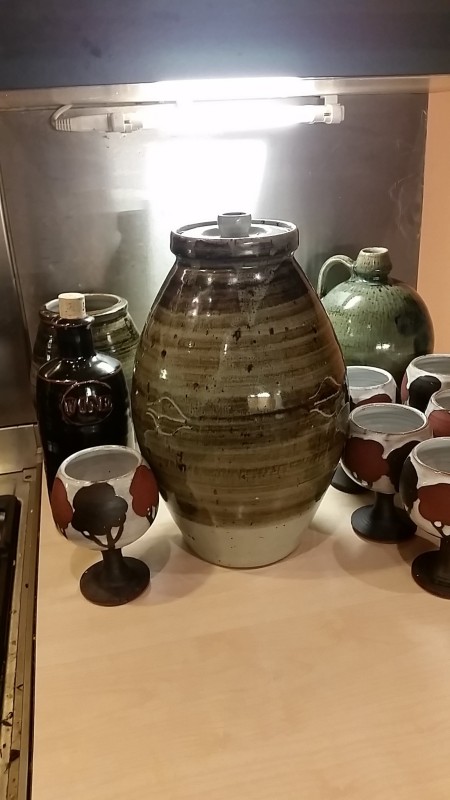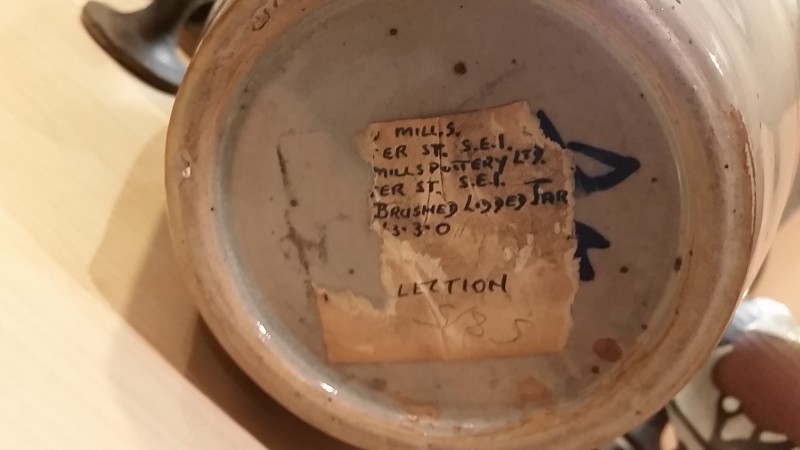 Nice. Leach influence in the leaf pattern perhaps. £3, 3 shillings was expensive; I guess that's the price.

climberg64




Number of posts

: 1266


Location

: North East


Registration date :

2010-01-20



I looked it up

Bus fare (kids) 1/2d
Chips 1d
Fish 3d
Ford Popular £80 (3 year waiting list)
Terraced House £400
Fairly good semi house £750

Somehow I think DM has depreciated in value.
I often see antiques shows where a person says something like 'I bought this piece in 1962 for £500'.Then the experts tells them it is now worth £900 and they both agree it was a great investment!!  

_________________
Making new friends as an adult is hard...because I don't want them.

dantheman

Consultant





Number of posts

: 15363


Location

: Lincolnshire ( the veg patch of England)


Registration date :

2008-02-03



Yes, and consider what £500 would be worth now if in the 60's you went out and invested it in some Luie Rie or Bernard Leach, perhaps commission a full dinner service or two.
Or sat at Troika's factory door and bought the lot as it came out of the kiln.
Here's a Donald Mills vase bought in a lot at auction the other day for the cost of about 25 Mars Bars.  It's clearly closely related to the one on the left above but has the full signature and date 1948 on the base.  Does this help for comparison, 22CS?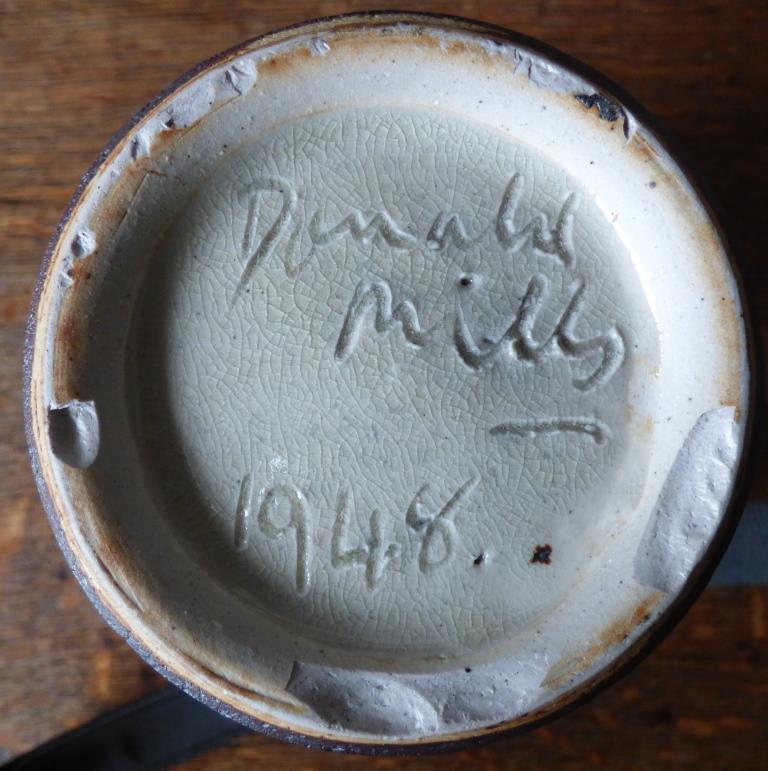 BINGO! TYVM  
Yes it does not come across on mine but that crazed base is the same also - with a slightly pale blue/green tint? Can I ask the height? - the smaller of mine is 200mm and big one with the lid is 300mm
Glad to have been of service!

My vase is 157 mm tall, smaller than either of yours, and yes, the glaze on the base is a little more celadon-looking than it appears in the photo.

By the way, in the late 1950s I lived in York Street, just one block over from Crawford Street. But I didn't know there was a pottery there because I didn't pass number 22 on my daily route to primary school. So this anecdote sadly turns out to be much less interesting than it might have seemed at first sight. Sorry about the anticlimax.
Celadon like yes.

There is a lovely description in the Briglin book of them opening the glass vents in the street to vent hot air from the basement kiln and people walking past looking down into the workshop.
Last edited by NaomiM on December 9th 2021, 10:02 pm; edited 1 time in total (Reason for editing : Quote removed for reasons of copyright - Admin)

Yelena




Number of posts

: 42


Location

: USA


Registration date :

2021-11-16



---
Permissions in this forum:
You
cannot
reply to topics in this forum