Good day to everyone.
Small vase, stamped on the bottom. Stamp is impossible to read. I tried the same trick in photoshop as with the blue plate by E. Challenor & Co marking, in hope to recover at least some letters, nope, wasn't successful on this one.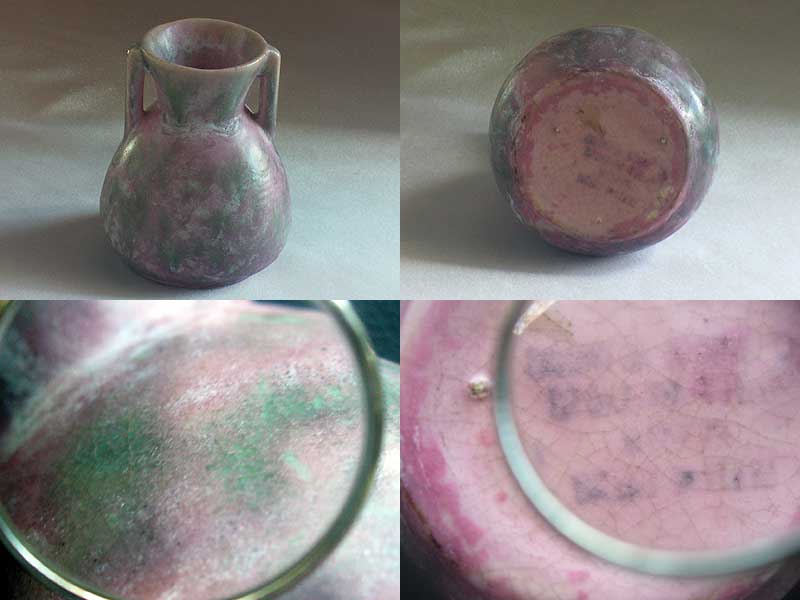 With my research on this one I made some discoveries.
1. On the site about antiques I read that the ink stamp is not always be from the manufacturer and could be a merchant stamp. "Overglaze porcelain marks tend to be those of retailers, distributors or exporters that had items made to order by one or more porcelain factories or potteries. In very few instances, some overglaze marks are large irregularly shaped smudges or at times resemble a certain shape, for example, a flower, and are usually in gold or black ink. These marks are called "overmarks" and are usually placed immediately prior to a sale by a trading company. Their purpose is to conceal the original manufacturer's mark by the final seller, usually for reasons of marketability if the actual maker is of inferior reputation, but the item is in a famous style." Link to this info, if anybody interested: https://www.marks4antiques.com/Porcelain_marks_pottery_antiques.htm
2. Then I did some image search and came across a couple of photos of the items with a similar looking glazing. I went to their sites and read, that they have the Roseville with the Carnelian II pattern. The link I am going to provide to view and compare glazes is going to the commercial site, if it is considered soliciting, then I apologize, and link could be removed:
https://thekingsfortune.com/products/roseville-pottery-1915-blue-carnelian-ii-tab-handle-vase-331-7
3. Then I went to other site and learned about the pattern history. Ended up, that the line of product was unsuccessful with the consumer tastes at that time, and the product even wasn't marked by Roseville, or marked with RV letters, so the manufacturer took back the pieces and reglazed them. The info about it is right here, and it is also a commercial site, so, if it is considered soliciting, then the link could be removed:
https://justartpottery.com/collections/roseville-carnelian/carnelian?page=1
With all that said, what I am speculating about, that perhaps I could have an "unsuccessful" Roseville small vase? With my research I didn't find that kind of shape in the Roseville forms, but I have doubts, that absolutely all shapes of the Roseville product is available on Internet for the viewing.
Any thoughts? Maybe anybody came across Roseville pieces with the identical shape? I have a couple books with the Roseville collectables, but who would place the picture of the "unsuccessful" along with the fancy ones? I don't mean to be rude toward ceramic fancies, I love to look at their pictures and appreciate their beauty.
If it is any importance, there are the measurements:
3 3/4" in height
1 7/8" on top opening
approx. 3 3/8" in the widest part of the body
2 1/4" bottom stand (base).
In daylight the green glaze spots looks more like the dark grey with a greenish tint.    
Excuse me for the long text in this post.
And thank you in advance for possible hints and opinions.

Yelena




Number of posts

: 42


Location

: USA


Registration date :

2021-11-16



I know little about US pottery but from your research it looks as if it could be made by Roseville and, as you say the ink stamp could be a retailer. In the ink stamp I keep seeing Delaware on the second line but maybe that's wishful thinking.

To me the glaze looks very much like the Carnelian II glaze you have found.

_________________
Now you should know by now that Potty and I need to see your bottom - we're funny that way!
Thank you, it is always wonderful to have second opinion. Maybe later I will try photoshop magic again on the stamp, but I think there is little hope to recover. If something readable will came out, I'll post here. Thank you again for your opinion.

Yelena




Number of posts

: 42


Location

: USA


Registration date :

2021-11-16



From experience you need to find another pot with the same stamp, but readable, and then it will seem so obvious. To add to what I wrote yesterday the bottom/foot of your vase looks more like Roseville than some other potteries that I looked at too.

_________________
Now you should know by now that Potty and I need to see your bottom - we're funny that way!
---
Permissions in this forum:
You
cannot
reply to topics in this forum