Good day to everyone. I am in hope if anybody could help me out to identify the markings on pottery. I don't have much knowledge in professional terminology in ceramic genre, and will try my best to describe in my own words. Please, correct me, if I mistaken on something, and sorry in advance for my mistakes.
Bowl with brushstroke design.
Bowl has soft three-sectioned ruffled shape (view from the top).
Measurements:
Height - 3 1/8"
Bottom stand diameter - 6 1/2"
Approx. diameter bottom of the body - 7"
Top view (opening) - 7 1/4" x 6 1/2"
Clay:
Ochre-brown sandy color (unglazed bottom stand)
Glaze:
Matte with very dim gloss to it.
Color - mostly light grey. Has darker grey color as a part of a design, looks like spills on two sides of the bowl (inside bowl too). One is wider than another and located on the side where is one blue flower with brushstrokes are placed. Other one is smaller and located on opposite side.
The brushstrokes designs are in three places on the "wall" of the bowl. One has two blue three-petaled flowers and brownish colored brushstrokes running in free form, second has one three-petaled flower and brownish brushstrokes running in free form, and third one just brownish brushstrokes. Inside the bowl on the bottom also three-petaled blue flower with brownish brushstrokes around it in free form. Brownish brushstrokes looks almost like a messy handwritten script, but without words.
Throughout the whole piece on the glaze are little dark brown speckles located randomly in different sizes.
Marking:
Two incised stamps next to each other.
One in a shape of square with rounded corners and two letters. The second letter is "B", but first one could be interpreted differently. Could be "A", or "D", or "C", maybe "G", but it is my speculations.
Second stamp is round and inside it either couple of letters or symbols, or maybe numbers, I could not be sure.  Marking located on the side of the bowl, where is one blue flower placed, and about in the middle of the height of the bowl.
History:
Was picked up in estate sale about 8-9 years ago.
My research:
By comparing I found similar designs in Cynthia Bringle works, but could not confirm the marking.
Will appreciate, if anybody will share thoughts on the piece. Thank you.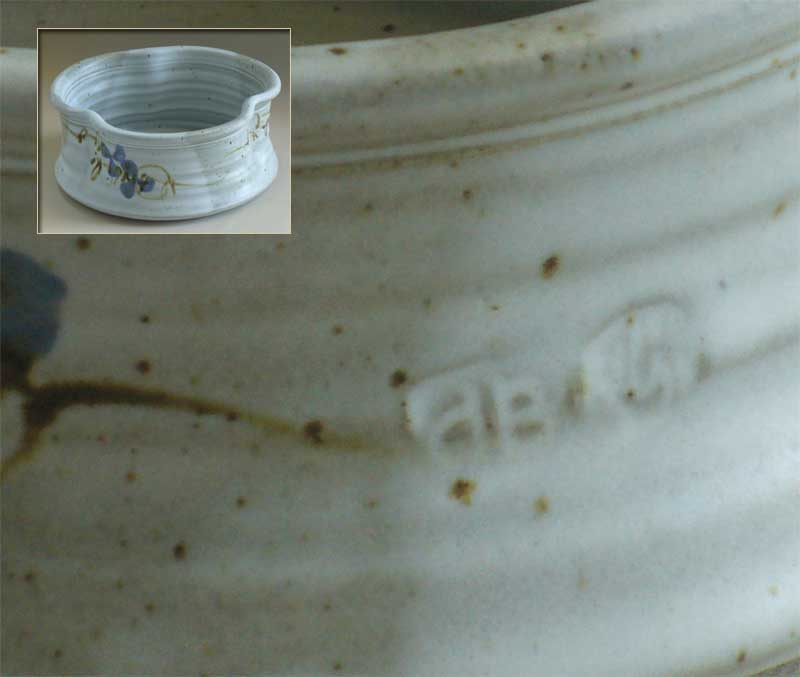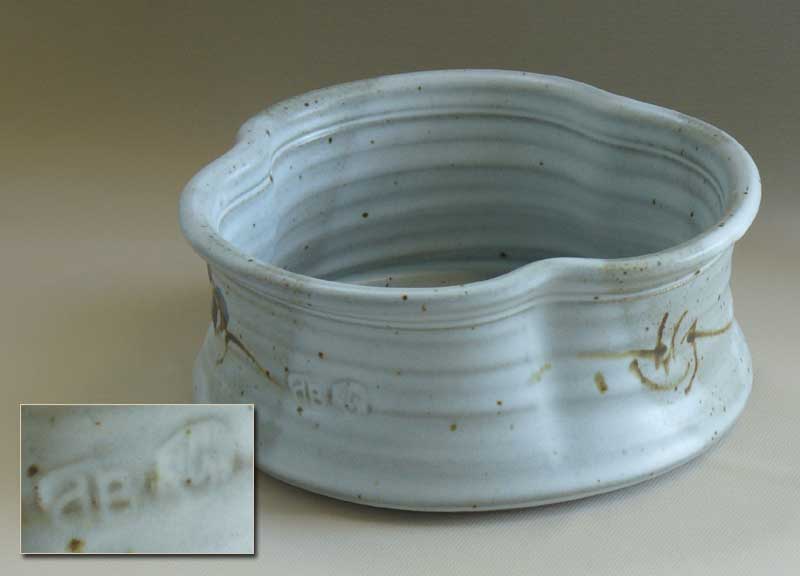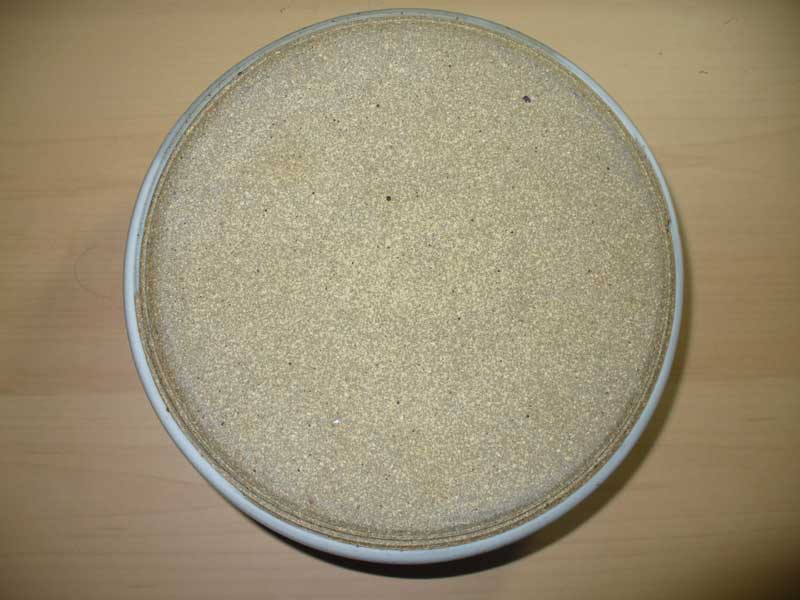 Yelena




Number of posts

: 42


Location

: USA


Registration date :

2021-11-16



I wonder if it's French writing. Might point to it being Canadian

_________________
Carrot cake is just fake cake
Sorry, didn't respond earlier. Thank you for a hint, will try to look in that direction too.

Yelena




Number of posts

: 42


Location

: USA


Registration date :

2021-11-16



---
Permissions in this forum:
You
cannot
reply to topics in this forum