Bought these recently and the dish is 100% as marked from the Reading Factory.
S & E Collier Ltd ran for over a century in Reading, Berkshire, before closing in 1957.
So my question is about the jug which is much finer and a nice piece - sold as unmarked
15CM TALL
THIS PIECE IS PART OF THE ISLWYN WATKINS COUNTRY POTTERY COLLECTION. FROM HIS GALLERY/SHOP IN KNIGHTON, OFFAS'S DYKE. THE HAND WRITTEN TAG IS HIS.
QUESTION: So is this jug earlier SILCHESTER WARE made before they started marking it or is it something else?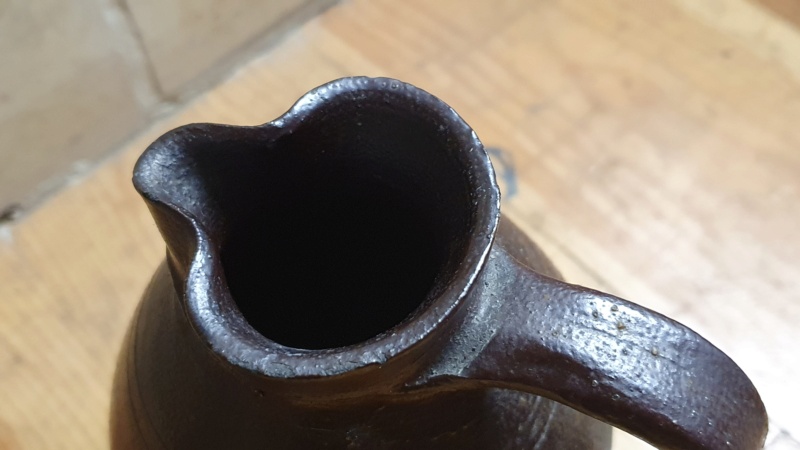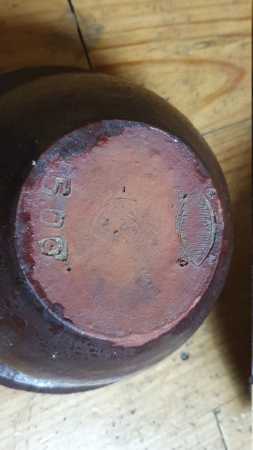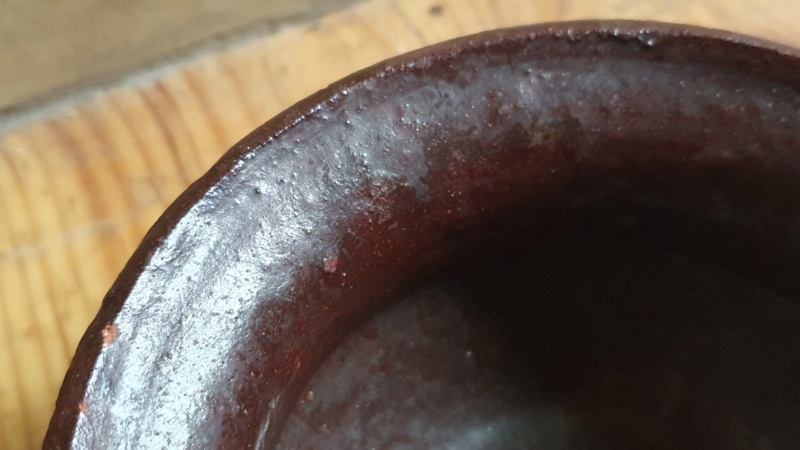 I think it would be stamped if it was Silchester ware. At best it would be a very faint stamp if the clay was too dry, but this doesn't look like the base was touched, so you'd have to wait until another one in this shape turns up with a stamp.

_________________
Carrot cake is just fake cake
Naomi this is from the Studio Pottery site:
S and E Collier
The pottery of S & E Collier Ltd ran for over a century in Reading, Berkshire, before closing in 1957.

Their terracotta pots were marked, from the last quarter of the nineteenth century onwards, with a large 'C' over a smaller 'double-R'. They also used the trade name 'Silchester Ware' and the mark for this brand was the words 'SILCHESTER WARE' impressed in an eye-shaped device.
Makes me think they did not always mark silchester ware also.
Problem with waiting is that there seems very little about  
Might ask Reading Museum as they have a few artifacts and a catalogue from Collier
Goddens says of Silchester Ware 'this trade name occurs impressed in a pointed oval circA 1907+' and that is all.
The C with the double R mark was used c 1870-1905. It then changed slightly to a much more definite C, and a more definite RR c 1905-57.
A mark of a thumb print was registered in 1906.
Early wares were not marked.
.



philpot




Number of posts

: 5113


Location

: cambridge


Registration date :

2010-11-06



Is there any red in the black glaze? I've had a few pieces of Silchester ware and they've all had a lovely deep terracotta colour in the black glaze.

_________________
Carrot cake is just fake cake
Hard to describe as all those photo taken under different Kelvin lights. There is a similarity between the two but the jug is a little more bronzy than the browny bowl and a tad blacker glaze is finer whilst the bowl is a little gloopy (all these technical terms I know seem to end in a y).

I'll try some images in outside daylight with something as a standard when the sun shines.
Hi did see these for sale online and did not bid as have the bowl (500) and in my opinion the jug is not Silchester and probably continental. Although all Silchester ware was not marked (most items were), Colliers produced using local cay that is a warm red, the jug you have has clay that is to dark for Silchester and the glaze not as used on any piece, I have ever seen. Including my collection and that of Reading museum, that I was lucky enough in the past to wade through in the their vaults. The jug does not appear in any of the silchester catalogs, the nearest in shape is number 233 that is described as "Modern French". Although all hand made they did stick to the design shapes and decoration very tightly so would not have added the rings around the body or foot to the base.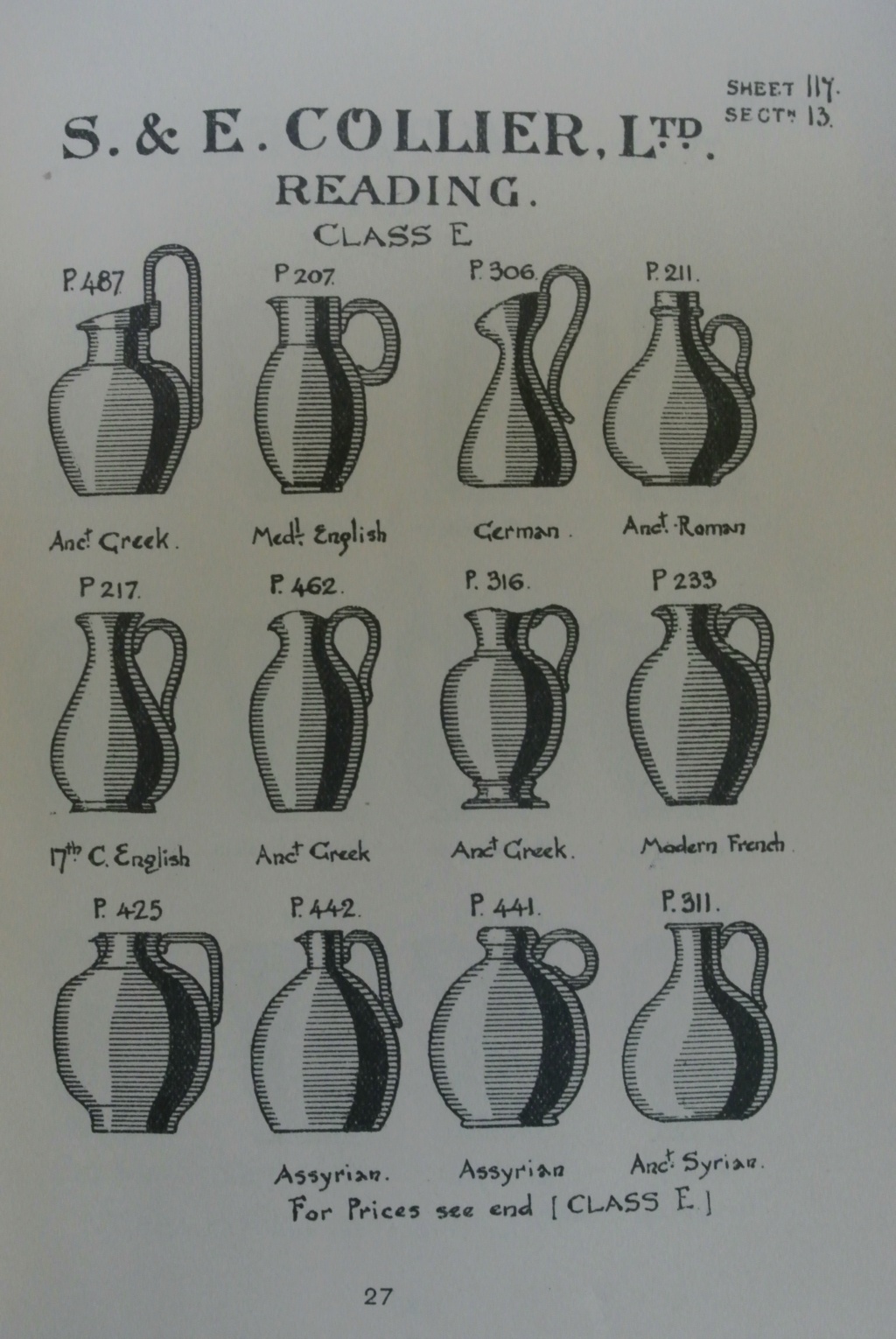 Indigojollyphant




Number of posts

: 1


Location

: Hampshire


Registration date :

2021-11-21



Indigojollyphant - Thanks for taking the time to share information. Just as a piece I much prefer the little jug as it's a more refined shape, crisper and the glaze is a lot thinner. I'll look further abroad for an attribution then. The collier glaze is a lot thicker are they all like that? Is the bowl typical? I don't see a lot of these items coming up on ebay I was hoping to see some more - are Collier pieces on display in the Museum? alongside Roman pieces?

There is a lot on Silchester on the internet as Reading University has a Archeological dept and they have seemingly done may digs there over the years. It's unusual as most Roman towns were subsumed when the Romans left but Silchester was completely abandoned for some reason.

Have you got any pieces you could post?

---
Permissions in this forum:
You
cannot
reply to topics in this forum