Weston Mill Pottery. Millgate, Newark, Notts.
(Not to be confused with the current pottery of the same name, run by Colin Rose, located at Sutton on Trent, Newark. Which has been operating for 25 years, although maybe there's a family connection as their pieces use a similar honeycomb glaze and terracotta clay)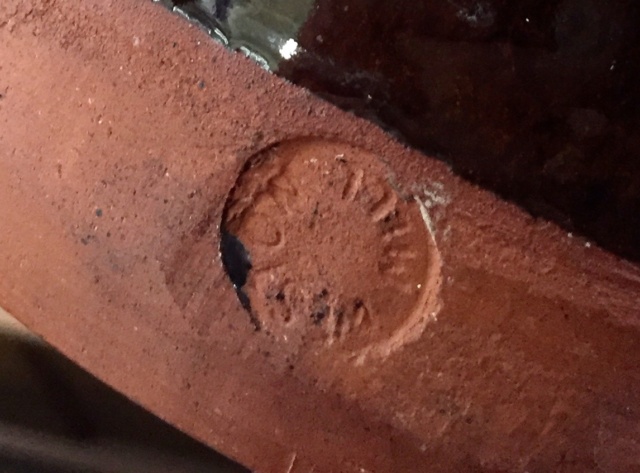 Last edited by NaomiM on Wed Sep 23, 2020 5:45 pm; edited 2 times in total

_________________
Carrot cake is just fake cake
Naomi, you may have the wrong Weston Mill Pottery. There used to a pottery of that name that was sited in a former flour warehouse on the banks of the River Trent in Newark (Sutton-on-Trent is about 6 miles north of Newark), one of many that lined the old docks that sat between Millgate and the river. The warehouse was converted to high-end apartments over 20 years ago but I remember the pottery being there and the finished pots on display in the large windows.
I think that your jug may be from the Millgate site because the glaze is typical of their work and also because the circular stamp is the one that I know they used at Millgate. I may actually have a piece or two from the Millgate studio in storage (still got a lot of boxes to go through) as I did buy a couple of pots directly from there, and I know that they had the same stamp as your jug.

I don't know if the Sutton pottery is a continuation of the one at Millgate so it might be worth contacting them to ask.

Grumpy Grandad




Number of posts

: 869


Location

: E. Midlands UK


Registration date :

2019-11-11



Cheers. They have pieces on their website with a similar clay and glaze, and they make thrown and moulded pots and flower pots etc. If it is there's then it would be early, although the shape looks more 70s style so as you say, maybe an earlier pottery on the site

_________________
Carrot cake is just fake cake
It wasn't on the same site, Naomi. The current WMP is in Sutton-on-Trent, a tiny village 6 miles morth of Newark. The WMP I knew was actually in Newark on Millgate, a 2 minute walk from the town centre. The Newark one was certainly operating as late as 1990 when I moved away from the town, and your jug is typical of their work: utilitarian pieces with ribbed bodies and two glazes. One of their standard techniques was to leave just a narrow un-glazed band around the bottom of their pots, usually just wide enough for their stamp.
Thinking back, I'm almost certain that the old WMP was pretty much a one-man operation; I used to pass the warehouse regularly and only ever saw one rather elderly chap throwing pots (it had huge windows and the potter was clearly visible at the wheel in the centre of the room).
I haven't seen how the current WMP mark their work but that circular stamp is definitely the one that the Newark-based pottery used.

Grumpy Grandad




Number of posts

: 869


Location

: E. Midlands UK


Registration date :

2019-11-11



I've edited the OP. The stamp for the current WMP on the website says established 1989; Companies house says they were established as a limited company in 2011; maybe that was when they moved to their current site?

_________________
Carrot cake is just fake cake
I've done a little more digging. The warehouse on Millgate was rented to Weston Mill Pottery from the mid-1980s until 2007, neither of which dates tie in with the Sutton-on-Trent business.
The old chap I used to see at the wheel must be well into retirement now (he'll be in his 90s if he's still around) so it's possible that the owner of the current WMP worked at the Millgate pottery and set up on his own, buying or adopting the WMP name after 2007.

Grumpy Grandad




Number of posts

: 869


Location

: E. Midlands UK


Registration date :

2019-11-11




_________________
Carrot cake is just fake cake
---
Permissions in this forum:
You
cannot
reply to topics in this forum