I have no point of reference on Geoffrey Doonan as to marks, history etc. and there seems little information on the web. His name does get mentioned in the same sentence as Hans Coper so I'm assuming he must have had some punch in the Studio Pottery world.Can anyone identify that this piece is even by him?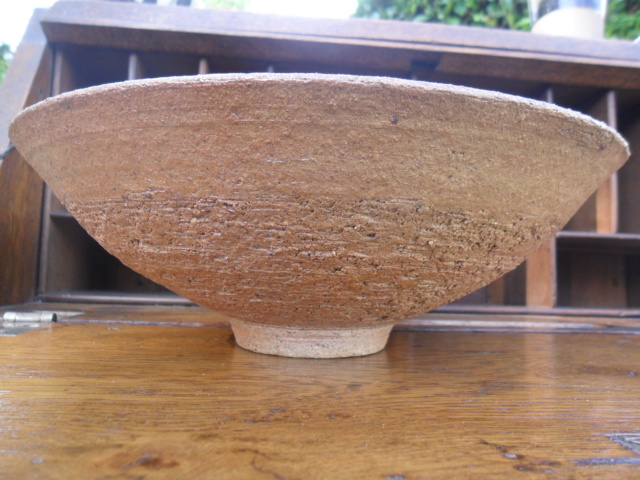 Doughboy




Number of posts

: 35


Location

: Royal Forest Of Dean


Registration date :

2018-02-21



I have been collecting, exhibiting and selling studio pottery for over 30 years and this is the first time that I have heard the name. Therefore I think it is safe to assume that the lack of information on the web indicates correctly that he hasn't carried "some punch" in the studio pottery world. Perhaps a more appropriate phrase would be that the tip of his little finger touched the studio pottery world briefly but no one noticed.

Having said that, I like the look of the bowl. Having less information about him than perhaps you have, I have no idea if that is the way that he signed his work.

Have you been able to find out where he worked or lectured, as that might be a useful lead?

_________________
Now you should know by now that Potty and I need to see your bottom - we're funny that way!
My research so far is limited to a couple of auction results which were lots that happened to include a piece of his.
Also his mention in 'Ceramics & The Museum' book by Laura Breen concerning an exhibition in 1971 at Cartwright Hall called 'Modern Ceramics 71' which included works by Lucie Rie and Joanna Constantinidis and was supposed to challenge the Leach tradition of beauty and functionality.
To quote the sentence from the book "The fact that the exhibition received the backing of Coper and Geoffrey Doonan - lecturers and artists who engaged with influences outside the Leach tradition - indicated that the exhibition's real achievement was to offer an alternative to the dominant mode of studio pottery practice"
To be included in that passage would indicate that he had some regard at the time if only fleeting (for whatever reason), however the fact that the author only uses Coper's surname but needs to use Doonan's full name would indicate to me that little is known about him now....
I personally love the bowl regardless of who made it but he really has got me intrigued now....
Back to the 'To Be Continued' shelf!!!

Doughboy




Number of posts

: 35


Location

: Royal Forest Of Dean


Registration date :

2018-02-21



"Lecturers and Artists" implies that Doonan was a school teacher or College Lecturer who potted in his spare time or as part of a course he was teaching. There were quite a lot of potters who didn't fancy trying to make a living as professional potters and went into teaching instead, but were still quite influential in the pottery world because they had a keen interest in it - his bowl looks to be inspired by Coper and Rie's work so they must have been friends - and/or taught some of our most influential potters.

_________________
Carrot cake is just fake cake
In all fields or the arts not everyone who was good is famous and not everyone who is famous is good.

I saw reference to the 1971 exhibition at Cartwright Hall, which is in Bradford................. so he might have lectured/potted around there.

I have found out that, as of 1994, there were five pieces of Doonan's work in UK public collections and these were all in the Leicester Museum & Art Gallery in New Walk, Leicester, so maybe he lectured/potted around there. One possibly, if he was connected to this area, is that he could have attended/lectured at what is now Loughborough University. They ran a significant ceramics course in the late 1950s/1960s, with David Leach being a part-time lecturer there.



_________________
Now you should know by now that Potty and I need to see your bottom - we're funny that way!
Naomi and studio-pots, thank you. It's really good to get others prospective and challenges on a picture that you build up in your own mind while doing research.
He may well have been 'just' a teacher or lecturer that moved in certain circles of supposed influence, may have been by relation and happened to know a bit about potting, may have been a movement instigator that fell by the wayside, life may have taken him suddenly down a completely different path or, sadly, he may have passed away, or a combination of the above!
Sometimes with research you have to draw a line under it and just move on but for some reason this has made me get the bit between my teeth and the need to find out more about what happened to him.
I'll certainly follow up on the Leicester and Loughborough links and see what happens...
Would really love to know if he is still alive and could tell the story first hand..
Thank you both again and if you do happen to turn anything up then please let me know..

Doughboy




Number of posts

: 35


Location

: Royal Forest Of Dean


Registration date :

2018-02-21



---
Permissions in this forum:
You
cannot
reply to topics in this forum