Hello, I am hoping someone can shed a bit more light on this small ( 11cm diameter ) pin dish by the Odney Pottery. I have only seen before pots with the typical Odney stamp and not hand inscribed like this one. The interesting part for me is the word 'finis' inscribed beneath meaning 'the end'. Is it possible that this is the last pot made at Odney? Is it the name of a 'line' of pottery made for the John Lewis Partnership that it was supplying? Or perhaps the last pot made by a certain potter at the pottery, maybe even John Bew (the slip decoration does look a bit like a stylised 'JB') himself given his untimely passing? I do hope someone can help as I have quite a few pots that have given me more questions than answers! Should be listing some more soon with lockdown time on my hands!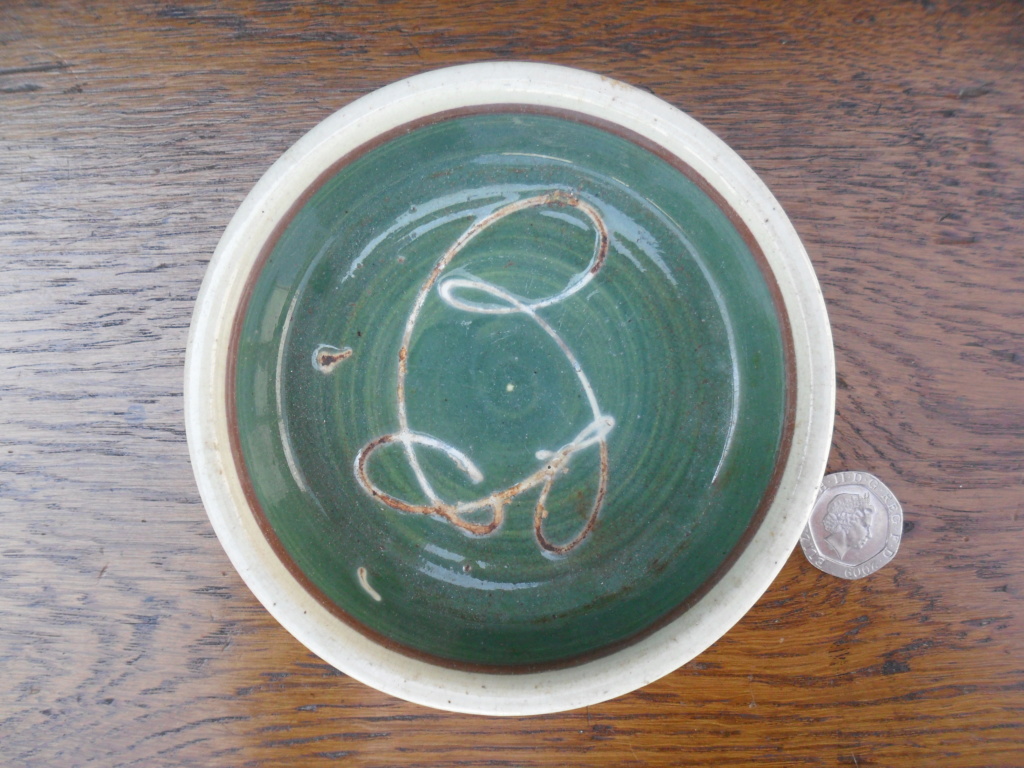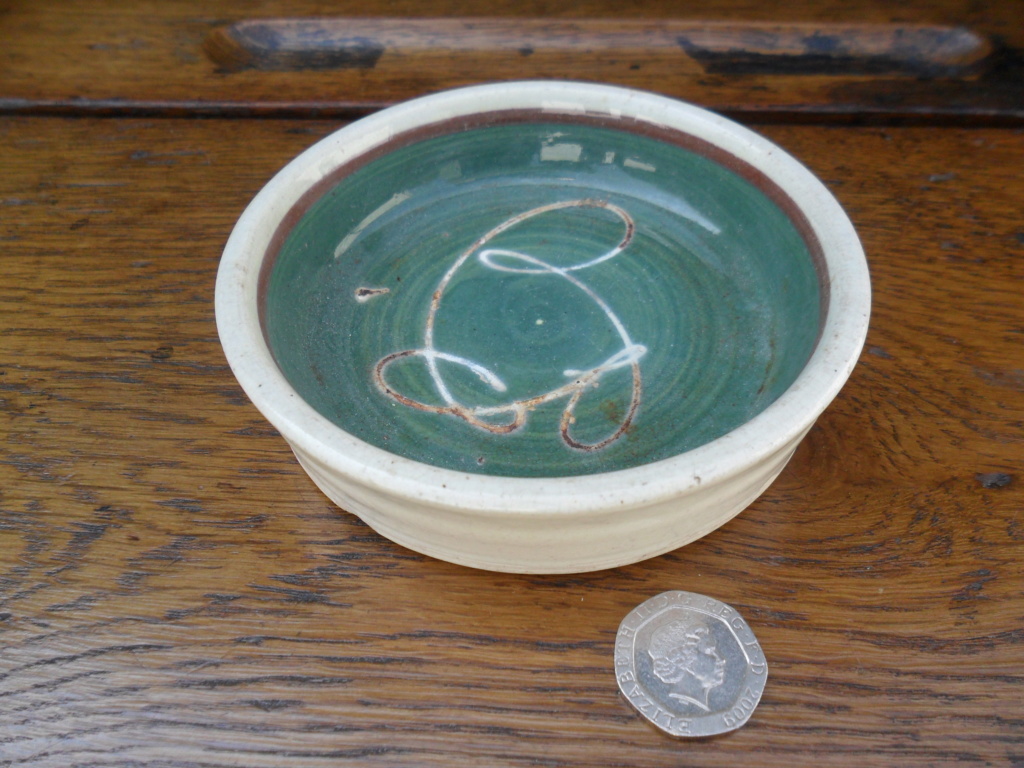 Doughboy




Number of posts

: 35


Location

: Royal Forest Of Dean


Registration date :

2018-02-21



Hi Doughboy, is this not an ashtray? Everyone and his dog smoked back then. Pin dish would have had much flatter sides? I have a few bits of Odney and I keep an eye on what come up on ebay at it's half local to me.

Is this stoneware or dirty white clay can't see? Stoneware would be odd? Most is that light white clay. I've not seen either of those marks before. About 50% is stamped and 50% carries no mark from what I've seen. They did some very eclectic pieces, there is virtually nothing on the internet about them - Forgotten + neglected pottery.




_________________
Just my personal opinion, take it or leave it.

NaomiM

Administrator





Number of posts

: 23775


Location

: Hampshire


Registration date :

2012-05-15



22 Crawford St. wrote:Hi Doughboy, is this not an ashtray?
Wouldn't an ashtray usually have 3 or 4 depressions on the rim to rest the cigarettes on?
Going solely on the small size I'd be more inclined towards a plant pot stand, and that it originally had a matching plant pot.

Grumpy Grandad




Number of posts

: 835


Location

: E. Midlands UK


Registration date :

2019-11-11



I have seen a number of incised marks over the years and, although I have no evidence to support it, I have assumed that these are likely to be older than those with impressed seal marks i.e. before production increased and there was a need for stamps.
The Pottery ran from 1942 until 1956 and of the two partners, John Bew was the one with the most throwing experience but that doesn't mean that Frank Spindler didn't throw, although as written information is sparse, I would be happy to be corrected.
Over the life of the pottery, apprentices and production workers were employed and so it is fair to assume that most of the small items, like this, were unlikely to have be thrown and decorated by the same person. Also they would have been unlikely to have been thrown by John Bew, who would have concentrated on more substantial items and overseeing the production throwing.
John died in 1954 before the pottery closed in 1956 and so the chances of him have written finis on the bottom of this dish are remote to say the least.
There could be any number of reasons for "finis" being written e.g. the last thing an apprentice threw before moving on or leaving the pottery, the last one of a large batch that had been a chore etc. etc.
Even if we assume that the person who wrote "finis" on the bottom of this thrown dish had at the time thought it was the very last one that was thrown at the pottery, there is no reason to think that he was correct. Also there is no way when that was written that the person would have any idea if that would also be the last to be decorated, to be fired and then be the last item to come out of the kiln and to be in one piece.
Maybe we ought to call it a "fairy tale piece" - a pot that endless stories can be made up about.

_________________
Now you should know by now that Potty and I need to see your bottom - we're funny that way!
Thank you all for your responses!
As I'm new to posting on the forum I'm not sure how to reply to individual questions so decided to 'lump' them all together!
It is made from the typical off white clay they used, I tend to call most small shallow dishes 'pin dishes' but equally they may have had another intended use or purely decorative, unlikely to be a plant pot stand as the slip decoration is there to be seen and not covered I would have thought.
Studio-pots - I love the idea of a "fairy tale piece"! I guess I kind of knew that there would never be an answer to my question but had to ask anyway. Personally I always thought it was probably a production assistant who had thrown his last pot of the day before knocking off and just decided to inscribe 'the end'. I know many times in the past after a particularly arduous day and finishing the last task I've muttered the words 'The End'!!

Doughboy




Number of posts

: 35


Location

: Royal Forest Of Dean


Registration date :

2018-02-21



The "fairy tale piece" just came to me while writing but I liked it and will use it again when appropriate.


_________________
Now you should know by now that Potty and I need to see your bottom - we're funny that way!
---
Permissions in this forum:
You
cannot
reply to topics in this forum