Grumpy Grandad




Number of posts

: 871


Location

: E. Midlands UK


Registration date :

2019-11-11



Looks like its signed T.R. McG , dated 1948

_________________
Carrot cake is just fake cake
Nice piece. The decorative style looks slightly old fashioned, doubt if you would see that style on a Leach inspired piece. Somewhat old fashioned, vaguely reminiscent of William Staite Murray and his pupils Sam Haile, R J Washington and the like. Staite Murray was a big cheese in pre-war pottery circles, and probably had a far greater influence than Bernard Leach back then. Could that date read 28?

philpot




Number of posts

: 4217


Location

: cambridge


Registration date :

2010-11-06



I'll have to give the mark a closer look. To be honest I'm not even sure how the mark was made. It looks to be hand-written, so my best guess would be that it was done with the end of a paint brush handle or pointed stick through whatever was used to make the black rectangle. There's no indentation or scratching out of the clay itself so I cant try the usual techniques of applying flour or looking at an angle for shadows, etc.
Another possibility is that it was a hand-made ink stamp with the lettering cut into the wood or rubber rather than the usual way. That would rule out a glaze test, I suppose, as it seems a lot of work for a one-off piece.

I wonder if the central symbol might offer a clue. It appears to be an interpretation of the Rod of Asclepius, the staff carried by the Greek god of medicine, which is one of two similar motifs still used as a symbol of the medical profession.* Could Greek mythology be a regular theme of the potter, perhaps, or is there possibly a connection to the medical profession?



*The other is Caduceus, which has two intertwined snakes and wings and is most commonly used by the American medical profession, and is actually used in error as Caduceus is the symbol of Hermes, the Greek god whose roles included that of the psychopomp, the guider of souls into the afterlife. That isn't in most doctors' job description, I hope!

Grumpy Grandad




Number of posts

: 871


Location

: E. Midlands UK


Registration date :

2019-11-11



The central motif maybe being a medical one suggests that it might possibly have been a commisioned piece. If so, judging the piece by its decoration could be a cul-de-sac as the customer might have decided the style.

philpot




Number of posts

: 4217


Location

: cambridge


Registration date :

2010-11-06



This is thinking allowed but might be helpful or not....


This isn't a glaze test but a finished bowl and I tend to agree with philpot that it is more School of Staite Murray than School of Leach.

Recently on eBay there have been pots by Alick Woffenden, who was a pupil of William Staite Murray, and it appears that he started the Ceramics department at Edinburgh School of Art in the 1930s. Purely because of the McG having a hint of Scotland, my mind thought that the maker might have attend that art school.

_________________
Now you should know by now that Potty and I need to see your bottom - we're funny that way!
I'm not seeing the confidence of line that I'd expect from a professional potter. Some of the strokes are pretty shakey. There were a lot of therapeutic craft classes set up after the War for those injured in the conflict, eg, Enham Alamein near Andover which included pottery classes. Some of the ex-Servicemen became quite good.

_________________
Carrot cake is just fake cake

_________________
Carrot cake is just fake cake
After looking at the mark through a loupe it turns out that it was incised, but incredibly lightly. I can't feel it with my fingers but managed to highlight it with talcum powder - a delicate operation because with the incision being so shallow, the slightest breath blew the powder away.
Anyway, 22 Crawford St. and Naomi got the date of 1958. Love all the discussion that my bowl's caused. Thanks all.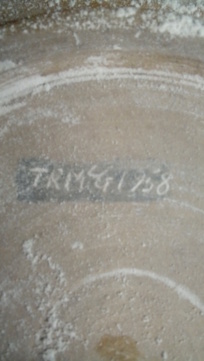 Grumpy Grandad




Number of posts

: 871


Location

: E. Midlands UK


Registration date :

2019-11-11



I've edited the title to make it easier to find if another one turns up

_________________
Carrot cake is just fake cake
---
Permissions in this forum:
You
cannot
reply to topics in this forum