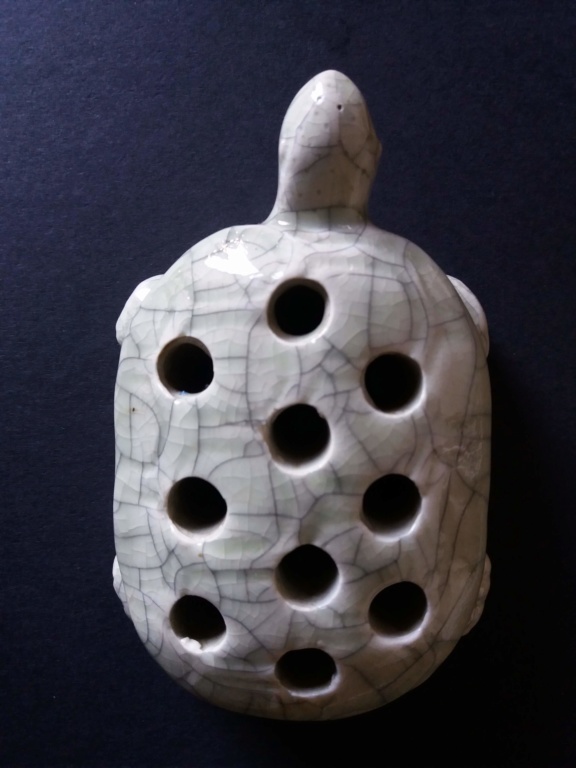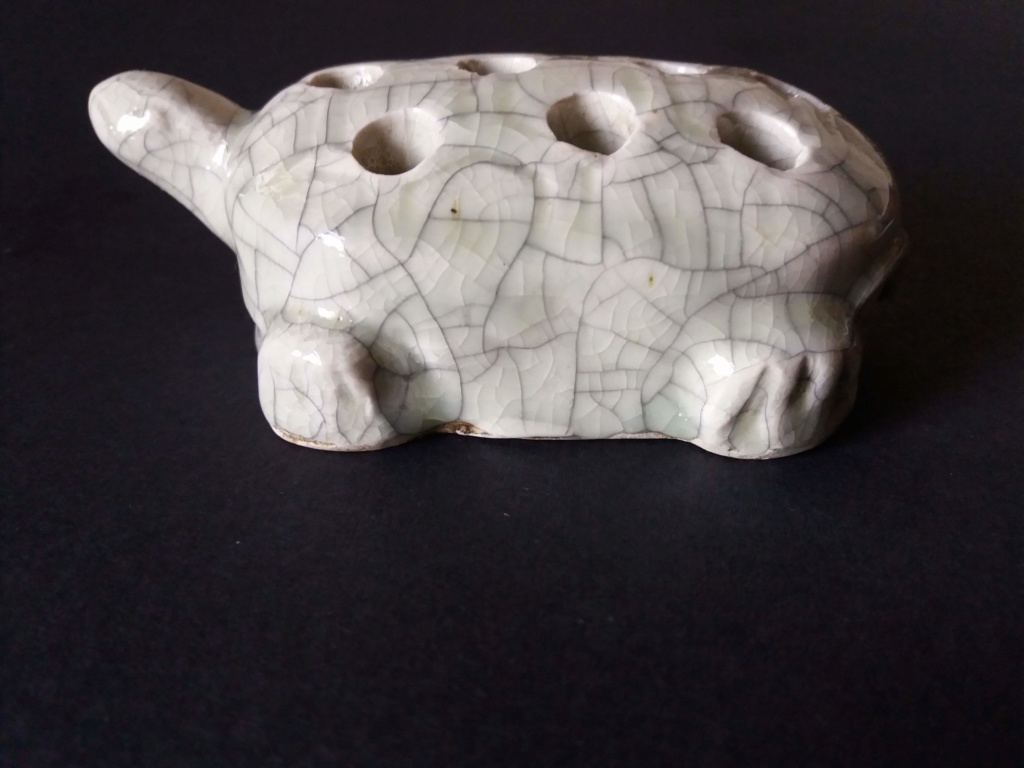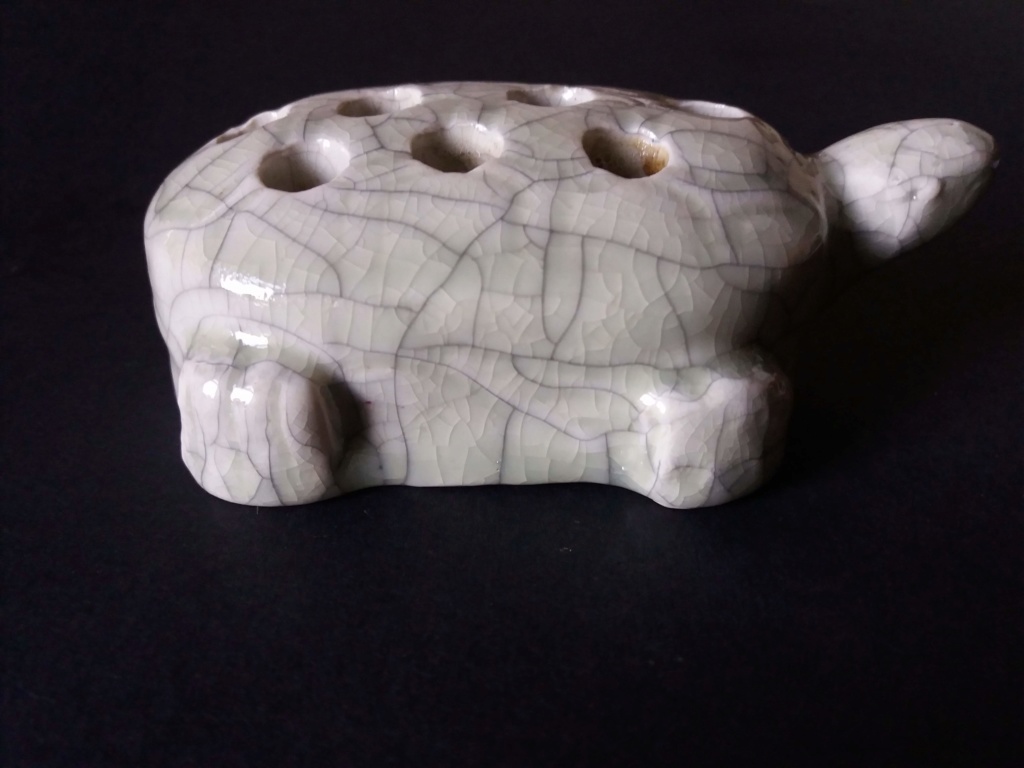 Incense holder?  Calligraphy pen holder?  
Does anyone know the origins of this crackled glazed turtle, - or tortoise form - what I believe could be an incense-stick holder as I have seen something similar in design and use?  
 Though it could be a ink pen holder, - caligraphy pens - as of what I have been told so far is that it's probably Chinese, or Japanese in origin. Due to its very light green colour, - in which can hardly be seen in the photographs, it has been suggested it was likely either made in Longquan Celadon, China, - or the Somayaki region in Japan.  
Origins & Age
On its base is a impressed stamp with "Foreign", - this is because during certain periods the USA, England and some other countries, they imposed a law that all imported items must be marked by the country of origin having until 1923 for complete marks. In the meantime countries like England and France just marked their pieces with "England" instead of "Made in England", which was required in 1923; however, some countries, including European, - and the "Far East" in which the word "For'eign' is meant to have come from, - countries such as China and Japan simply marked their goods "foreign" between 1893 and 1923 - meaning they were export products, - going outside their own countries - and therefore a export duty was imposed.
Condition & Size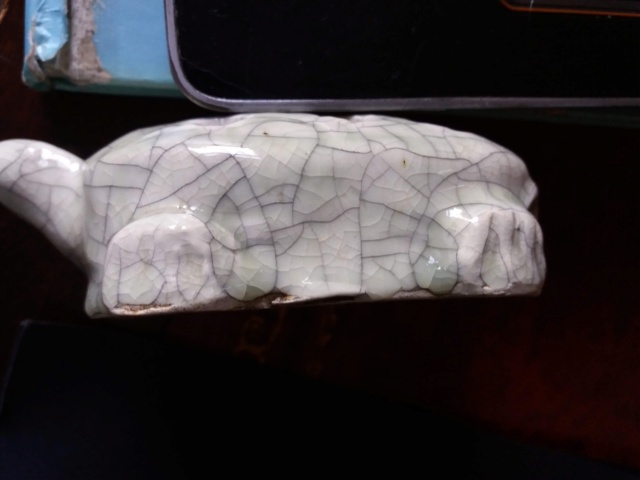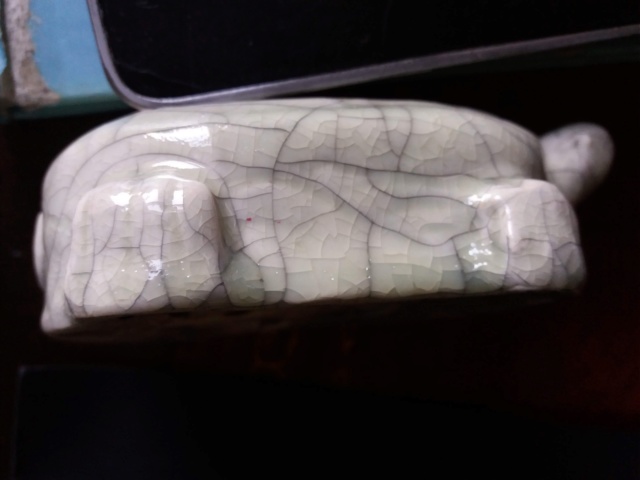 Approx. size L12cm x W8cm H4cm 325gms in weight. In excellent condition for it's age and what it's made from which appears to be some kind of heavy-earthenware-stone, that has then been shaped and covered in a glaze that cracks when fired; the close-up photographs show around the bottom edges of the base - and even though slight sections of stone my be visible in parts, its how the glaze runs and settles before cracking into position, so those markings are not damage, or inferior firing as the finish is exactly what the "potter" - maker would have been happy to achieve.  In addition, the interior of each hole has too been glazed all the way through; by doing so makes the surrounds of the holes more stronger and therefore less wear-and-tear.   The "Foreign" stamp-mark is as crisp and clear as the day it was first made.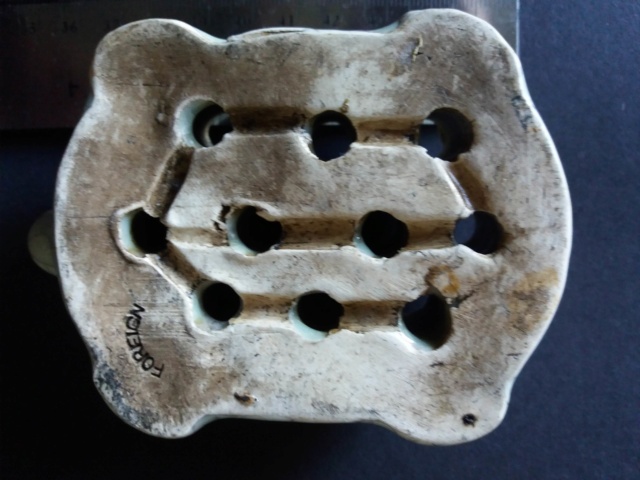 Dave McCann




Number of posts

: 7


Location

: Bristol UK


Registration date :

2019-10-17



Dave, re. the "Far East" in which the word "For'eign' is meant to have come from,
'Foreign' comes from the Latin 'foraneus', meaning 'coming from outside', via the Old French 'forain', which had several meanings all concerning something strange or from elsewhere.
As I understand it, 'foreign' was chiefly used post-WWII on German and Japanese goods imported into Britain, , because the British would be loathe to purchase goods from those countries.

Grumpy Grandad




Number of posts

: 869


Location

: E. Midlands UK


Registration date :

2019-11-11



Hi, thanks for reply and input; I see where you are coming from, and you are correct in what you say. However, according to some folks-tale - those who worked at the docks in London, - that whenever an item or object was seen with "Foreign" stamped on it, - and prior to WWII, and in fact WWI, - so such loathing did not exist, - things "For'eign"more likely meant and referred to as 'from the Far-East' as opposed to elsewhere at that time late 1800's very early 1900's.

Dave McCann




Number of posts

: 7


Location

: Bristol UK


Registration date :

2019-10-17



---
Permissions in this forum:
You
cannot
reply to topics in this forum