Hello,
I recently inherited a beautiful Raul Coronel urn/pot from my family member. It is an extremely lovely piece but sadly my intention is to try and sell it (We live a minimalist lifestyle and our quota of prized possessions is pretty maxed out). I thank you in advance for any advice on how I might price it and/or the best place/method to try and sell it.
I have truly struggled finding anything remotely close to it, including its size, shape, and glaze.
The attached pictures are the best way to get a feel for it but here are a few details:
-cracked style glaze with olive as base color that has a few color variations and a crimson glaze that fades or is striated
-glazed interior with concentric circles that are outlines in the crimson color glaze
-top interior rim has brown/golden glaze that drips down
-5 knots/rings around exterior near top edge
-no damage
-signed, Raul '81
Dimensions are:
height: 10"
bowl rim: 12"
max bowl width: 14"
neck width: 5"
base width: 8"
Thank you again for any assistance you can offer.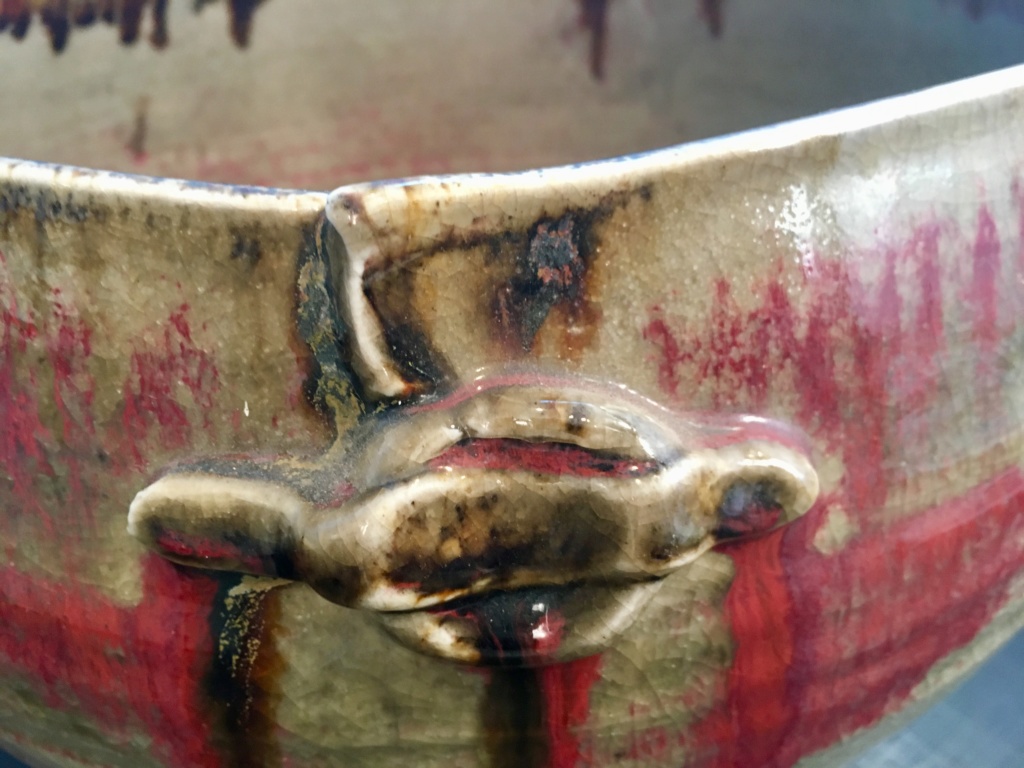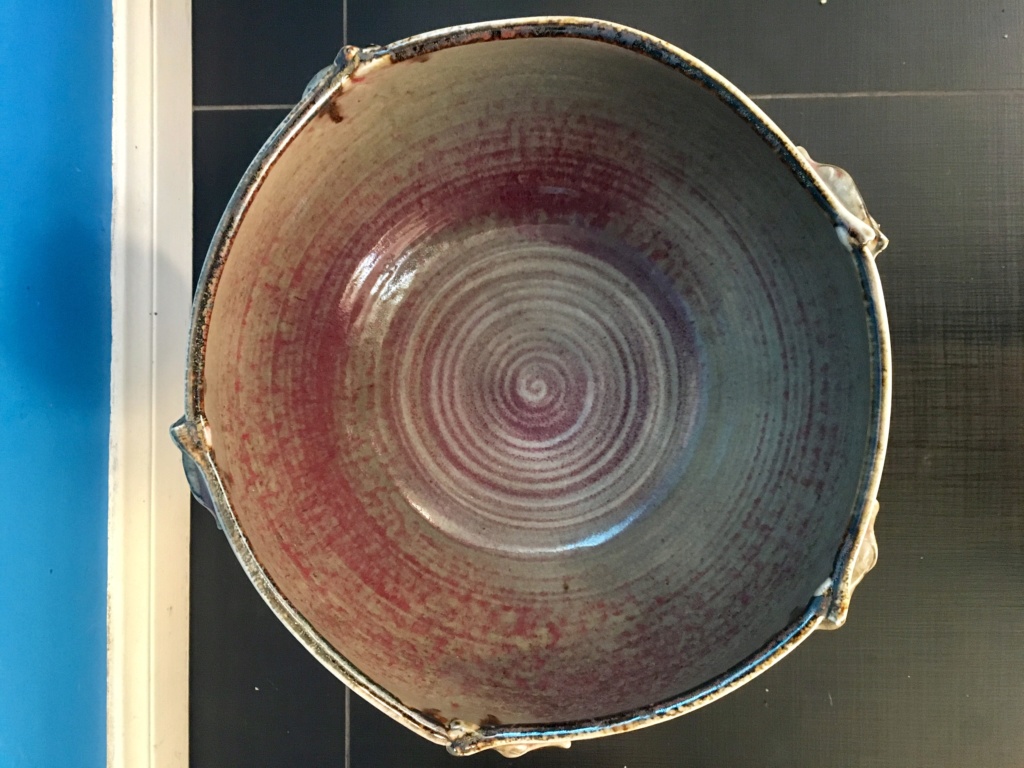 codybriggs




Number of posts

: 4


Location

: California


Registration date :

2019-02-23



I'll move this to General Pottery Discussion as its not an ID request or part of our reference files.
I'm afraid I can't give a valuation and I don't think it's our policy to give them. I can only advise you to do what I do and either get an appraisal from an auction house that specialises in studio pottery, or check sold listings on eBay and Etsy, or subscribe to Worthpoint or Invaluable to see past auction values (although Worthpoint doesn't include Offer prices, only Listing price), Ignore any prices you see on sites like 1stdibs. They always simply add a nought or two to the end of a true valuation.

_________________
Carrot cake is just fake cake
Hi Naomi,

Thanks for the help and moving it over into the correct section. Sorry for misusing the site in asking for pricing. I completely understand and even your input was helpful. Ive been hunting out what I can on ebay and etsy and was strongly considering signing up for worthpoint (sounds like I will). And it is nice to have a confirmation that 1stdibs values are a bit bogus. They always seem shockingly high. I had an auction representative come check many items but sadly they were mainly focused on the furniture and not as interested in the pottery and glassware.

I guess my struggle has simply been I am not finding any similar pieces by Raul Coronel.

So perhaps, I can repost or rephrase my post to ask if there are any catalogue's out there or if others are aware of other pieces with the crackle glaze and/or large urn shape?

Thank you again for any direction.

codybriggs




Number of posts

: 4


Location

: California


Registration date :

2019-02-23



https://www.invaluable.com/search?keyword=Raul%20AND%20Coronel&upcoming=false

The link gives you auction estimates, to find hammer price you need to take out a subscription.
Valuation is a very inexact science, especially in studio pottery. In essence it is a very narrow field, with people collecting individual pieces by individual pieces by potters. Moreover, it tends to be specific examples of the best and most 'trophy like' of a potter's work. So in essence, you need to have good knowledge of the whole of a potter's work to have an idea as to the worth of an individual piece. There are not many auctioneers with that knpwledge!

philpot




Number of posts

: 6124


Location

: cambridge


Registration date :

2010-11-06



No need to repost or rephrase :) At the end of the day the only way to know it's value is to put it into a specialist studio pottery auction and see how much it makes

_________________
Carrot cake is just fake cake
OK, well much appreciated. I will use this forum better moving forward.

Not to push my luck but any chance you have recommendations on auction houses to consider for this, other than just using things like yelp and googling it?

Thank you

codybriggs




Number of posts

: 4


Location

: California


Registration date :

2019-02-23



Most of us live in Britain. So our knowledge of the American auction scene is sketchy. Best to put a search into Invaluable or the like with some of the best known names in American studio pottery. Paul Soldner and Warren Mckenzie for instance. That will give the auction houses who got the best sales in studio pottery. Look at the selling fees in detail, auction houses have ways of upping the bill! Straight seller's commission, handling charge,insurance, illustration costs....they all add up!
Last edited by philpot on February 28th 2019, 9:46 am; edited 1 time in total

philpot




Number of posts

: 6124


Location

: cambridge


Registration date :

2010-11-06



from now on I will always think of you pronouncing Britain that way Phil

_________________
it is amazing how many people are ashamed of their bodies & how few of their minds

dantheman

Consultant





Number of posts

: 15408


Location

: Lincolnshire ( the veg patch of England)


Registration date :

2008-02-03



---
Permissions in this forum:
You
cannot
reply to topics in this forum