My Lomonosov turned around chipmunk was sculpted by I Y Vorobyev. Does anyone know how I can date him as he's completely unmarked? He seems to have longer ears then the current
model

PS Is Russia covered by Europe or do we need a new section?
The fact he is unmarked is not suprising as the inks used are soluable A good wash and they have all gone
A picture might help but identification can be a mine field as the russians wernt that good at documentation plus any is usually in russian
Here are two pieces from the USSR which means before 1991 Russia after
A ruse on the trade of these at there hieght of fashion?? was the removal of the R and the a in Russia (ussr pieces fetched three times the russian ones (playing field has now leveled and there is not that much differance) ) then claim the R in USSR had just lost its squiggley bit

fuzzyedges




Number of posts

: 79


Location

: yorkshire


Registration date :

2011-05-15



I would like to offer my thoughts. USSR means Union of Soviet Socialist Republics. The Ukraine was one such Soviet Socialist Republic. This item does not come from Russia at all and explains why your SSR does not have a "U". The stamp reads Made in Ukrainian SSR with the name of the factory across the centre. It most likely comes from the Kiev Experimental Ceramic-art Factory which would explain why yours and mine, do not bear the Lomonosov mark, rather the script Korosm___.
Is Russia in Europe? Part of Russia is in Europe, part is in Asia. The part where Porcelain comes from is in Europe. Ukraine is in Europe - next to Poland. However, It might be an idea to create a sub-thread for former Soviet/Socialist countries and their porcelain production.
I may have missed some threads so apologies if I am jumping into a discussion 1/2 way through.
Very interesting information and the girls are lovely
This is the Lomonosov backstamp from Soviet period (1922 - 1991). Lomonosov predates the formation of the Soviet Union and survives its dissolution.
Firstly, to clarify that Lomonosov was previously the Imperial Porcelain Factory in St Petersburg.
Secondly, to show you a Soviet-era baby panda. I remember reading somewhere that the Lomonosov animals used to be sold through the shop at London Zoo.


hercules brabazon




Number of posts

: 510


Location

: London


Registration date :

2009-08-06



Carrot-eating rabbit, 12.5cm high. Red Lomonosov mark with ""MADE IN USSR"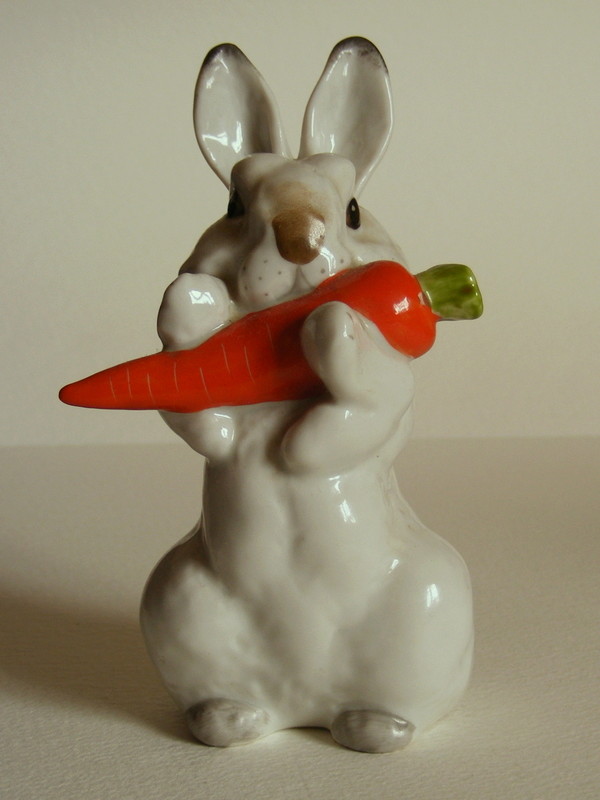 hercules brabazon




Number of posts

: 510


Location

: London


Registration date :

2009-08-06



---
Permissions in this forum:
You
cannot
reply to topics in this forum