Hello folks,
Please let me know if I am making too many inguiries and I shall ease up. It is just that having moved to France (12 years ago!) I am still unpacking some boxes ... and finding ceramics that I forgot all about ... a lot of them unidentified. This forum has been incredibly helpful and informative - to which I thank you.
... So ... can I ask another question?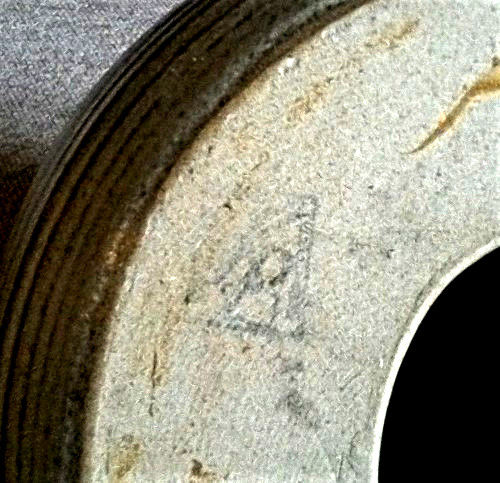 This is a large hand turned lamp base (12"/30cm high by 10"/25.5cm diameter ... and quite heavy!)
I bought it in the West Midlands sometime in the distant past (probably about 2005ish).
I have enhanced the stamped mark, which seems to include perhaps a large V then a P, with some text possibly following the border (this could include "MADE IN ENGLAND" if it comes from England ... or, of course somewhere else - Europe?).
Can anyone shed light on this substantial piece?
I think it's KP, but cant remember if it was Id'd before.
It's a 1970s retailer's stamp, with KP and the end of a gondola. Found on lampbases made by Grayshott, Broadstairs, etc

https://pin.it/wqgmzvu57fyyoz

Your lampbase looks like Grayshott Pottery

_________________
Carrot cake is just fake cake
Thank you both for the amazingly quick responses.

So, do you know what KP stands for?

And, does that mean that the potter will remain nameless? I am surprised that the potter did not mark it - that is, if the did NOT mark it anywhere!
I've contacted Grayshott ... I'll let you know if they have anything to say.
Thanks again!
Unfortunately I havent found what KP stands for.
Mick Dixon may have thrown it at Grayshott back in the 70s. He's now at Bartley Heath Pottery, near North Warnborough

_________________
Carrot cake is just fake cake
Dianne Sanders was at Broadstairs Pottery and their pieces have the stamps round the lower half while Grayshott Pottery doesn't

_________________
Carrot cake is just fake cake
Just had a very interesting email from Mick Dixon ... this is what he said regarding the lamp base:
"This would have been made at Grayshott Pottery between 1970 -1974 probably made by myself or Roy Saywell it was a fairly standard shape at that time. Grayshott pottery was originally Kingwood Pottery and moved to Grayshott in the late 60's at that time they kept the Kingwood Pottery (KP) name for the hand thrown range and Surrey Ceramics for The cast ware."

So ... not Dianne Sanders, but either Mick Dixon or Roy Saywell.

Then, am I right in thinking that KP stands for Kingwood Pottery?

---
Permissions in this forum:
You
cannot
reply to topics in this forum