Hi all.
I'm not sure if I'm in the correct section for this, but here goes...
This rather twee plate is signed and dated on the back and has (presumably) the artist's initials to the bottom right of the decoration.
I think the date reads 1835 and the factory (written) says '? + B Howarth'.
The artist's initials appears to be 'MFN'.
Does anybody recognise the factory/artist?
Thank you.
Jack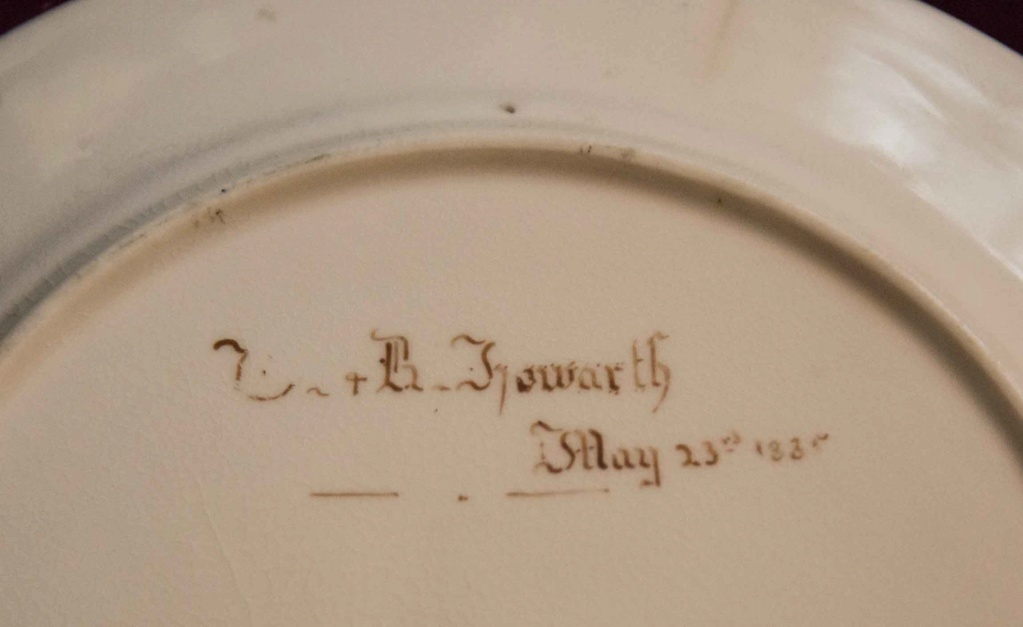 Beege




Number of posts

: 235


Location

: North West England


Registration date :

2017-08-23



Here is fine.
It looks like a bought in blank that has been hand decorated. There was a great fad for such things back then, driven by a store that held regular competitions and inspired such a craze for it that they had thousands of entries every year and it was lampooned in the papers. I had a painted plaque with a similar date which had been awarded a prize by them; i thought I had posted a thread about it but im not finding it. I'll see if I can dig up the details.

_________________
Carrot cake is just fake cake
Thanks Naomi, thats interesting. So presumable the paint is just applied to the ready-made plate: does this mean that such plates were not subsequently 'fired to fix the decoration?
Let me know if you find the thread.
Jack.

Beege




Number of posts

: 235


Location

: North West England


Registration date :

2017-08-23



It was Howell & James exhibitions. I can't find the thread on this forum so I'll repost on a new one

_________________
Carrot cake is just fake cake
I've posted the Howell and James thread. Realised they were a bit later than your plate but I think it's the same sort of thing; done for a hobby decorator's Competition, hence the space for the date on the back. I assume the china manufacturers would fire them for the hobbyists

_________________
Carrot cake is just fake cake
---
Permissions in this forum:
You
cannot
reply to topics in this forum