I thought people might find it interesting to know a little bit about the beginnings of the art pottery tradition in Denmark in the context of a recent discovery that is the culmination of nearly 20 years of searching. The Royal Copenhagen factory has been in existence since the late eighteenth century making Porcelain for the wealthy and competing with the likes of Meissen and Sevres in the finest table wares and ornamental wares.  The beginnings of a modern outlook at the factory began in 1884 when Arnold Krog was appointed artistic director.
In the early years he focused on improving the underglaze blue that was painted onto the porcelain but as with many factories in the latter half of the nineteenth century art pottery became an interest and new developments were attempted.  As with many others the real change in outlook began with inspiration stemming from Japan opening up to the western world after many years of being a closed society.  The event that did most to achieve this was the Universal Exhibition of 1864 when many Japanese artefacts were on show in the west for the first time.
These were a revelation for the design conscious at the time who had been searching for a new aesthetics to capture the modern outlook.  Christopher Dresser's book on Japan captures this new spirit of experimentation well. Out of this enthusiasm for all things Japanese (Japonism) was born the aesthetic movement of the 1870s and 1880s, which, in its turn led to new stylistic developments in the 1890s that we have come to know as Art Nouveau.
Studio pottery, in the Western context, emerged at this time.  The developing anti-industrial/mass production and pro-craft ethos of the arts and crafts movement fused with this new artistic outlook and it led to the development of a number of small studios making art pottery as well as some larger factories taking an interest.  In Britain we tend to think of the likes of William de Morgan, the Martin brothers and the Doulton factory in Lambeth as the place where all this happened. And it did.  But the real centre for art pottery at this time was France.
There were several key developments in this new studio pottery in France which was to set the outlook for future, modern developments: new styles of pottery and decoration along the Japanese line, and the search for new and exciting glazes.  A leading potter among a dozen or so others who perfected both was Jean Carries.  The medium he chose for his pottery was stoneware.  Before then stoneware had been seen as a base material used for storage jars and some tablewares with porcelain preferred for fine art pottery and cabinet pieces.  Carries was able to do new things with this high fired medium and found it took new, experimental metal oxide glazes very well.
In Denmark Krog's early focus was on new glazes rather than stoneware body or shapes and the early ceramics the Royal Copenhagen art studio experimented with were still based on porcelain.  Krog hired the chemist Valdemar Engelhardt to produce these new glazes.  Over the latter years of the nineteenth century he was able to perfect high quality crystalline glazes, producing many beautiful effects and novel glazes.  These early porcelain works with their beautiful appearance can still be collected today by anyone with deep enough pockets.
Krog had begun to dabble in stoneware around 1895 but it was really only after the Universal Exhibition in Paris in 1900 that the Danes started to consider the use of stoneware for art pottery seriously.  There they were exposed to the work of these pioneering French ceramists and the qualities that could be produced on stoneware.  In the first decade of the Twentieth century, Krog had Hans Hjorth at Hjorth pottery to throw simple stoneware pots for him and he then had Engelhardt develop glazes for them.  They experimented with both different clays and glazes during this time.  The pots in this period were experimental and were not produced commercially.  Krog only decided to begin commercial production when he hired the studio potter Patrick Nordstrom to head up the art studio at Copenhagen in 1911.  Nordstrom had been experimenting too and had also been inspired by Carries work and the Japonist style that he saw in Paris in 1900.  He had even gone to Paris to try and learn the secrets of making such pots but without success.  It was only when he returned to Denmark that he was able to learn the secrets when he came across Carries glaze recipes in a couple of trade magazines!
What of these early experimental pots from before Nordstrom's arrival in 1911?  Do any still exist? A picture of one example is shown in Robin Hecht's book Scandinavian Art Pottery from 2000. It shows a simple shape and the mark of the three wavy blue lines, a model number (126) and the initials OM though she says that most known examples were unsigned.  Whenever I've inquired after such pieces from leading dealers across the world I've been told they are not available as they were not made commercially and that the studio tradition at Royal Copenhagen really starts with Nordstrom.
Well... I've just found this.  A primitive little pot with what looks like an unrecorded, experimental glaze, three wavy lines and a model number.  And not just any model number!  Could this be one of those early experimental pots? It is difficult to say with absolute certainty that this wasn't made by Nordstrom.  However, it conforms in every way to what we know about those earliest pieces from the few that exist in museums.  I got it recently from a dealer in Denmark who said he'd handled a thousand or more of pieces of Danish stoneware over the years but had never seen another just like this one.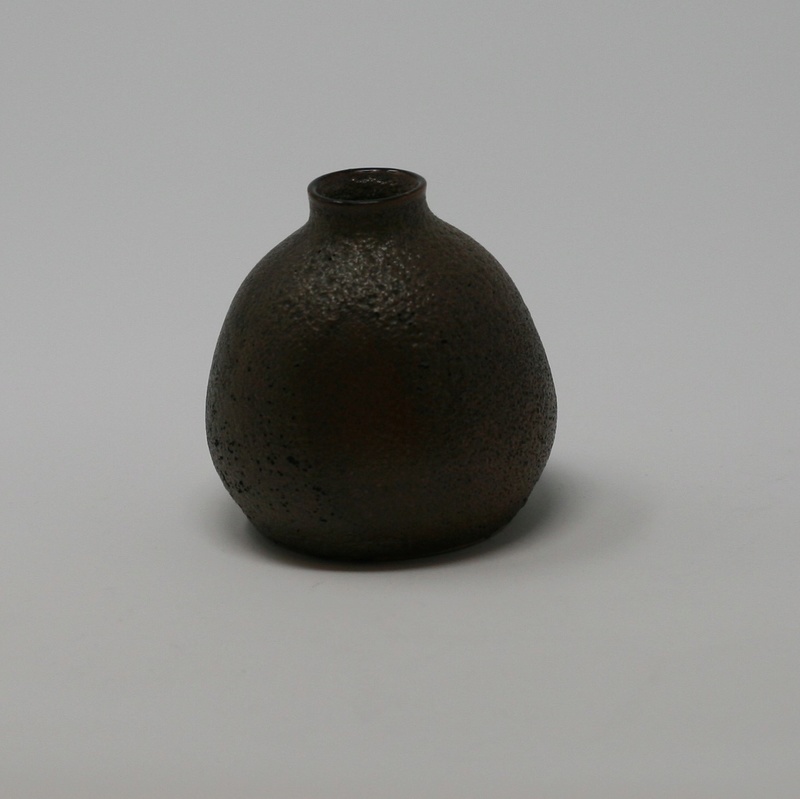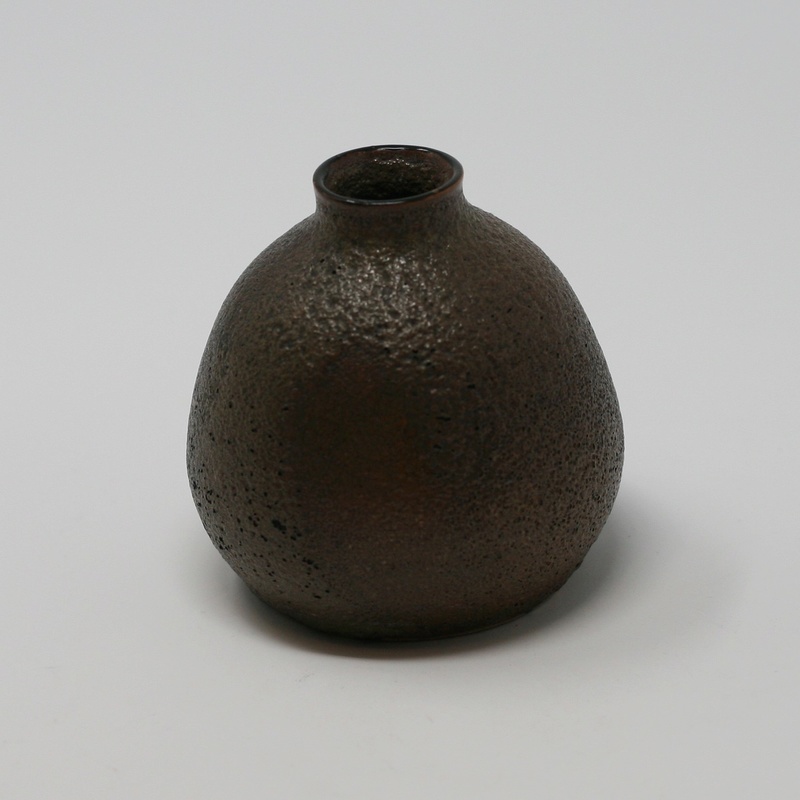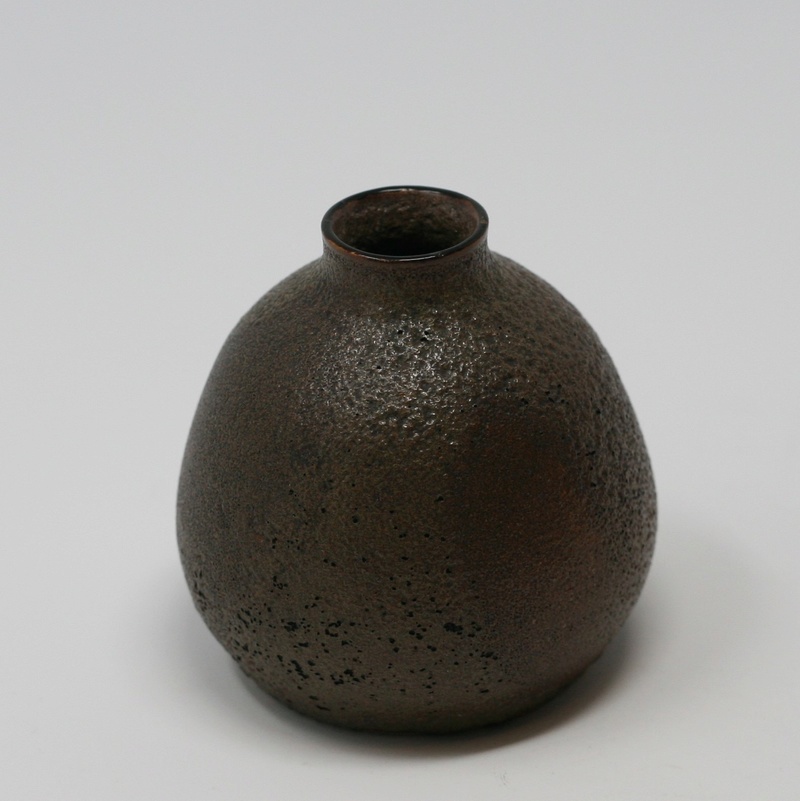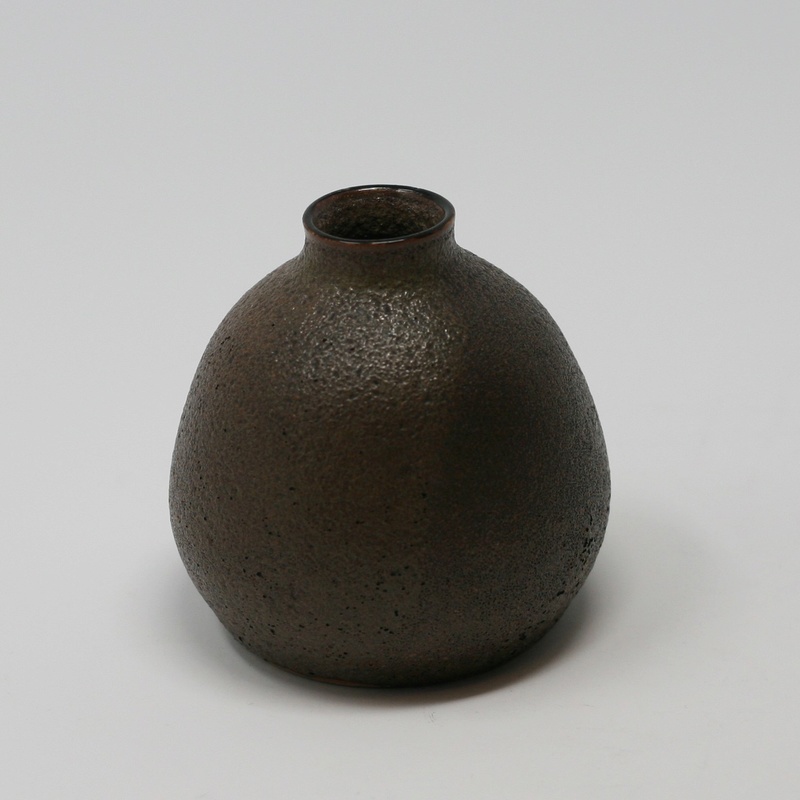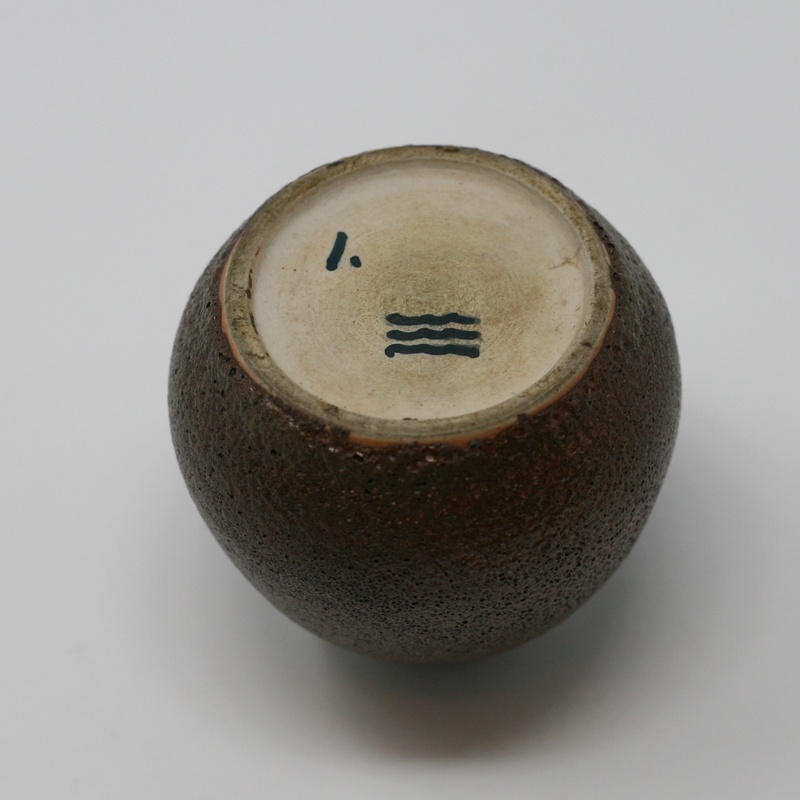 lol. No.1 you sure he's not just added the marks with a marker pen?

It's certainly a lovely story... as with most time will tell, collecting ceramics is not a quick hobby if you want answers.
Ha Ha. Yes, I'm sure. Under a magnifying glass and strong light it is clear that the blue mark has been through the firing process and wasn't added later.

Model number 1 (shape) not item number one...
Here is another interesting piece of Royal Copenhagen.  It has the 3 waves mark but is unsigned.  I bought it as attributed to Patrick Nordstrom/Carl Halier.  If that were the case it would most likely date to some time between 1911-1922.  Stylistically a vase with glaze skips and dribbles on it would conform to Nordstroms style.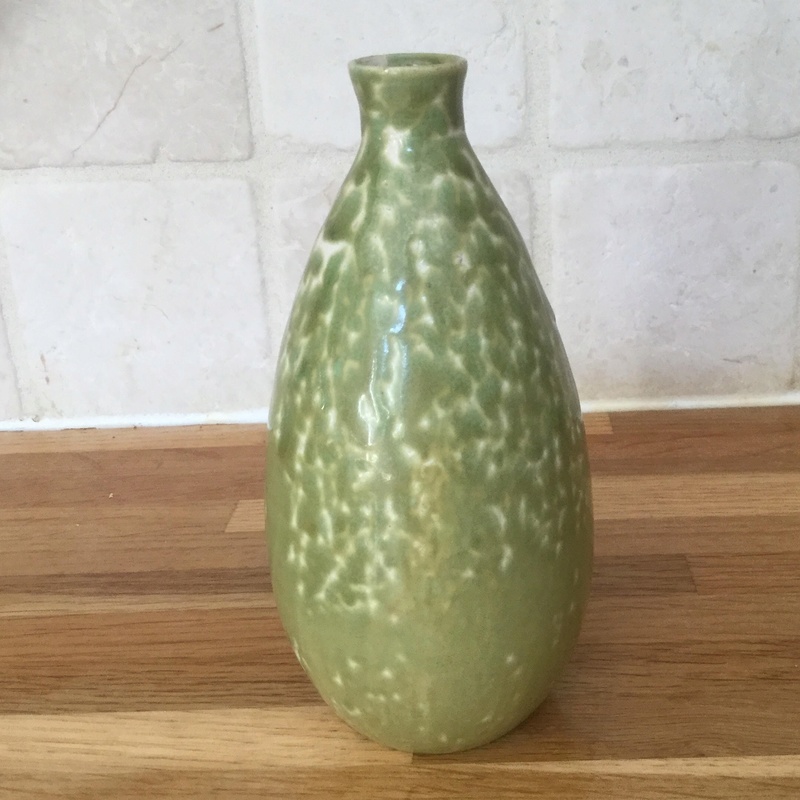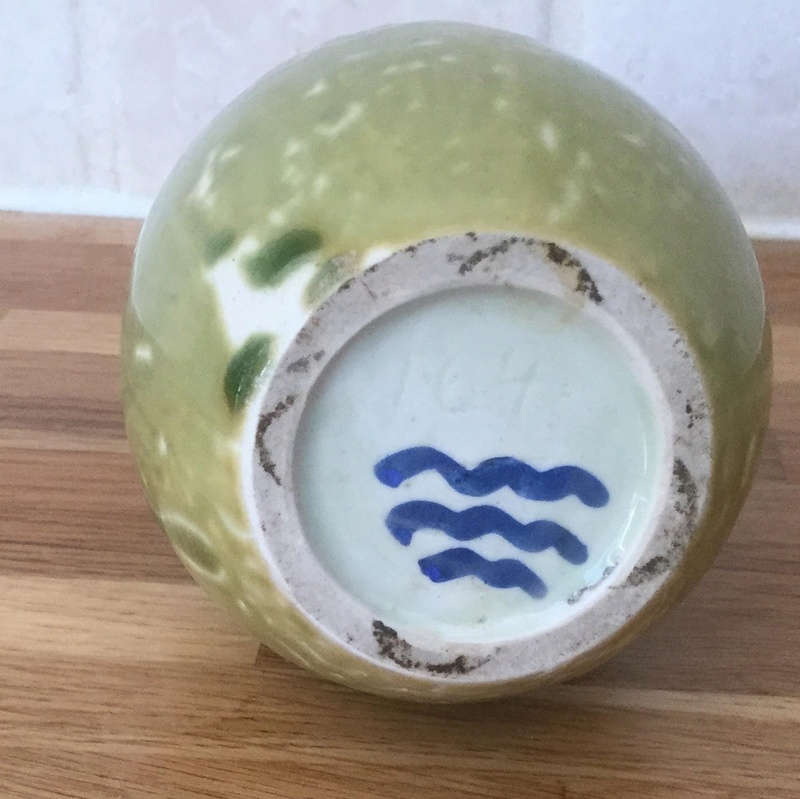 However I have my doubts about this attribution.  The body of the pot, where unglazed, is quite white whereas Nordstrom's pieces typically had a grey shade to them.  Also the numbering does not correspond to their system.  You can see in the picture above there is a number 164 etched into the pot under the glaze. Prior to 1917 all Nordstrom vases has an individual numbers, with the letter S next to them. They looked like this:
Pieces by Halier were often marked like this:
So what are the alternatives?  The main thing to try and establish is if this is stoneware or porcelain.  If it is stoneware then it could be by Nordstrom or a later designer like Hans Hansen or Nils Thorsson.  They all used this type of crystalline glaze.  However I would expect a signature and less of an experimental feel to it than this has.  If a second, with all those dribbles, I'd expect to be marked such, typically with a scratch through the mark. Another possibility is the little known Georg Thylstrup who was making pieces at Royal Copenhagen, often with a Celadon glaze, in the period from 1911-23
The other alternative is that it is porcelain rather than stoneware.  It is thickly potted for porcelain but does have quite a white body.  Then two other possibilities open up: Valdemar Engelhardt or Adolphe Clement.  Engelhardt was a chemist at Royal Copenhagen from 1891 and perfected crystalline and other glazes on porcelain and was renown through Europe as a pioneer of that type of ceramics.  From pictures I've seen his pieces were highly accomplished whereas this looks a bit primitive and experimental - getting these glazes to work properly on high fired ceramics was a challenge at that time needing lots of experimentation.  That leave the other option of Adolphe Clement.  He worked at Royal Copenhagen for a short period from 1883-91 and was the first to experiment with crystalline glazes on high-fired porcelain.  Very little is know about his work but there are records of 120 pieces being sent to be sold in a shop in Paris so it was obviously of sufficient quality.
Is this one of his pieces? It would be very rare and important if it was as very few are known to exist and most have a tentative attribution as they weren't signed.  But they did have the three waves mark.  It is a possibility but I am not sufficiently confident to give that attribution here. It needs more research.  Anyone who can shed any light on this do post here.
Lovely thinks as usual Kevin. Outsiders to collecting ceramics probably don't realise how hard it can be to attribute new pieces even with a factory like RC who marked their pieces.
It's normally easy to tell the difference between porcelain and stoneware because of the weight? No?
It weighs about 300g. Medium sized stoneware pieces I have come in at around 400g. Possible, but not conclusive.
I believe the pot with the crawling green glaze is most likely a glaze test piece, hence the lack of identifying marks.

FreeformsNYC




Number of posts

: 2


Location

: New York, ny


Registration date :

2018-07-07



---
Permissions in this forum:
You
cannot
reply to topics in this forum