Well this is all three, a museum an exhibition and a book.
YALE CENTER FOR BRITISH ART asked to use a Briglin Pottery photo from my website and today this wonderful coffee table book arrived free of charge. It's a biggy, nearly 500 pages title "Things of Beauty Growing": British Studio Pottery to accompany the exhibition running
Thursday, September 14, 2017 - Sunday, December 3, 2017
. I will not even mention my image used as I think I got by far the better of the deal  
Beautiful photography with pictures, pictures, pictures. Also some interesting looking chapter titles and images of African potters and the wheel. Seems to span the whole C0th gamut from 1900 up to modern...can't wait to get stuck in..
I will report back if I lean anything NEW from the book when finished.....but boy it looks pretty....
Product details
Hardcover: 472 pages
Publisher: Yale University Press (1 Sept. 2017)
Language: English
ISBN-10: 0300227469
ISBN-13: 978-0300227468
Product Dimensions: 24.6 x 4.3 x 31.2 cm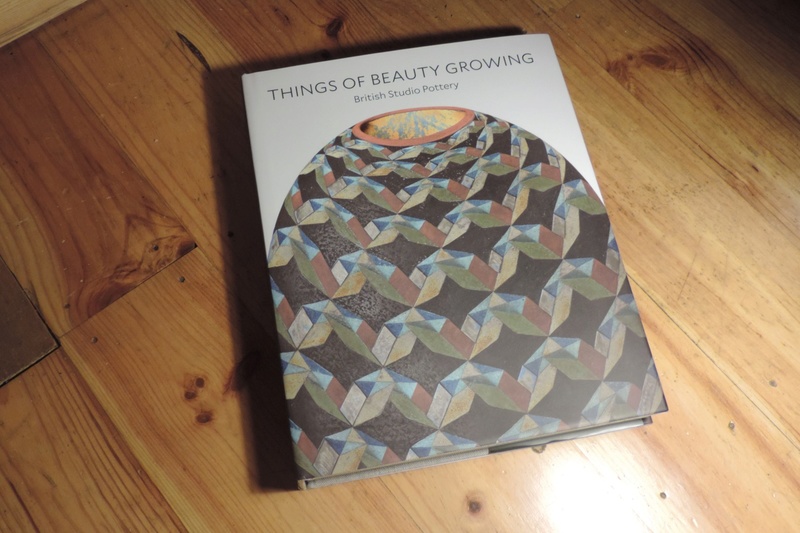 YALE CENTER FOR BRITISH ART WEBSITE
https://britishart.yale.edu/
The Exhibition
https://britishart.yale.edu/exhibitions/things-beauty-growing-british-studio-pottery
They are in an amazing building in New Haven, north of New York. Louis Kahn's last design.. trust me it has as much pedigree as a Cavalier King Charles Spaniel.
https://www.google.co.uk/maps/place/Yale+Center+For+British+Art/@41.3038679,-72.9321477,474a,35y,39.33t/data=!3m1!1e3!4m5!3m4!1s0x89e7d9b3233f5e5b:0x5cbc2592481f14f0!8m2!3d41.3078876!4d-72.930876
Crafts Council Review USA
http://www.craftscouncil.org.uk/listings/things-of-beauty-growing-british-studio-pottery
AMAZON
https://www.amazon.co.uk/Things-Beauty-Growing-British-Pottery/dp/0300227469/ref=sr_1_fkmr0_1?ie=UTF8&qid=1504900202&sr=8-1-fkmr0&keywords=Things+of+Beauty+Growing%E2%80%9D%3A+British+Studio+Pottery
The exhibition was organised in Cooperation with the Fitzwilliam Museum in Cambridge, and will be showing at the Fitzwilliam next year.

philpot




Number of posts

: 4641


Location

: cambridge


Registration date :

2010-11-06



please remind us when you go next year Phil, I would like to see it
_________________
DTM wrote:Living saints are extremely rare,generally they wait for all the witnesses to die

dantheman

Consultant





Number of posts

: 15094


Location

: Lincolnshire ( the veg patch of England)


Registration date :

2008-02-03



Got the book.
Its on at the Fitzwilliam from 20 March - 18 June 2018.
Nice book, with interesting overview and essays. The core exhibition is interesting but not Goshwow. Nice number of previously Lucie Rie's from an private American collector. Staite Murray, Bernard Leach, Cardew, Vyse Pleydell Bouverie etc loaned from York, Crafts Study Centre, Fitzwilliam, & V&A.
The core pos... 60's selection is a tad standard though. The usual culprits you can mostly see at High End studio auctions. Odundo,De Waal, Fritsch, Smith,Mccnicoll, Poncelet, Suttie, Lee,Oyekan.Aylieff. Twoomey, Rena, Baldwin, Britton, Perry,Eglin, Martin Smith....you get the idea? The traditional post 60's is represented by Batterham, Caiger Smith and Clive Bowen and no one else

philpot




Number of posts

: 4641


Location

: cambridge


Registration date :

2010-11-06



Went to see this show a couple of days ago.
Really NOT to be missed. Probably the best Museum show of British Studio pottery in the past decade. Spread over 3 galleries on the top floors of the Fitzwilliam in Cambridge, well displayed and lit with a selection of circa 100 or so (mostly large) from Ault potteries, through Denise Wren, Staite Murray, Bernard Leach, Michael Cardew Rie and Coper, to Clare Cuneen, Akiko Hirai and Adam Buick.
They have borrowed from the major collections all over Britain, to give a sumptuous selection you would have to travel a long way to see in the flesh.
Not to be missed! On until the end of June.


philpot




Number of posts

: 4641


Location

: cambridge


Registration date :

2010-11-06



Just to point out this was produced by YALE ....Yale Center for British Art, New Haven (USA) if anyone thinks the UK has influence in the world any more then think again and look at these two tables..... the USA universities are rolling in it and have the cash to do things properly.

https://en.wikipedia.org/wiki/List_of_colleges_and_universities_in_the_United_States_by_endowment

https://en.wikipedia.org/wiki/List_of_UK_universities_by_endowment


...yes Harvard has $36 Billion in the bank
Not so simple.
This exhibition would have been substantially funded by the Paul Mellon Centre for Studies in British Art.
Paul Mellon was a Anglophile American Billionaire who gave substantial donations to the Fitzwilliam in Cambridge. He also have a large amount of money to Yale University to build a Museum containing his large collection of British Art. Furthermore there was a large endowment to encourage research in British Art.
Yale and the Paul Mellon foundation have contributed a lot to research in British studio pottery. Many of the most significant books in the area have been published and subsidised by the Paul Mellon Foundation and Yale. The Tanya Harrod Michael Cardew book for starters.
The exhibition in America gained a lot from pieces from American collectors of British studio pottery. Some are shown in this exhibition, but not all.

philpot




Number of posts

: 4641


Location

: cambridge


Registration date :

2010-11-06



---
Permissions in this forum:
You
cannot
reply to topics in this forum