I was on a daily walk this week and picked up this pair of stunning metal Lotus Flower bases at a yard sale. They stand 24" tall and the base is 7" in diameter and weigh almost 6 pounds each. The top flower on each had remnants of melted candle was so at first I assumed they were candle holders. But once the wax was removed I realized that the center piece is hollow all the way through and with female thread at the top of each piece. Which leads me to assume that perhaps these were instead lamp bases. I'm not sure what the metal is but is non magnetic and both pieces appear to have gilt. It's more prominent in the photos than in person.
The lotus pad base is slightly crimped all the way around allowing room for a cord to emerge from the bottom. I have looked everywhere and have been unable to find a mark of any kind. I don't know if they are Asian made for an American market or if they are American made lamp bases.  I am considering having them restored to lamps but would like to find info on how they may have looked as lighting (shades etc.,) and when they were made. I found something similar on line via 1stdibs that are about 5" taller and also with the wire hole at top but they call them Candle Holders. Any information would be extremely helpful.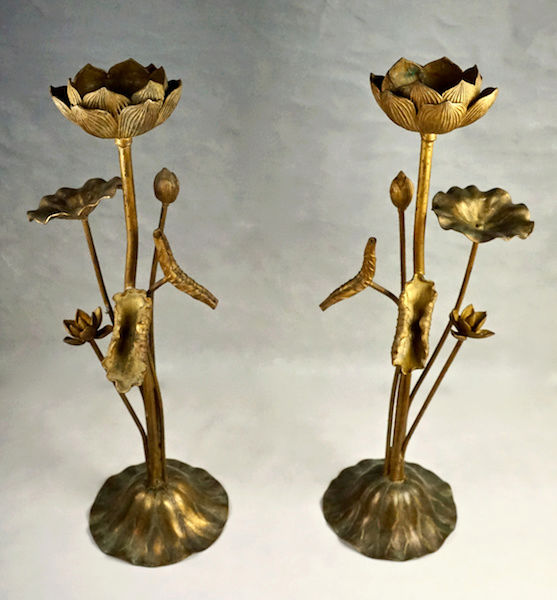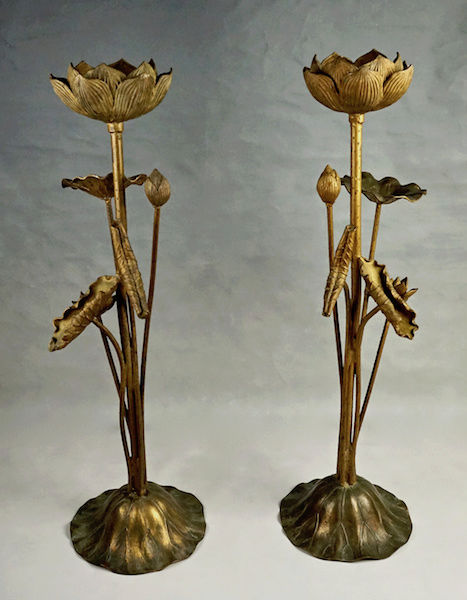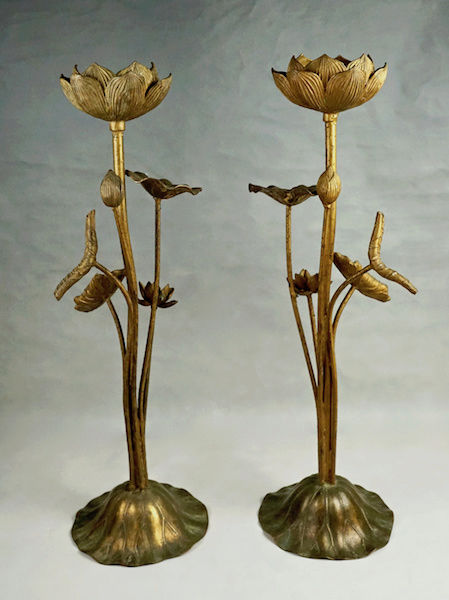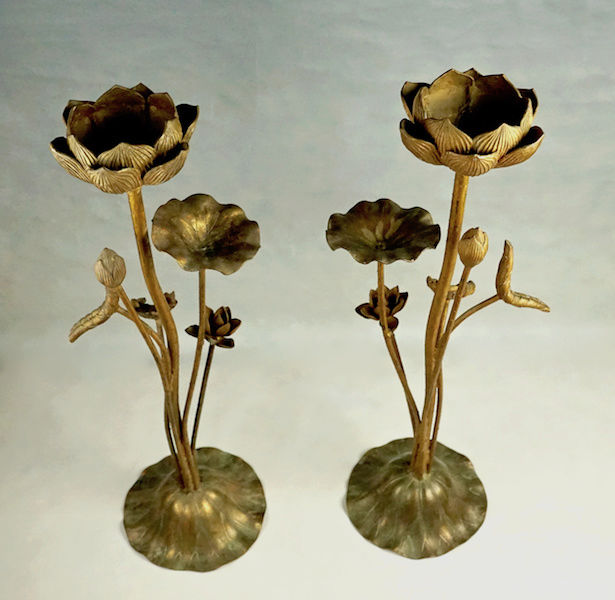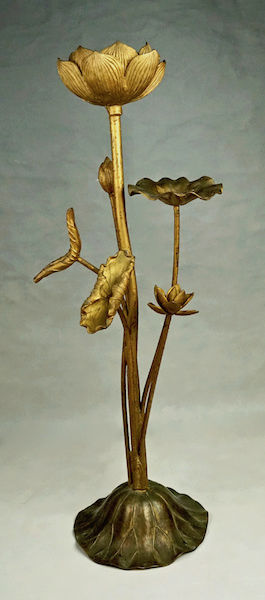 Hierocles




Number of posts

: 50


Location

: Palm Springs, CA


Registration date :

2017-05-19



Can you possibly get a pic of the inside of the flower? And provide the diameter of the opening on the bottom? Now if they are actually lamp bases they would not have a shade but use a flicker flame light bulb or a small globe bulb. But as I write this I thinking that they are actually candleholders. A well made lamp base would have an additional hole on the lily pad for the cord to exit. This is done to better stabilize the lamp base and prevent the wires from pulling out of the socket ( I rewire a lot of lamps
). But I think you should definitely upcycle them and make them table torchieres.

squirrelboy70




Number of posts

: 31


Location

: Out There


Registration date :

2016-09-21



Greetings and thank you for your response. I have included some pics of the top inside of the flower. I am not sure what you meant by the diameter of the opening on  the bottom - I am assuming you mean the hole in the center. It measures 7/16" diameter. I have tried to add some links to a few similar lamp bases so you can see why I thought they were lamps originally.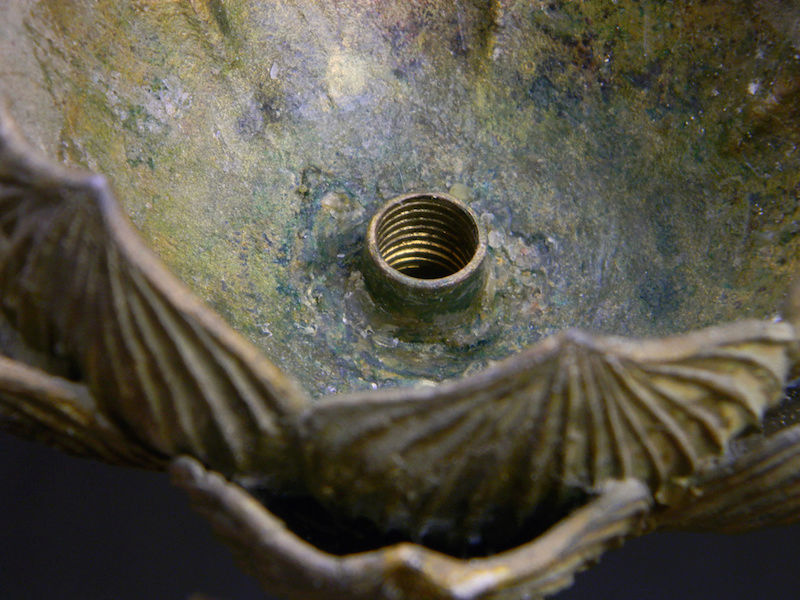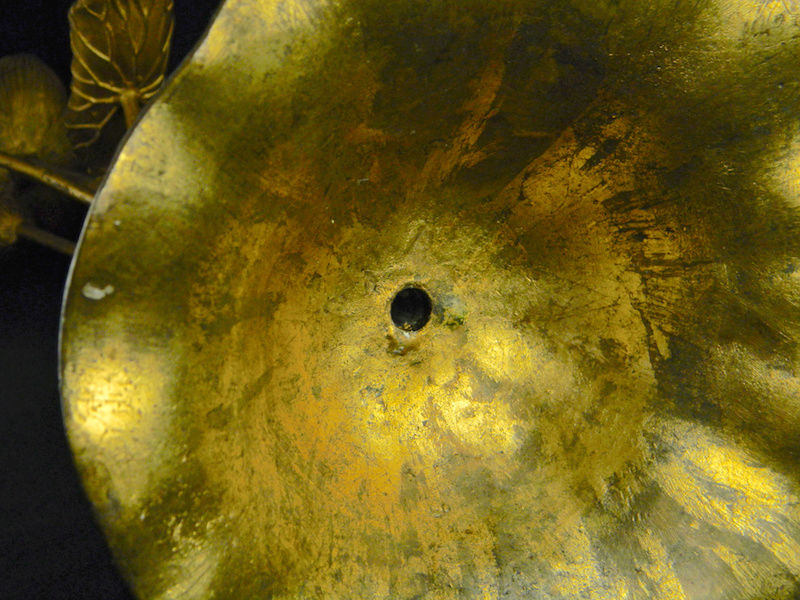 https://www.1stdibs.com/furniture/lighting/table-lamps/pair-of-bronze-lotus-lamps-marbro/id-f_1347463/https://www.pamono.com/hollywood-regency-brass-lotus-table-lamp-1950shttps://www.1stdibs.com/furniture/lighting/table-lamps/brass-lotus-blossom-table-lamp/id-f_2710012/

Hierocles




Number of posts

: 50


Location

: Palm Springs, CA


Registration date :

2017-05-19



They are very similar. Marbro made wonderful custom design lamps that usually were ordered by interior designers, very few stores carried them. Many of the components they used were not originally made to be lamp bases (marble statues, porcelain vases, candleholders,etc). So those you saw may have originally been candleholders. The threading in the flower I believe is for the candle spike. Someone may have removed it to put a tealight or votive cup in it. And even though the bottom opening is wide enough for a cord and rod to fit into, it is not threaded. There would be no way to attach a wood base which be a needed stabilizer for the lamp.

squirrelboy70




Number of posts

: 31


Location

: Out There


Registration date :

2016-09-21



Thank you so very much for the help you have provided. I found a place on line that sells screw-on candle spikes so I have decided to return these to their original candle holder status - for now anyway. I want to find out more information if I can about the maker, their age, etc., before I go repurposing them. I did find an image of a pair that are very much like mine. They call them a Pair of Italian Gilt Lotus Candelabra or Lamp Bases but they are no longer available so there is no other information. I have included a link to the image. Should you discover any information in your journeys, I would be very happy to hear back from you and I will do the same.https://a.1stdibscdn.com/archivesE/upload/1121189/f_66176631487319291979/6617663_l.jpg

Hierocles




Number of posts

: 50


Location

: Palm Springs, CA


Registration date :

2017-05-19



---
Permissions in this forum:
You
cannot
reply to topics in this forum