This pierced silver-plated bowl has the SMF mark on the base for Suddeutsche Metallwaren fabrik in Mussbach Germany. But that's the only thing I've been able to find out. If I google the factory name, the only thing I can find are catalogues for sale from the 1920s and 1930s. I also see sites coming up for products made for the Germany army and leadership (from water canteens to fine cutlery).
It's lovely quality, extremely light, and measures 21cm across. I'd love to date this and find out more about the factory. Thanks very much in advance (BTW, I'm not very experienced with plate - any tips for cleaning would also be much appreciated),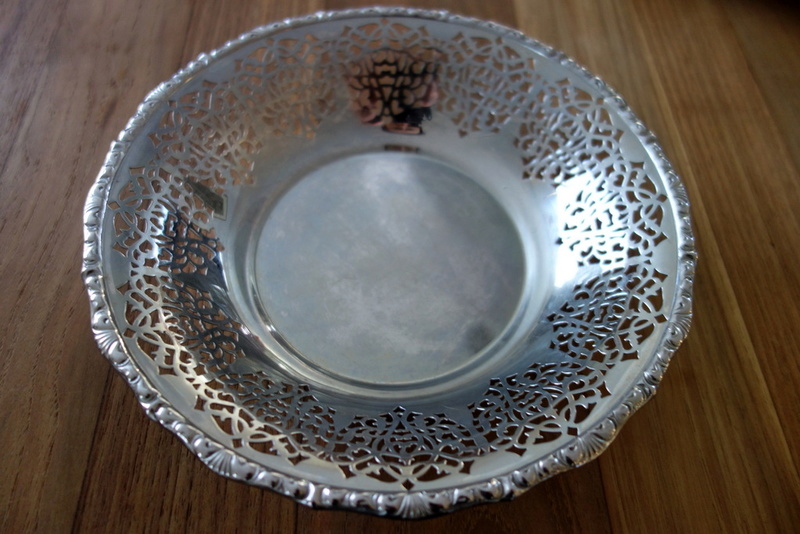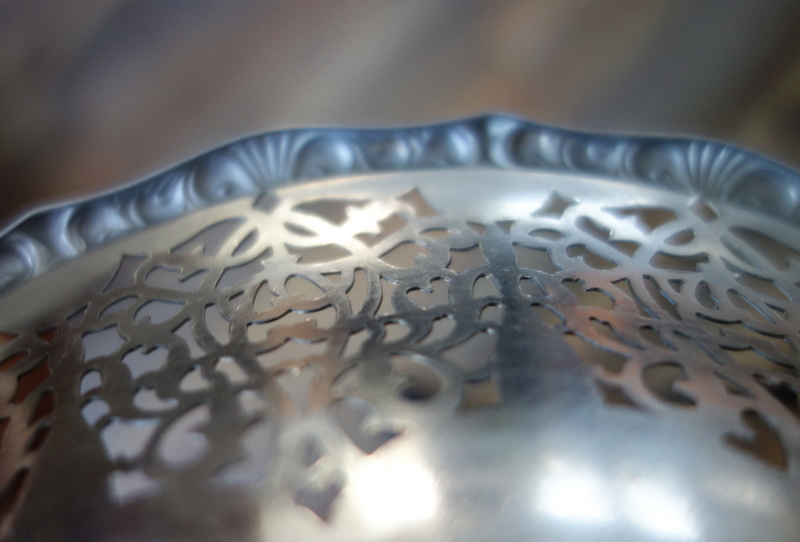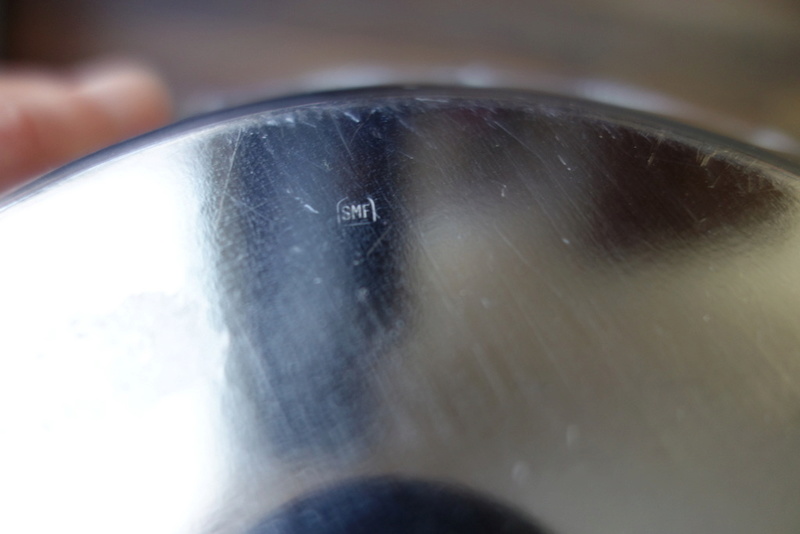 20thcenturyfan




Number of posts

: 35


Location

: Netherlands


Registration date :

2016-09-20



Hi there!

Did you already see this item on ebay, telling about the company history?:
http://www.ebay.de/itm/Metallwaren-Fabrik-Mussbach-Reklame-Historie-1926-Deutsch-Rolland-Seligmann-/322338728237?hash=item4b0ce2a92d

Regards
Micha
here i found 3 pics from inside the company:
http://www.museum-digital.de/nat/index.php?t=listen&type=2&gestag=7835&style=liste&startwert=0
now i found what you are looking for :-)

http://www.ebay.de/itm/Suedmetall-Aktienges-Mussbach-Katalog-ueber-Messing-versilberte-Tafelgeraete-1939-/261986074077?clk_rvr_id=1130931472730&rmvSB=true

Your item can be seen in this catalogue from 1939. You can find it as nr.8161 in this catalogue (6th of the shown pics). You can also read there "27cm" below the pic, obviously an identical item in the next bigger size.
Dear Micha, this is brilliant and really fascinating - thank you 😊😊😊. The next mention i find of the company is in relation to the second world war when it appears they were making supplies for the German army (water canteens etc.) https://www.the-saleroom.com/en-gb/auction-catalogues/berliner/catalogue-id-bahg10000/lot-85420655-ea46-49b1-9251-a49d016fd991. I can't find any mention of them post world war 2 so i am guessing they shut down. Interestingly i can't find a single decorative item from them for sale or pictured online, although there are a few on sale by Mussbach, which i am guessing is a completely different factory even though it is located in the same city. Thanks again, Linda

20thcenturyfan




Number of posts

: 35


Location

: Netherlands


Registration date :

2016-09-20



Hi Linda!

You are welcome :-)
There surely still is much that has to be researched.

Regards
Micha
---
Permissions in this forum:
You
cannot
reply to topics in this forum