Even (the ultra helpful and respected
) Walter on the Italian Pottery Marks forum seems to be unsure about this one. It was only a 99p er from EB but has the right sorta glaze and not an student piece for sure.
But does not quite fit in. post it here for posterity.
x20 hi res on my FB page.
https://www.facebook.com/384533171627536/photos/ms.c.eJxF0NkNxDAIBNCOVtxH~;41tAvH4K9LTwOAwKUl2pSa3S~;z4g0pyKa8LpBXccqB7oHihiHhGzC~;MUhaAz0jeRE~_C7MDzGVCAzEgUwKdFUct7WKBFaBLnLQ~;Yu9SqAbGQB1RmhHGHzv~_wxA7dFkOL0SZwqekCAfZSwqUWC0g4zVK9sDvigr0j2fIHSmdUeg~-~-.bps.a.1030279827052864.1073741919.384533171627536/1030279873719526/?type=3&theater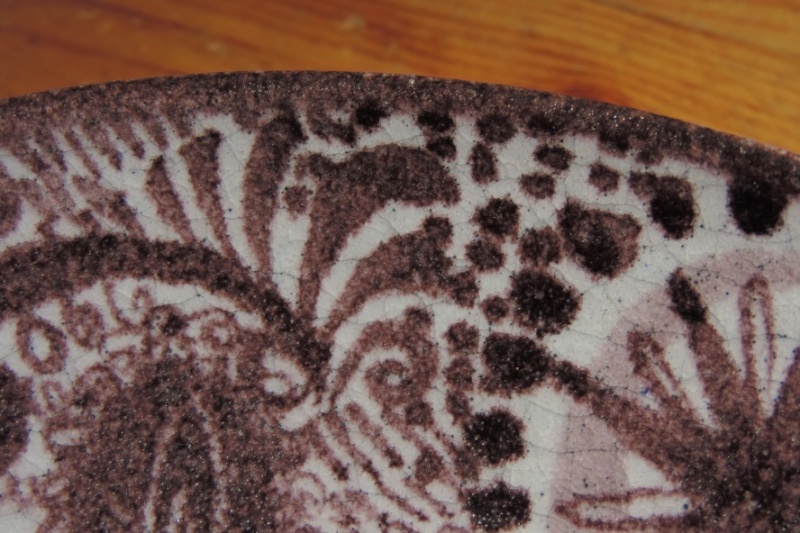 Spanish? I don't know, but with those marks I'd imagine it's 20thC, mid-century.

_________________
Carrot cake is just fake cake
N have you looked through the FB link images link above ? - that glaze - is it not quite Italian? 60s 70s ish? But the decs are just odd? 

Not seen any Spanish stuff, do you think spanish  ?
Open to all suggestions...... name?
Elements of the design look Spanish, but the combination doesn't seem to be based on any if their usual folkwares
Maybe Northern Italy/French border region?
Could be older than I first thought.

_________________
Carrot cake is just fake cake
---
Permissions in this forum:
You
cannot
reply to topics in this forum