Page 2 of 2 •

1, 2

It's alway great to have personal reminiscences of the potter for future collectors of their work. Anything your gran would like to say about Alex Sharp could be added to this thread for posterity.

_________________
Just my personal opinion, take it or leave it.

NaomiM

Administrator





Number of posts

: 20175


Location

: Hampshire


Registration date :

2012-05-15



Hello Beth.  I'm a collector of your Grandfather's pots and have more than 20 of them.  As you can see from previous postings on this thread, my opinion is that he was perhaps the best studio potter in the Leach tradition who worked in Scotland, and I believe that he deserves to be much better known.  I have about a million questions for your Gran, and if I may I'll PM you in a few days' time to ask the first few of them.
In the meantime, here's a photo of one of my favourites, a superb tenmoku-glazed jug, in use today to display daffodils in the sitting-room.
r-and-f wrote:........  I have about a million questions for your Gran, and if I may I'll PM you in a few days' time]
Please don't just pm, we all want to know and see!
xx
_________________
Nic wrote:A WMF lady exposes her breasts at me every morning when I open the curtains
big ed wrote:Burt lancaster spat on me
brin mcardle wrote:Probably no surprise...I love this
Taylor Thomas wrote:Have you got enough quotes Sue?
l33ham180 wrote:the wife wants massive
NaomiM wrote:...didn't even have the excuse it was for charity. Just liked his balls.
dantheman wrote:I think it's shit
22 Crawford St. wrote:No one likes clowns.



skay

Administrator





Number of posts

: 3485


Location

: England


Registration date :

2008-02-03



Through the contact with Alex Sharp's granddaughter above, I was able to get in touch with Mrs Sharp, and have now met her twice.  She's a very remarkable lady and has given me a huge amount of information about Alex's career, which I'm trying to put together into an article for publication.  And she's also let me acquire some additional pieces for my collection, some made in the early 1950s at St Ives as a pupil of Bernard Leach, some at Bute Pottery between about 1960 and 1985, and some from post-retirement days made in the greenhouse at the bottom of his garden in Glasgow.  Photos of the best pieces follow.
Celadon chawan with a thick drippy glaze, made post-retirement: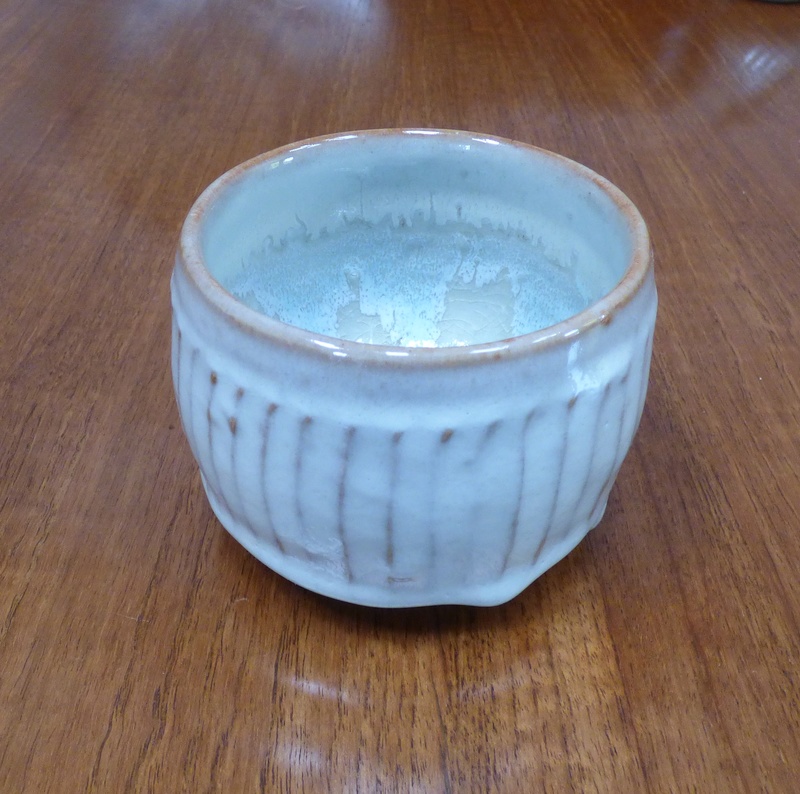 Small bud vase.  This pot was Alex's special pick from the first firing of the gas kiln at Bute Pottery.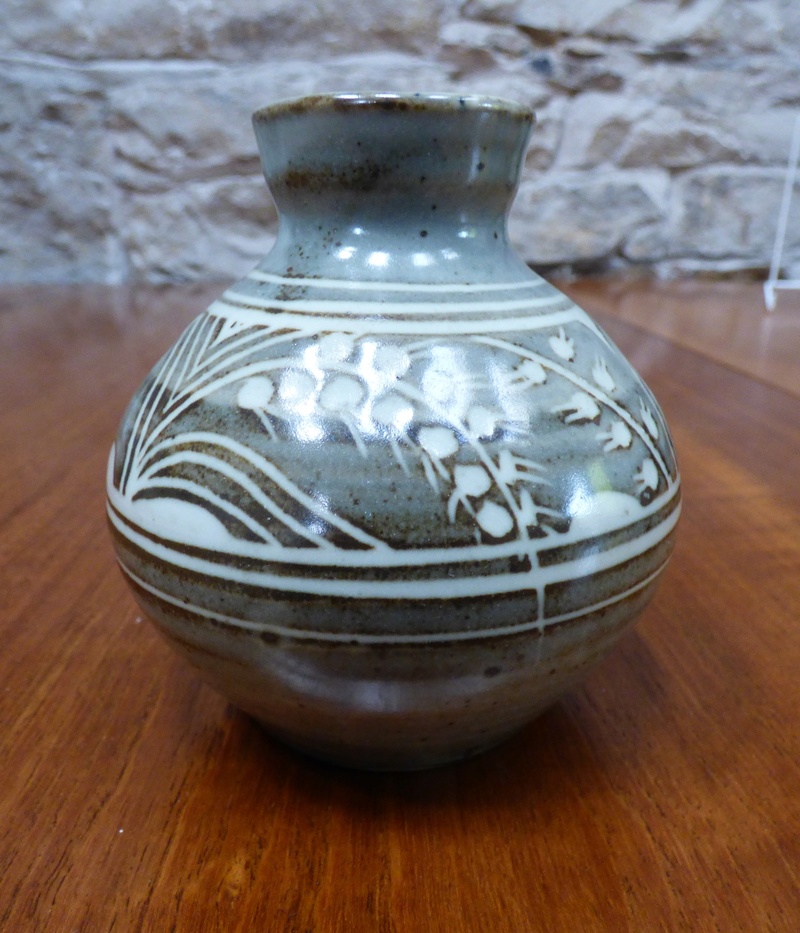 A small repaired bowl made at St Ives bearing Alex's early seal.
A large deep Bute Pottery bowl, 10 inches in diameter.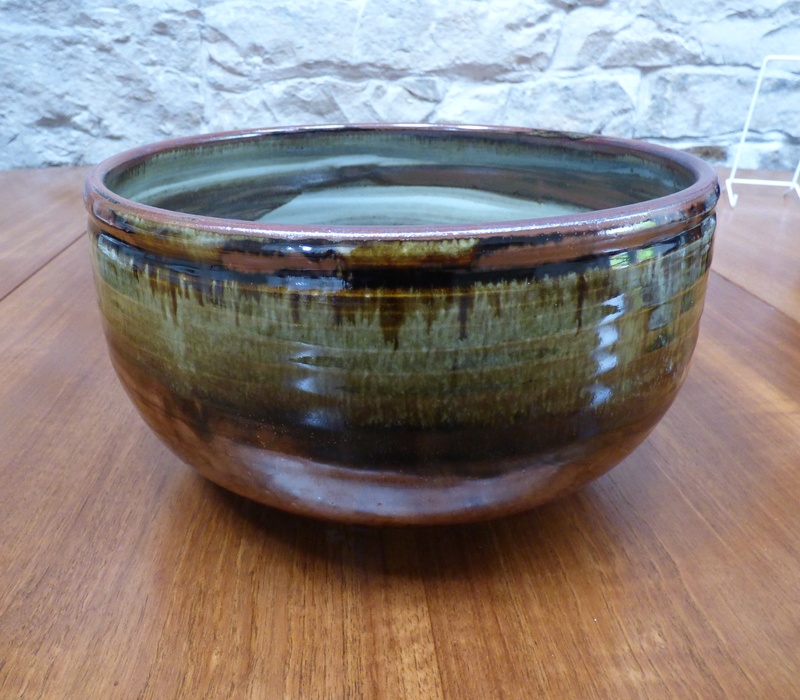 A fabulous wax resist sunflower-decorated 12-inch charger from Bute Pottery.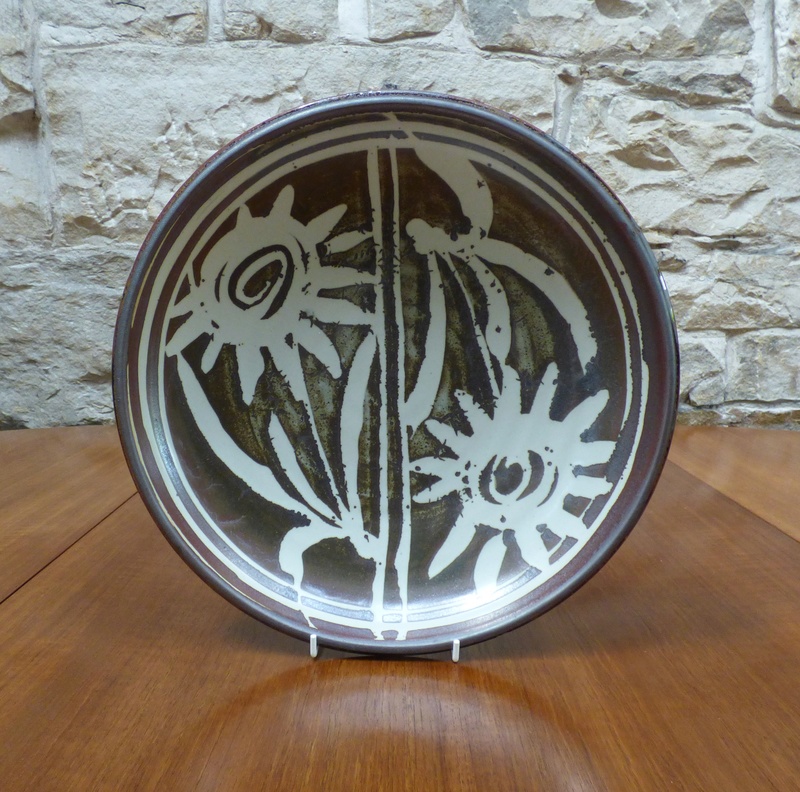 A huge slender 20-inch vase.
A charming brown-glazed and decorated figure made at Bute Pottery not by Alex but by his wife Elizabeth, who also made earthenware lustre-glazed jewellery.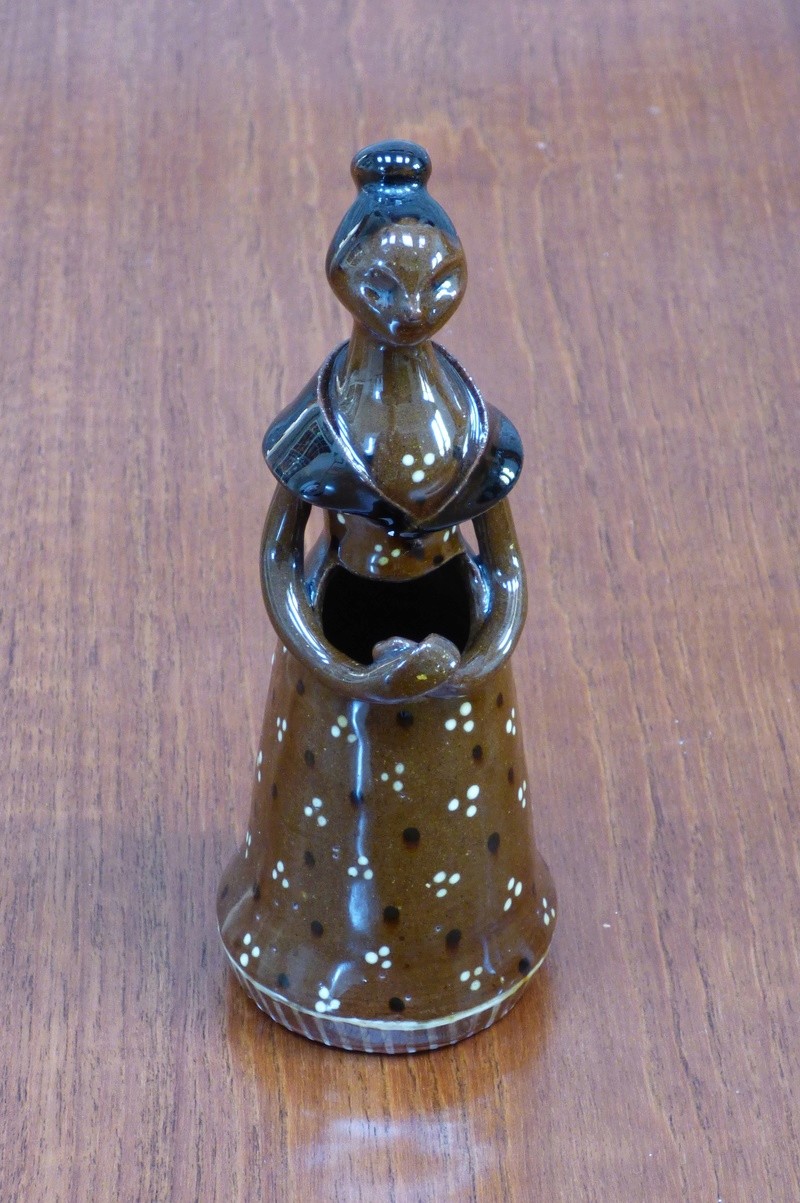 Elizabeth's oil-on-canvas portrait of Alex holding the celadon chawan, and with the sunflower charger on the table beside him.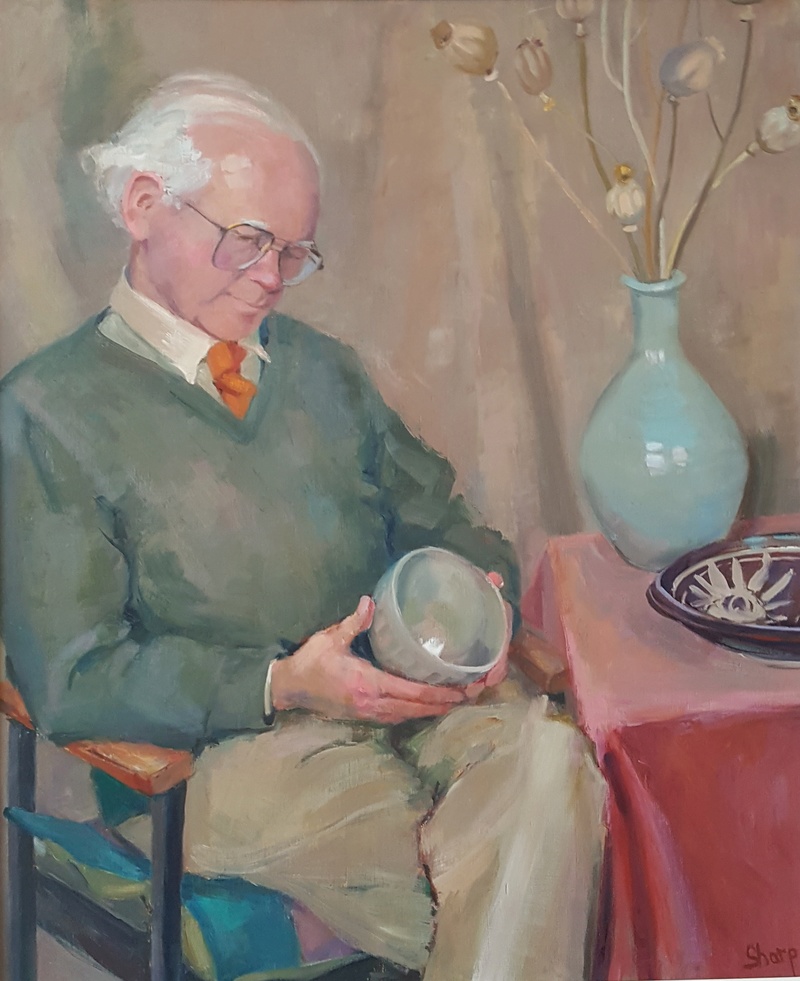 I want to share this large jug on this post. I found it recently across the pond here in Canada at an antique mall in south west Ontario.
It stands an impressive 30cm high and is 20cm wide on the base. The mouth is 10cm wide.
It is stamped as and MP.
That handle is beautiful.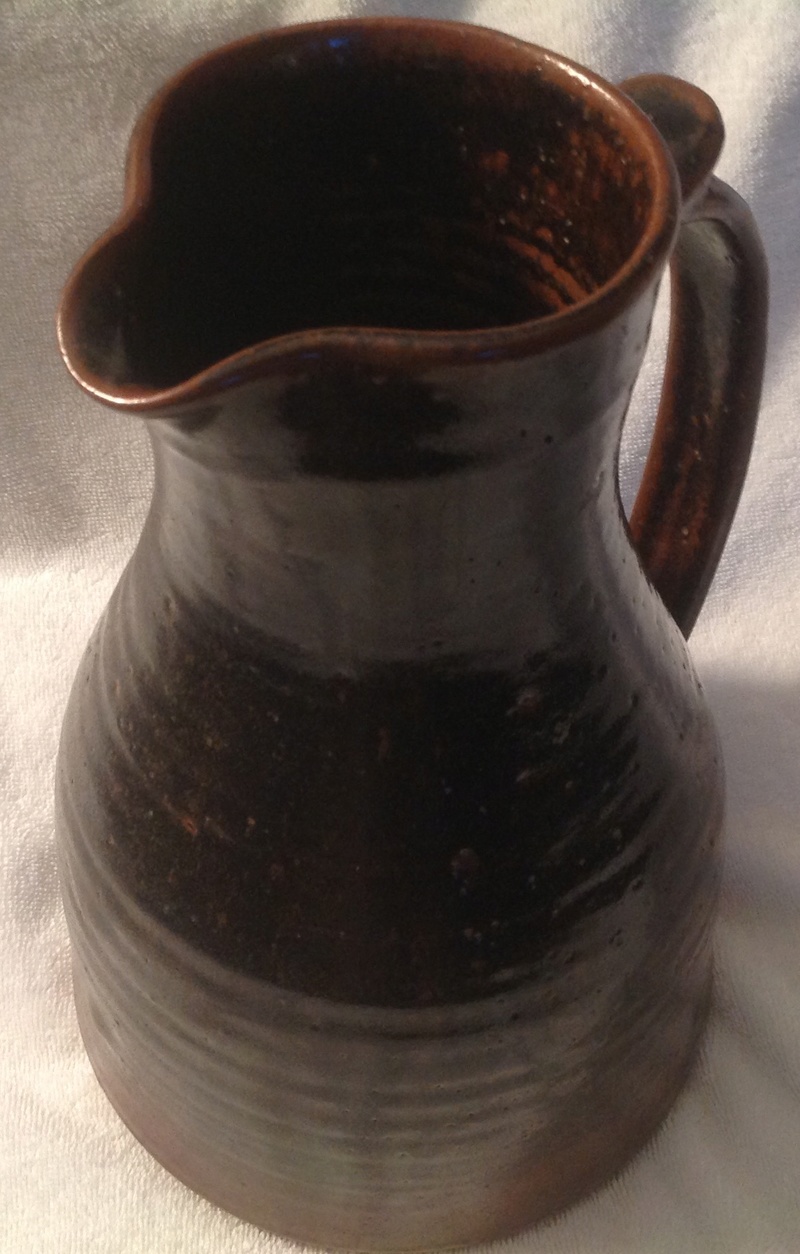 Last edited by Ricrite on October 18th 2017, 10:27 pm; edited 1 time in total (Reason for editing : More photos)

Ricrite




Number of posts

: 2


Location

: Canada


Registration date :

2017-10-02



Wonderful! Probably made by Alex in the early 1950s, not too long after he set up the Morar Pottery, but still very much influenced by his time in St Ives.
A slipware casserole dish made at Alex Sharp's Morar Pottery in the 1950s. But I don't think it's of sufficiently good quality to have been thrown by Alex. I have set out my reasons for this opinion in my new blog posting at https://random-treasure.com/2018/06/14/expert-connoisseur/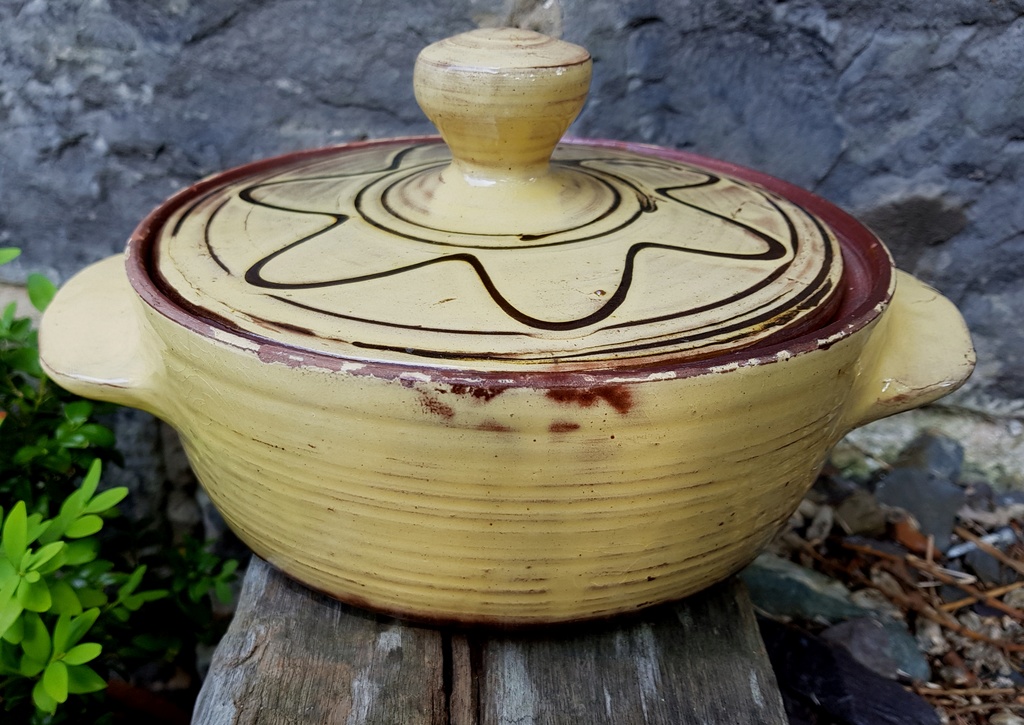 Page 2 of 2 •

1, 2

---
Permissions in this forum:
You
cannot
reply to topics in this forum