I've tried reading the stamp but given up. May be Eastern European.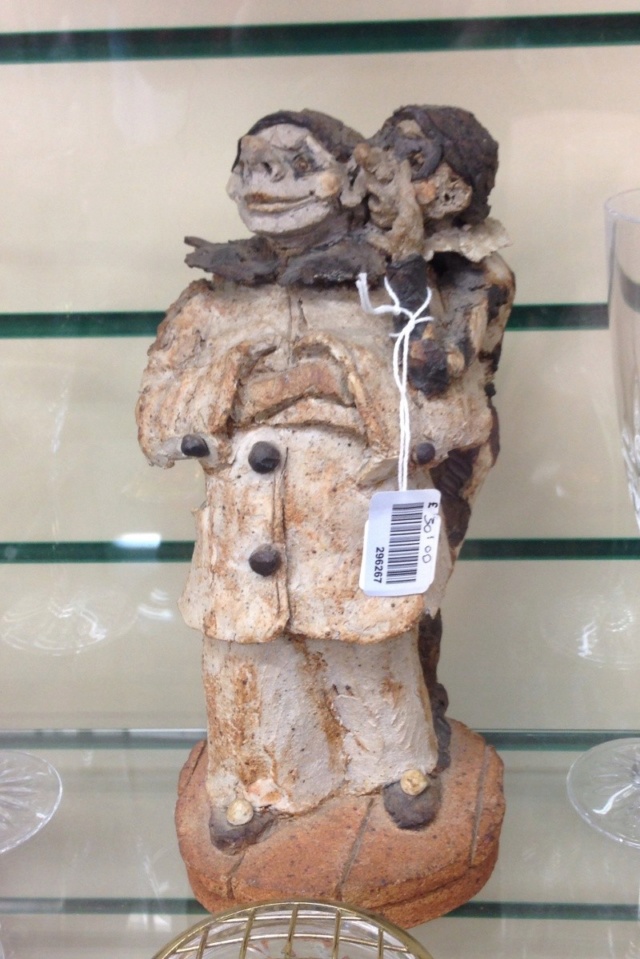 Last edited by NaomiM on January 4th 2022, 5:11 pm; edited 5 times in total

_________________
Carrot cake is just fake cake
Many thanks to Corri Piggott for this information  
This was indeed made by Graham Piggott of Bladon Pottery, but website now not edited; have a look at Facebook.com/ Piggottsculpture as we've traded from this site for 46 yrs and been Piggottsculpture since Sept.2010. This is up to date - relatively, but we are now semi-retired.
I couldn't find a place to edit and reply to the comments, but I would have told you that the Comedia dell Arte figures never were designed to be pretty, but that particular couple - Harlequin & Pulcinella Pantalon - was probably made in the 1980s. Having a family of actors and dancers, Graham has often worked with a 'nod' to Theatre. I agree, that piece probably is not of a high value, but it is historical as it was the only one. All Graham's pieces are unique. The stamp reads Bladon Pottery and with a Joined GP alongside - usually dated, but maybe not in those days. Regards, Corri Piggott
I should add that sadly they had sold when I went back for them. I've always wished I'd bought them when I had the chance. Such is life. I'm sure they went to a good home.
I've reloaded the photos full size incase Corri wishes to keep/share a copy

_________________
Carrot cake is just fake cake
Updated website

https://www.piggottsculpture.co.uk/

_________________
Carrot cake is just fake cake
---
Permissions in this forum:
You
cannot
reply to topics in this forum