Please can anyone tell me what this signature? says or any ideas where it could be from, the bowl has a yellow rim and a melted pontil. thanks.
url=https://servimg.com/view/18744657/318]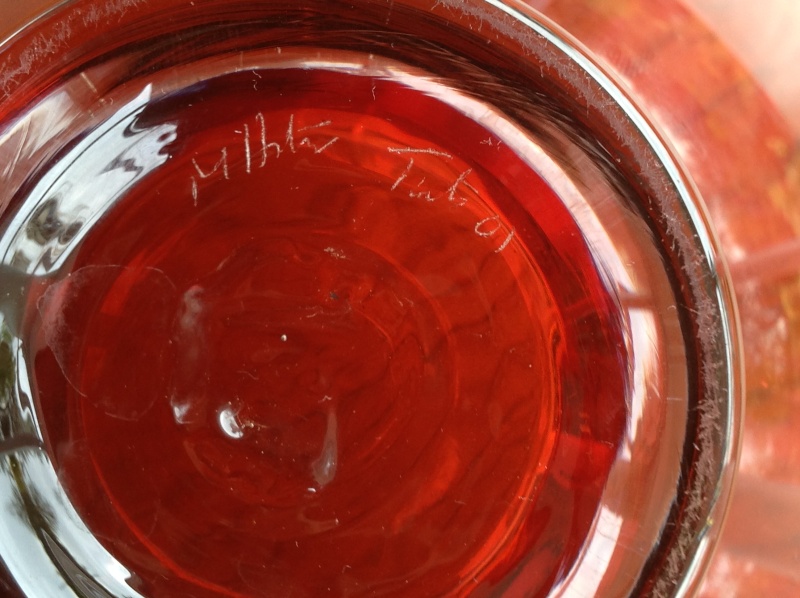 [/url]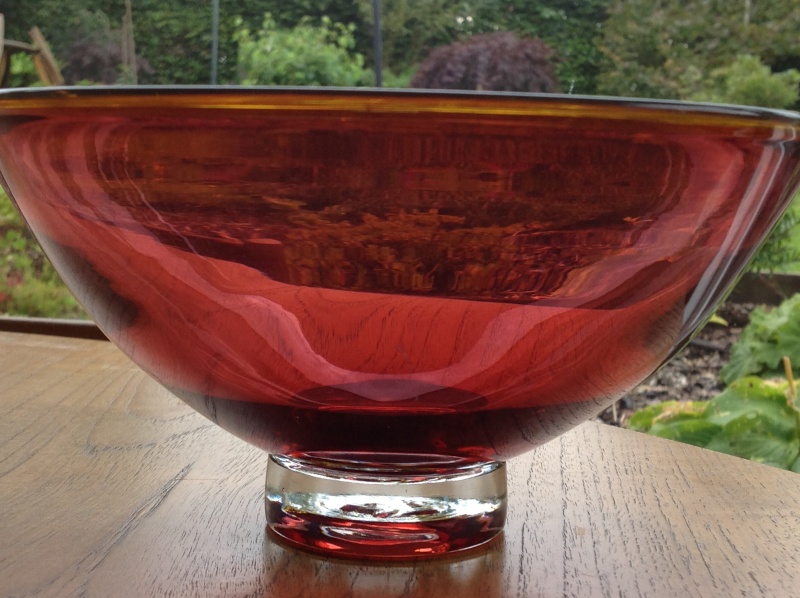 Guest

Guest





I picked this up from a charity shop.

I was wondering if someone had tried to add a home made signature with a 'dremmel' type etcher thing - failed and then give it to the charity shop.

Any ideas appreciated.

I haven't seen a bowl with a different coloured rim like this before.

Guest

Guest





Hi, not the best of signatures to be sure but not necessarily faked. I did a search on 2001 dated pieces but came up empty handed.

RVsaid




Number of posts

: 1425


Location

: Torbay, England


Registration date :

2012-08-12



Thanks RV, really appreciate your help : )
I've spent about 10 hours or so going through names I can find on the net seeing if there are any similar to this scratch
To me it seems a good quality piece, but then I don't know much about glass.
thanks once again

Guest

Guest





I think I have found the maker of this bowl
I think it's by Mike Hunter Twists glass, could anyone confirm this please.
I would ask him directly but I cannot find a contact e mail address.

Guest

Guest





Signature seems to match up pretty well

RVsaid




Number of posts

: 1425


Location

: Torbay, England


Registration date :

2012-08-12



http://www.michaeljameshunter.co.uk/contact

RVsaid




Number of posts

: 1425


Location

: Torbay, England


Registration date :

2012-08-12



Thanks RV much appreciated : )

Guest

Guest





Definitely Mike Hunter, yours is signed M Hunter Twists 01, so made in 2001.

Mike Hunter is a superb glassmaker and his paperweights are second to none. I had one of these bowls, it was beautifully made, photo of it here: https://picasaweb.google.com/Johnmj100/MiscellaneousGlass#5986142187900201986

John

JoFish




Number of posts

: 237


Location

: South Wales


Registration date :

2010-11-23



Hi JoFish,

yes I agree with you, Mike is a very good glassmaker.

I had never heard of him until I found this lovely bowl and it is very interesting reading about him.

He has a great talent. wish I had one : )



Guest

Guest





---
Permissions in this forum:
You
cannot
reply to topics in this forum