I would like to here your opinions on a piece I purchased recently some of you have seen it a lidded jug in the form of a lady.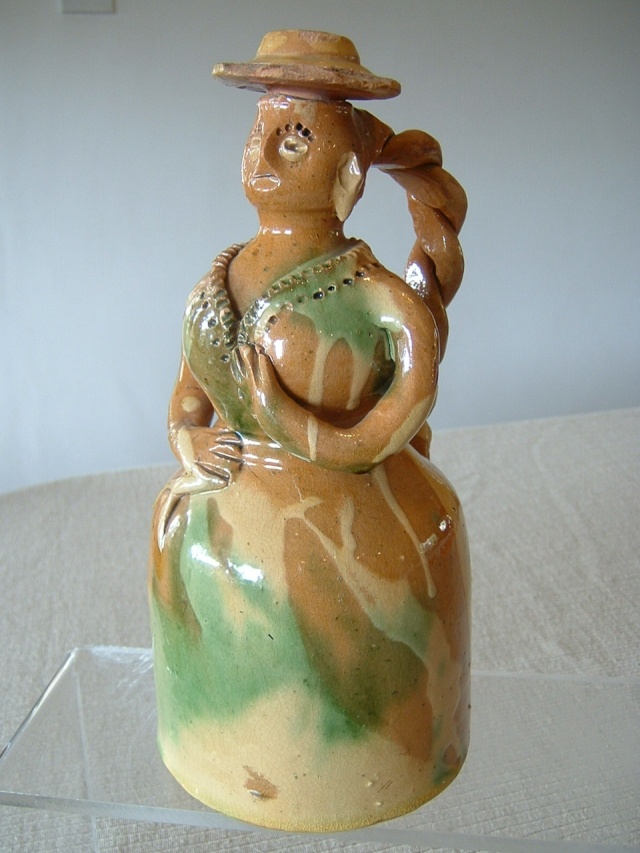 it is 9" High and has on the base in Pencil Horton pottery , this was a little pottery in Somerset close to Donyatt pottery , I sent pics to Bonhams in Wales , who replied with this short reply -"We think this is a from a provincial pottery and not very old. As such modest value only."
Great ! , not really an answer at all , Horton was a provincial pottery now defunct , so it has some age to it , especially as it also has an iridescent glaze showing a high lead content used quite a while back , ok I also got a reply from a leading "expert " on donyatt pottery , Nic Saintley , he was more helpful in a way he replied thus -
Dear Eddie,
What an interesting figure it almost looks French to me – the green is something one sees quite often on Donyatt pottery, but the white splashes less so (usually it is trailed and combed), but in the earlier 20th century they did try all sorts. I am also unaware of there being a 'Horton Pottery', although the area did support a number of potteries and the village of Horton – is a stone's throw from Donyatt.
In short I cannot be a 100% sure one can attribute the figure to Donyatt, but as I said the production during the early 20th century was primarily horticultural objects, but with a number of 'one off specials' for locals which makes it difficult to identify pieces from this latter group, especially as none are recorded in Donyatt Potteries by Coleman-Smith. I would treat the later pencil inscription with caution., Sorry to be of limited use , regards Nic
As you can see a much more thoughtful reply , I was cautious about the Horton Pottery being in pencil but this was common practice at the Farnham potteries around the 1900's so why different elswhere , the coleman -smith records mainly harvest jugs so would have no knowledge of one off pieces as Nic says , So to some up a piece with horton written on, it looks as if it has age to it with no pretence of trying to be something else , opinions please .

big ed

Consultant





Number of posts

: 11957


Age

: 69


Location

: UK


Registration date :

2008-03-22




big ed

Consultant





Number of posts

: 11957


Age

: 69


Location

: UK


Registration date :

2008-03-22




big ed

Consultant





Number of posts

: 11957


Age

: 69


Location

: UK


Registration date :

2008-03-22




big ed

Consultant





Number of posts

: 11957


Age

: 69


Location

: UK


Registration date :

2008-03-22




_________________
Christ is for life and not just for dogmas

dantheman

Consultant





Number of posts

: 15364


Location

: Lincolnshire ( the veg patch of England)


Registration date :

2008-02-03




big ed

Consultant





Number of posts

: 11957


Age

: 69


Location

: UK


Registration date :

2008-03-22




big ed

Consultant





Number of posts

: 11957


Age

: 69


Location

: UK


Registration date :

2008-03-22




Might be worth asking someone like Geoff Cox who makes medieval items for museums and reenactment societies.

http://www.potfest.co.uk/CoxCeramics/geoffaboutme.htm

_________________
Carrot cake is just fake cake
Thanks Naomi , I will do that as I'm not getting anywhere with museums and auction houses , if it's not in a book they don't know , they seem to ignore certain aspects and ..oh anyway I'll ask Geoff what he thinks , cheers Ed

big ed

Consultant





Number of posts

: 11957


Age

: 69


Location

: UK


Registration date :

2008-03-22



Done that now , I'll let you know if he replies

big ed

Consultant





Number of posts

: 11957


Age

: 69


Location

: UK


Registration date :

2008-03-22



---
Permissions in this forum:
You
cannot
reply to topics in this forum