I picked this up at a thrift a few weeks ago and left it in the garage. I didnt really pay any attention to it as I figured it was a Chinese Murano knock off. I was looking at it and did a search on "vase with thousands if bubbles" just, well, because. Anyway something came up about using phosphorus to get the bubbles so I went to see if it reacted under a black light. Most of the lights in the house have been changed over to enrgy savers and just a couple are the old fashion bulbs.
Going from my closet, which is incandescent I saw it was changing from purple to blue. I had to look at it a few times for the color change to register in my head
Questions for the forum:
Are pieces like this still being made? If so, do you know what country produces it?
I was wondering, who might have made it and when.  It's seems fairly modern to me, the wavy glass and the three pinches around the body . It also has the applied glass around the top and the bottom is polished but concave.
it is 6" high and 1lb 8 oz
Judging with what little I know, I don't think it's Murano do to the bottom finish
Thank you and enjoy the pictures! ( I love this vase!)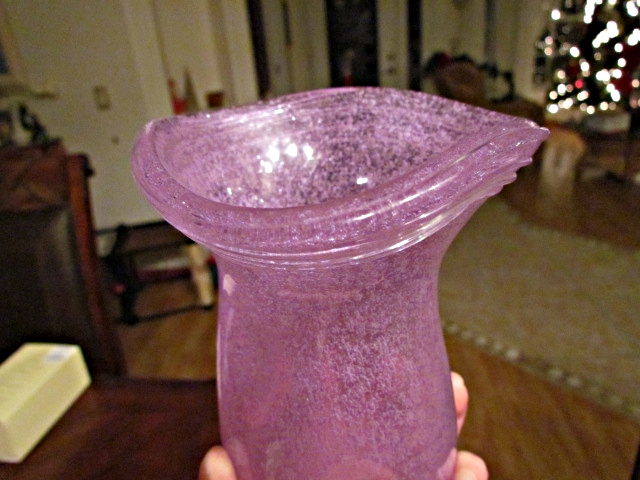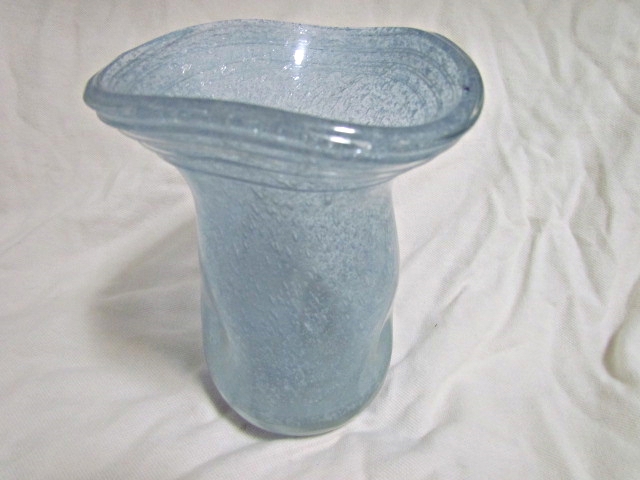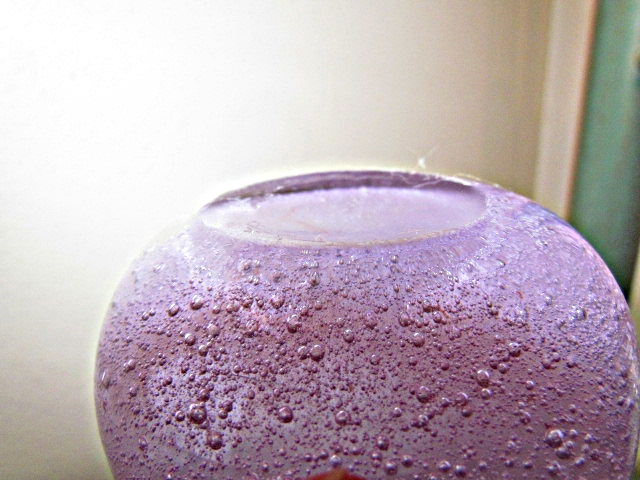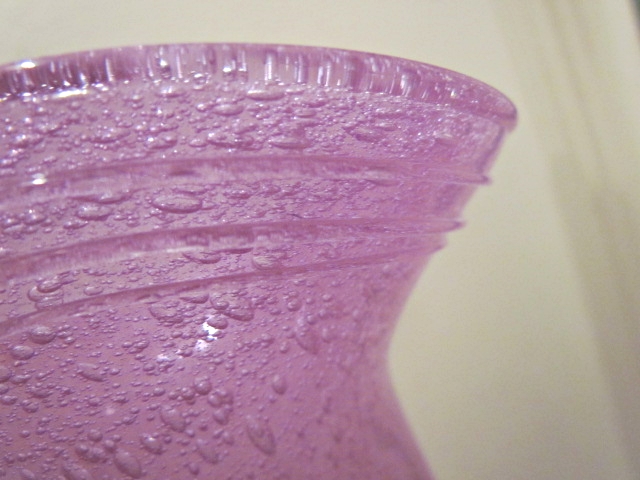 lorrgeno




Number of posts

: 123


Age

: 63


Location

: Fl


Registration date :

2012-10-14



Neodymium glass has been used recently by several glassmakers, Caithness used it a lot, likewise various makers on Murano. Personally I would not discount Murano - just a hunch.

An interesting vase but I have no idea who might have made it. Presumably there is a thin ring of wear around the edge of the base, entirely unscientific but does it look light or heavy to you?

John

JoFish




Number of posts

: 211


Location

: South Wales


Registration date :

2010-11-23



Hey John, thanks for the look. There is absolutely no wear on the base at all. It's as if it's never been used...no mineral marks on the inside. I would have past it by is not for the pretty blue color I thought it was. I guess it makes no real difference , I really love the vase. Its fun....I can't say that about many of the things I own

Lorri

lorrgeno




Number of posts

: 123


Age

: 63


Location

: Fl


Registration date :

2012-10-14



---
Permissions in this forum:
You
cannot
reply to topics in this forum