I bought this wheelthrown stoneware bowl with ball handles by Dan Arbeid (1928-2010) off ebay and was somewhat startled by its huge size when it arrived! It was inexpensive - clearly people prefer his more recent handbuilt work. Personally, I think it's a marvel and love running my hands around it whenever I walk past it. There's a much smaller, blue version on the bay at the moment, my local expert Martin Browne must have got it off a recent auction, I'll be interested to see if he gets his asking price (much more than I paid for my piece). His dates to 1997, I'd assumed mine was much earlier - maybe 1980s, but can't find any other information. 7.6cm (height) 35.7cm (diameter)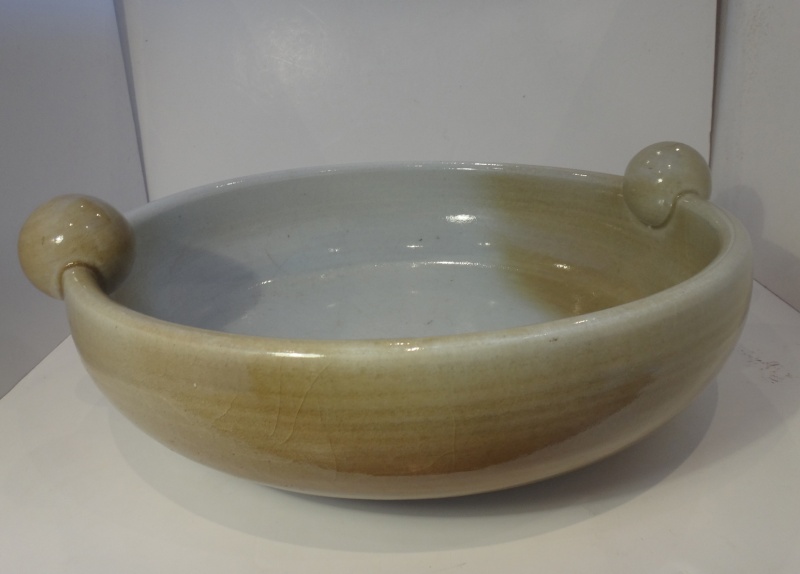 Obituary here Dan Arbeid obit The Guardian
Arbeid was very secretive and since I have been collecting I have never seen a piece of new or recently produced work on show.

He is know for his hand built work and that pre-dates your bowl and the one Martin has got out his cupboard by many years.

The end of the obituary doesn't seem to make much sense as it suggests that he showed regularly at the British Craft Centre and Bristol Guild after retiring. The British Craft Centre changed its name to Contemporary Applied Arts in 1985 and I have never seen his work in the CAA. Have no idea about the Bristol Guild but having looked at their website it doesn't look the obvious place that he would have shown work either.

The "word on the street" was that after he retired he refused to show his work to anyone for many years but I have seen a reference to him showing some pieces in the late 1990s.

I saw the bowl that you bought on Ebay and, as I have no knowledge of him making that kind of work, I was not sure that it was by him. That doesn't mean that it isn't his work, just that I wasn't sure.

_________________
Now you should know by now that Potty and I need to see your bottom - we're funny that way!
No, I wasn't sure either, especially given the price. However, the second similar piece seemed to be a bit of a clincher to me when I saw it on the-saleroom.com. I shall continue searching for more evidence one way or the other!
Some sources on Dan Arbeid:

Dan Arbeid vase, Birmingham Museums

Dan Arbeid pot V&A

Dan Arbeid pin pot V&A

From the description, Bonhams had a bowl like mine in 2006 which they list as by Arbeid

Bonhams catalogue entry 2006

I also see that Market House Gallery in Cornwall have two blue versions of the ball handled bowl on their website also attributed to Arbeid
Just checked through my records and I was at that Bonhams sale in Bath and bought quite a number of pots but don't have a catalogue (even if I did I suspect there wasn't a picture). The description does sound like your piece in style but it is interesting that they were in that sale and not either of the sales in London in September and November 2006. Bath was where things that hadn't sold in London or deemed not good enough for London were sent by Bonhams back then.

I did buy a rather nice Paul Barron vase from Bath very cheaply. I don't think them saying it was by John Bedding helped it get the best price, so they didn't always give items the correct attribution.

The jury is still out for me and I really have no idea. It did look an interesting bowl when I saw it on Ebay, you bought it well and you seem to like it so maybe who made it doesn't really matter.



_________________
Now you should know by now that Potty and I need to see your bottom - we're funny that way!
---
Permissions in this forum:
You
cannot
reply to topics in this forum