In my opinion, the motif of this 12.2 cm DIA bowl has a distinctive style of the Japanese school of ceramics. A glazed Leach Pottery mark is impressed close to a foot rim (please see the attached pictures).
I could not find either a similar shape or decoration among pieces mentioned in the 'Leach Pottery - St. Ives' discussion on the Forum. Any suggestions relating to the attribution and date of creation of this bowl will be very much appreciated.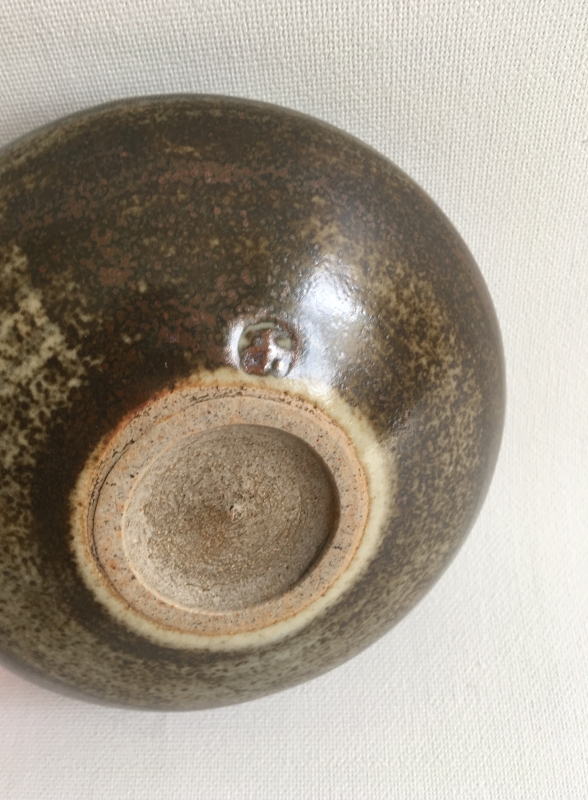 ijkard




Number of posts

: 15


Location

: UK


Registration date :

2019-04-18



It would defintely have a Japanese influence. The whole ethos of the Bernard Leach was a British interpretation of Japanese ceramics. Bernard Leach spent his formative years as a potter in Japan. In 1920 he came back to England with a young Japanese potter- Shoji Hamada- who worked with Bernard Leach at St Ives for several years. Bernard Leach made many trips to Japan throughout his life, and there always was an immense cross-fertilisation between his pottery and Japan.
          Unfortunately as it just has the St Ives mark alone, it is very difficult to attribute it to any specific potter at the Leach pottery. During the later years the apprentices were sometimes allowed to do their own work, and there quite a few of them.
              There were Japanese potters who had periods at St Ives. Atsuya Hamada (Shoji's 3rd son) in 1957- 58, Shinsaku Hmada (Shoji's 2nd  son) in 1963, Tomoo Hmada (Shoji's grandson) in 1995. They did not use a mark.
                Equally of course, it could come from the modern 21st century incarnation of the St Ives pottery, who have done all sorts of things. They do have a Facebook site, you might get some ideas by posting it on there.

philpot




Number of posts

: 2495


Location

: cambridge


Registration date :

2010-11-06



A pot with just the St Ives mark cannot be attributed to any one potter with any degree of accuracy unless you have a personal communication from one of them to say it's their work. Although there are always chancers on the various auction sites who will claim the celadon pots with the oak leaf design or the Z bowls  are the work of Bernard Leach. But always take such claims with a pinch of salt and don't be tempted to pay a premium.
The Leach Pottery page on FB is useful for their latest work but it's not run by collectors and they don't seem to have an inventory of marks, so sites like ours have far more experience of handling a wide range of vintage pieces than they do.

_________________
Just my personal opinion, take it or leave it.

NaomiM

Administrator





Number of posts

: 20200


Location

: Hampshire


Registration date :

2012-05-15



But it is a very nice St Ives piece whoever made it....Good pictires BTW.
It looks to me to be late 1960s and the decoration in my opinion looks weak design wise, despite the competent brushwork. Therefore I cannot believe it was done by anyone of note. My view is that it was done by an apprentice practising what he/she had seen Bernard do.

_________________
Now you should know by now that Potty and I need to see your bottom - we're funny that way!
On the positive side. It is a relatively unusual piece of 60's/70's St Ives pottery that makes it more desirable than the normal more common standard ware.
There are a number of Bernard Leach short films on YouTube. Included is the one in this link, which gives a flavour of how the potter worked. Notice the amount of standard ware in the background!
https://www.youtube.com/watch?v=m-zNlehH5kg&list=PLYz8ma8lCmXhs-w2y6-f93bpnjyWC-u5q&index=2

philpot




Number of posts

: 2495


Location

: cambridge


Registration date :

2010-11-06




---
Permissions in this forum:
You
cannot
reply to topics in this forum